Beam me up, Scotty: A number of James Doohan autos to hit the market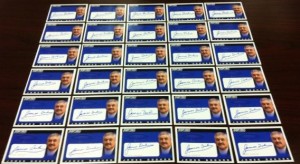 By Susan Lulgjuraj | Contributing Editor
With all the different Star Trek series and movies, Trekkies have had their favorite characters over the years. But the original always seems to have a special place with fans even if they grew up watching Jean-Luc Picard running the show.
Rittenhouse is releasing the second series of Star Trek: The Next Generation trading cards at the end of February, but one of the most popular cards is cut autograph from James Doohan. That's Scotty to all you non sci-fi nerds.
It's unclear how many of Doohan's cards will be in the set, but the picture released by Rittenhouse shows at least 30 cards.
Doohan died in 2005 at 85 years old, making this one of the few ways for Star Trek fans to get his autograph. Doohan had signed for card companies over the years. In 1999, he signed for a Star Trek set by SkyBox. His cut signatures appeared in 2009 in a couple of different products by Upper Deck and in 2011 Leaf Cut Signatures.
For any collectors grabbing a box or two from Rittenhouse, the Doohan would be a real hit. Recently, a Doohan autograph from Quotable Star Trek sold for about $316, a 1997 Star Trek sold for $280 and another for $227.50. His autograph trading consistently sell for $100 or more.
A box from Rittenhouse will run $84 and includes four autographs from various actors such as Jonathan Frakes, Kelsey Grammer, Marina Sirtis and Ashley Judd. The base set consists of 88 cards, one for each episode from the second half of the show's run from 1991-1994. In addition, there are 90 parallel base cards, 18 tribute cards, nine Best of the Holodeck, nine U.S.S. Enterprise and five Star Trek Communicator Pins.
Rittenhouse throws in something extra for those purchasing cases. For every three cases bought, collectors receive a Brent Spiner (Dr. Soong) autograph. For every six cases, you would get a Leonard Nimoy (Spock) autograph.
Susan Lulgjuraj is a contributing editor for Beckett Media. You can email Susan here. Follow her on Twitter here.