Baylor sends potential Robert Griffin III collectibles to Heisman Trophy voters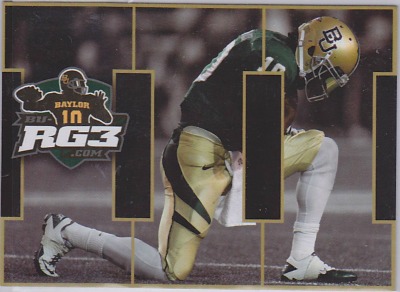 By Susan Lulgjuraj | Contributing Editor | Commentary
Colleges and universities have interesting ways of promoting their athletes. Usually, they put out press releases on feel-good stories or how their players helped a charity.
I've seen billboards touting football players looking for attention for a Heisman candidate.
This method was new to me.
At the start of the college football season, I got a letter at work. While the return address said Baylor University, the envelope felt familiar in my hands. I could immediately tell there was a top loader inside the white envelope – I was OK with the plain-white-envelope treatment since I didn't order a card from eBay.
Baylor sent me a trading card of Robert Griffin III. This was just the first of five the school would send me – and I'm assuming other Heisman voters got them throughout the year, too.
The cards read like most trading cards. A nice picture on front with a few statistics or more on the back. The second card in the series features pull-out quotes from various media entities talking about RG3.
"Allow me to introduce the Heisman voters to Robert Griffin III," reads one quote from Trey Wingo.
The funny thing is that when I got these, I was more excited by the top loader and penny sleeve than the actual card. I took the cards out of the envelope, threw them in a drawer and forgot about them.
Until Thursday.
I went back to the office after being out for several days. I go to my mailbox and there are two more envelopes addressed from Baylor. Inside were two more cards, including "The Third's line of defense" beauty.
Honestly, I didn't even think about the cards while voting for the Heisman, but RG3 got my first-place vote.
I went back into my junk drawer at work and found two more cards. I remember throwing one of them away earlier this year when I needed to use the top loader it came in.
Now, I have four cards from what I believe is a five-card set.
I've had schools send me other types of pieces to "help" voters in their choices. Anything from 8×11 ads to notebooks with the player's face on the front.
If Griffin wins the Heisman on Saturday night, how collectible do these cards become? I believe they were only sent out to Heisman voters. Does that mean there are only 700 or so in existence?
So far, I haven't seen any of these pop up on eBay, but I'll be watching when the winner is announced in New York City.
Susan Lulgjuraj is a contributing editor for Beckett Media. You can email Susan here. Follow her on Twitter here.