Baseball's top prospect Byron Buxton is all business — on the field and off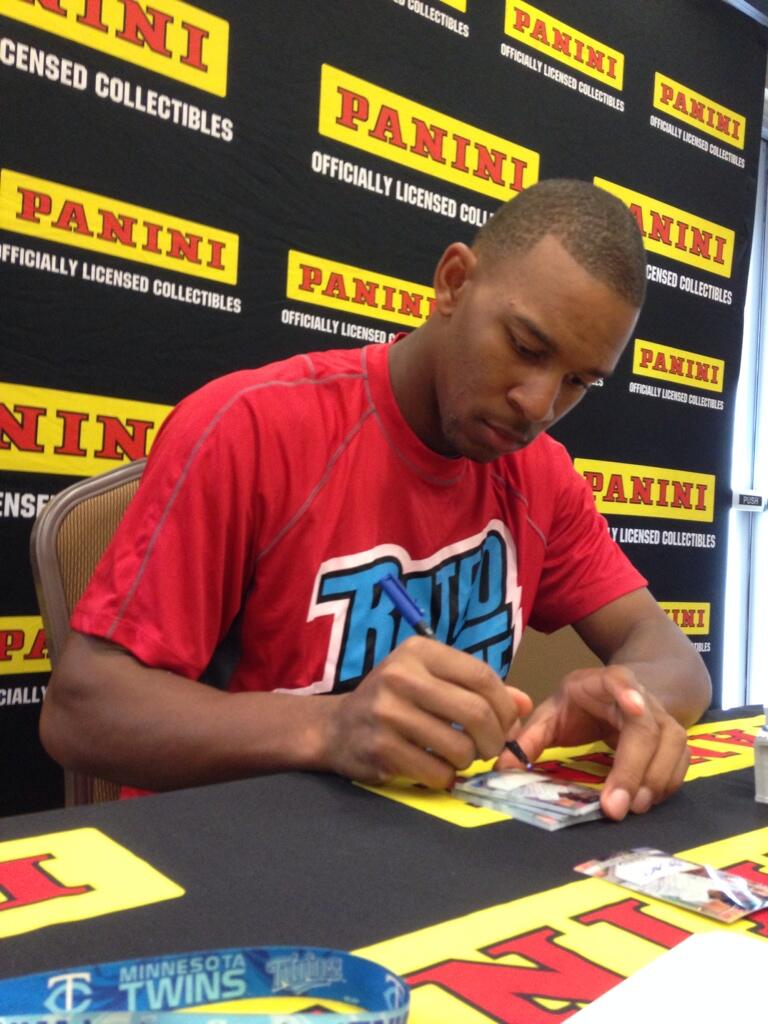 By Chris Olds | Beckett Baseball Editor
Minnesota Twins prospect Byron Buxton has seen himself on baseball cards, seen himself on the cover of Beckett Baseball and seen himself at the top of the prospects lists.
But in the same week as his first home run in his first spring training with what will hopefully be his future team, his 2014 Panini Prizm cards stood out as a highlight, too.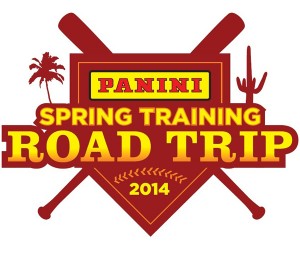 "They look great, just how glossy and shiny they are," said Buxton from Ft. Myers, Fla., where he was signing for Panini America on Day 2 of the company's Spring Training Road Trip. "There's a lot of thought and technique put into them. Overall, I just like the cards a lot."
Since he was the No. 2 overall pick in the 2012 MLB Draft, the 20-year-old has seen a lot more demands for his time and his autograph — that comes with the territory. But he said he's taking it all in stride.
"I'm just trying to go out and play ball every day, and you put in the time to do things," he said of signing at the ballpark. "I usually sign every day. I usually sign when I can for the kids and when a kid asks me, I sign for them after the game. I really sign all the time."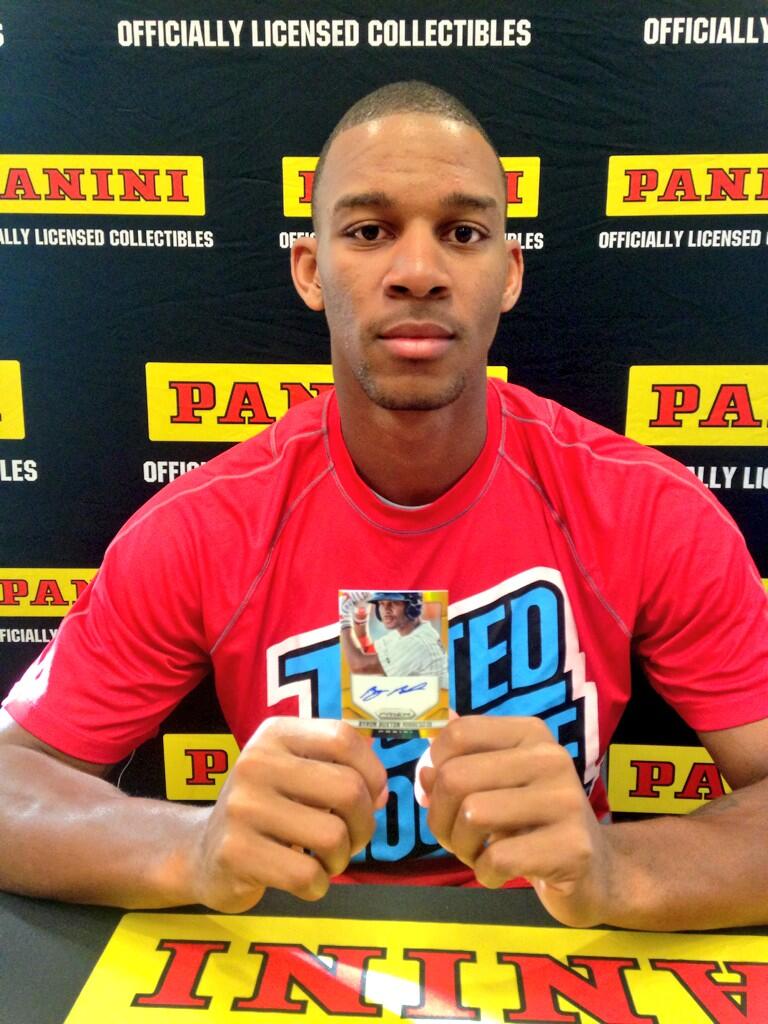 One of those things he's seen and signed is the March 2014 Beckett Baseball where he topped our prospects to watch list.
"It was pretty cool," he said. "It was just a good feeling."
Another thing that generated that same reaction was hearing that his 582 cards and 261 certified autographs were in-demand with fans to the tune of nearly $13,000, excluding rarities.
"It feels pretty great knowing people want my cards," he said. "You don't get a chance to do this every day and you just want to be thankful."
—
RELATED | PANINI ROAD TRIP: Cardinals' Michael Wacha talks baseball cards — and signing autographs left-handed if he has to
—
So, did he collect much as kid growing up in Baxley, Ga.?
"Not really," he said. "But I was a big Braves fan growing up, so [I watched] Chipper Jones, Andruw [Jones] and Rafael Furcal."
And it was one iconic player of that bunch that he said he'd like to see himself beside on a piece of cardboard.
"I guess it would be Chipper," he said, "If he wasn't retired." (Rookies might not realize that retirement doesn't stop the cardboard.)
Chipper Jones signed plenty of autographs during his Cooperstown-bound career. How many has Buxton signed in the last couple of years?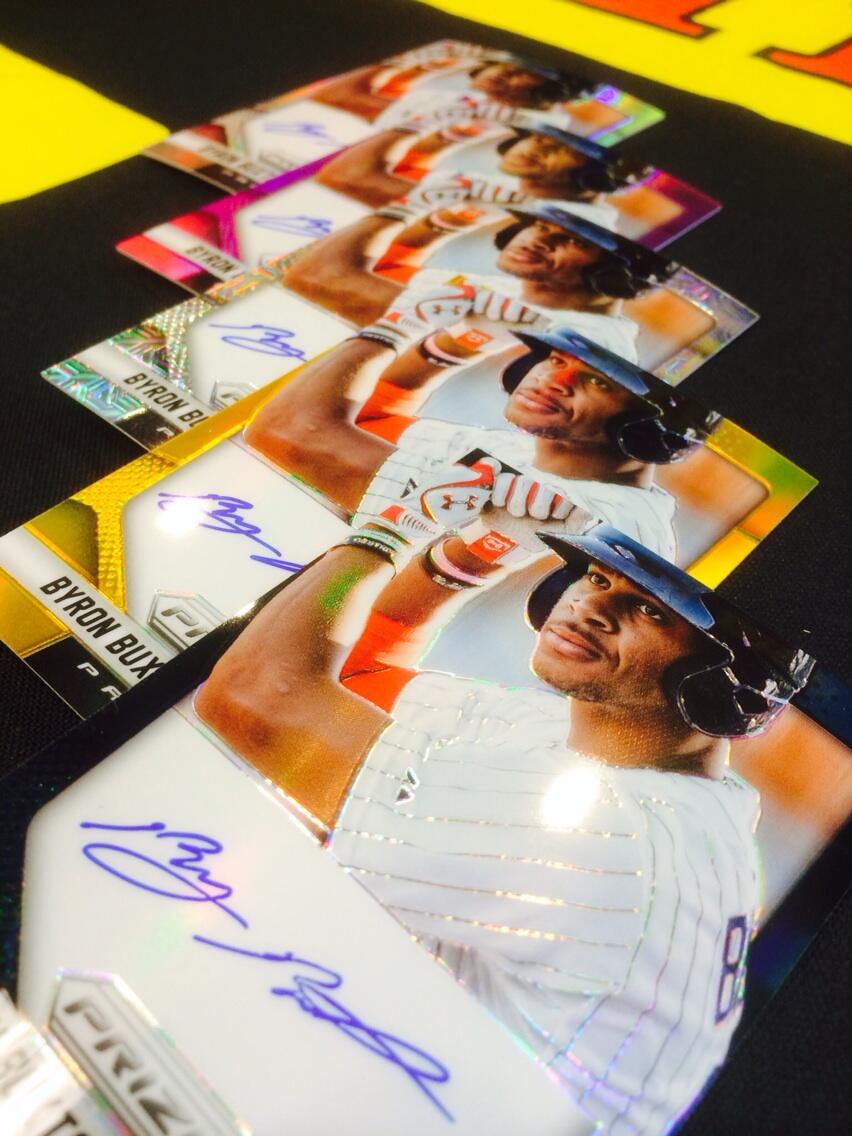 "Ohhhhh," he said, pausing to think. "I couldn't tell you. I've signed a lot. A lot of things."
He talked about how signing isn't similar to work on the field — but that doesn't mean he takes it lightly.
"It's just different work and a responsibility," he said. "Something you have to get used to. You just take the time to do it, get it done and everything will be alright."
The surprise of seeing himself on a baseball card for the first time didn't take long as there were Draft Day cards made the 2012 event and his first official cardboard soon followed.
"I think I was kind of shocked. I didn't know how it got out so fast," Buxton said. "At the same time I was pretty excited. I remember seeing cards as soon as I was drafted."
Despite that immediate gratification of big-league cardboard before setting foot near a big-league field, Buxton said he hasn't gone out of his way to start a collection just yet.
"Not really," he said. "I haven't been trying to pick up any cards."
So, is appearing on cardboard as special as the firsts like that spring training home run? Perhaps not as much for a guy who is focused on the field — but Buxton did say both are important to him.
"I have to say I take pride in doing things both on and off the field," he said. "On the field, I'm just concerned about working hard and helping our team win. Off the field, if I have things to sign or whatever I'm going to get it done and get it completed and go about my business."
Chris Olds is the editor of Beckett Baseball and Beckett Sports Card Monthly magazines. Have a comment, question or idea? Send an email to him at colds@beckett.com. Follow him on Twitter by clicking here.