Baseball's shaving cream celebrations aren't new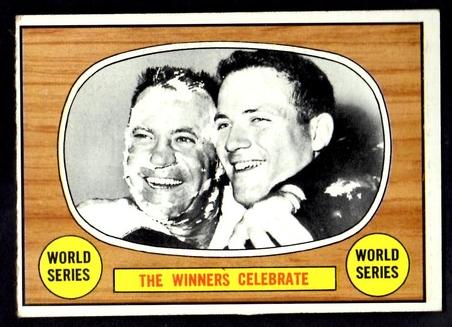 By Dan Good | Contributing Editor
Sorry, A.J. Burnett – someone else beat you to the shaving cream celebration.
The now-Pirates pitcher, who spent three seasons with the Yankees, gained notoriety for smashing his teammates' faces with towels full of shaving cream. The shenanigans usually followed clutch wins, leaving heroes to wipe fluff out of their eyes after achieving their biggest moments.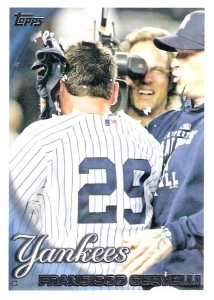 Other teams followed suit, and some of those pie-in-the-face memories appeared on Topps short-prints in recent years.
Shaving cream celebrations have found their way onto cardboard before – before the 1990s and 1980s, before the Big Red Machine and Oakland Athletics dominated baseball in the 1970s, before the Amazin' Mets of 1969, before Nolan Ryan and Johnny Bench's Rookie Cards were released.
On 1967 Topps No. 155, "The Winners Celebrate," it shows Orioles manager Hank Bauer, his face smeared with shaving cream, hugging winning pitcher Dave McNally. The bedlam followed Baltimore's first World Series championship – with the Orioles throwing three straight shutouts to sweep the Dodgers. McNally, Drabowsky, Palmer and Bunker out-dueled Drysdale, Koufax and company. A shaving cream celebration followed in the Memorial Stadium clubhouse.
Eleven years later, Allan James Burnett – the pitcher who made the messy merriment vogue again – was born.
Fun? Sure. But no, Burnett wasn't the first.
Dan Good has been a journalist for more than a decade. He currently works at the New York Post. You can email Dan here with ideas, comments and questions. Follow him on Twitter here.