Baseball's Overlooked Team and Key Cards to Watch
We're now a couple of months into the baseball season and some things are clear. Mike Trout is the big fish. Shohei Ohtani, Ronald Acuna and Gleyber Torres are leading another deep rookie class. The Yankees are mashing the ball as advertised.
And there are plenty of players not getting the attention they might deserve in the hobby. There's a variety of reasons why this happens. They might not play for a big-market team. Bigger names might surround them. They might just being going about doing their thing without a lot of flair or dramatics. At any rate, players worthy of lots of attention don't always get it.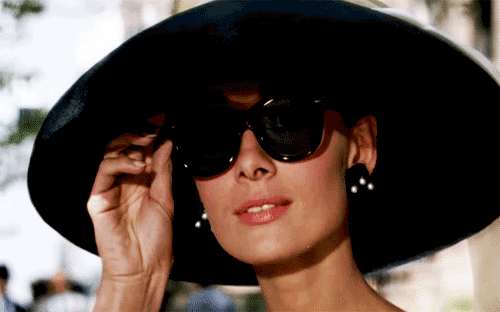 Here's an All-Star-caliber lineup (at least based on the first couple months of the 2018 season) that you might want to watch a little closer as the crisp spring air gives way to the summer heat.
1B – Joey Votto, Cincinnati Reds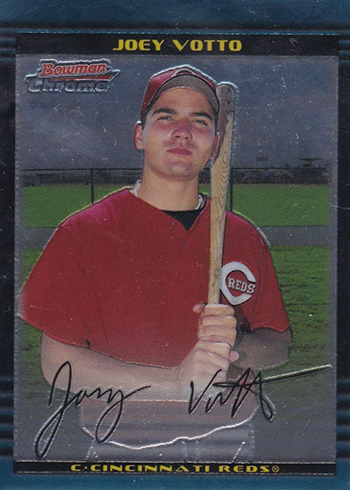 Joey Votto Card List and Price Guide
How can a former National League MVP being overlooked? I've been asking myself the same thing for a while now. Last year, Paul Goldschmidt finally started getting some of the love that he deserves. Now it's Votto's time. Actually, he might be due even more.
To put it in the simplest of terms, Joey Votto is one of the best hitters in the National League. Year in, year out, he can be counted on to hit .300, knock somewhere around 30 home runs and be a catalyst for the Reds offense — one where he hasn't always had a lot of support.
So far this year, Votto's numbers are down slightly compared to last year. But he's still right around .300 and a small hot streak will get his power back on track.
Votto's place here is as much about his career as it is just 2018. If his numbers and donkey-gifting heroics aren't enough to make him more of a hobby star, it's tough to say what will.
3 Key Cards:
• 2002 Bowman Chrome Draft Joey Votto RC #44
• 2004 Bowman Signs of the Future Joey Votto #JV
• 2017 Topps Triple Threads Autograph Relic Combos Barry Larkin/Ken Griffey Jr./Joey Votto #ARC-LGV /36
2B – Scooter Gennett, Cincinnati Reds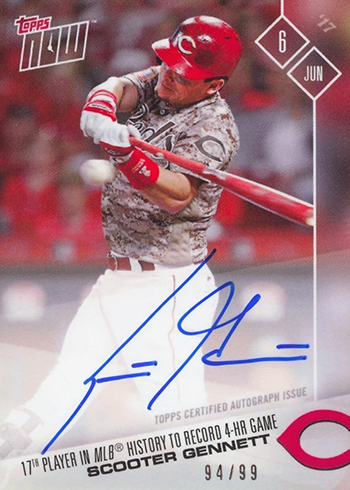 Scooter Gennett Card List and Price Guide
Right after mentioning Joey Votto doesn't get a lot of support in the lineup, here's his teammate Scooter Gennett. While it's an extreme longshot, Gennett is currently in contention for the Triple Crown, ranking among the National League's best in batting average, home runs and runs batted in. So in case you thought his four home runs in a single game was a one-game outburst, it wasn't.
3 Key Cards:
• 2010 Bowman Chrome Prospect Autographs Scooter Gennett #BCP206
• 2013 Bowman Chrome Draft Scooter Gennett RC #27
• 2017 Topps Now Autographs Scooter Gennett #222A /99
3B – Jose Ramirez, Cleveland Indians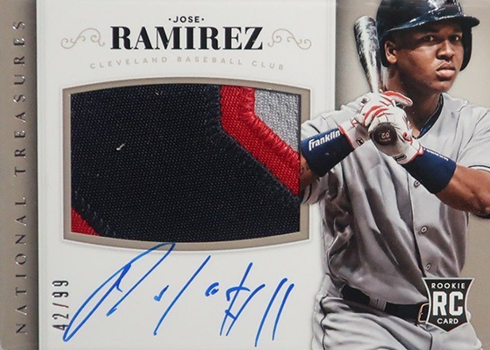 Jose Ramirez Card List and Price Guide
Francisco Lindor and Edwin Encarnacion may be bigger names on the Cleveland Indians roster, but Jose Ramirez has been just as good — if not better. Ramirez is coming off a massive 2017 season which saw him come third in AL MVP voting. And that was after a stellar 2016. So it's safe to say that the third baseman has proven himself to be a dangerous hitter. And that should continue for the foreseeable future. And yet, it's probably hard for most to think of even one of his cards. Tip: his Rookie Cards are in 2014 products and he hasn't signed for a lot of sets.
3 Key Cards:
• 2013 Topps Heritage Minors Real One Autographs Jose Ramirez #ROA-JR
• 2014 Panini National Treasures Jose Ramirez RC Auto Jersey #182 /99
• 2014 Topps Chrome Rookie Autographs Jose Ramirez #45
SS – Brandon Crawford, San Francisco Giants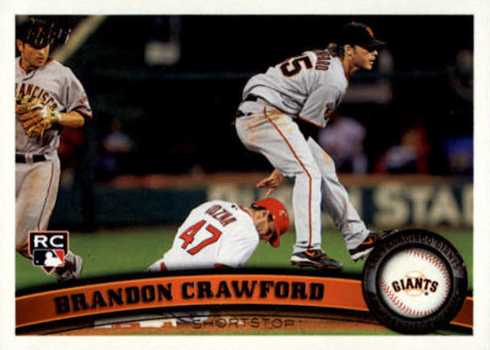 Brandon Crawford Card List and Price Guide
Brandon Crawford isn't going to make the Hall of Fame. It's unlikely he'll have a lot of highly coveted cards. Although he's known more for his glove than his bat (he's won Gold Gloves for three consecutive years), Crawford has found some consistency at the plate so far in 2018. He's currently got his batting average right around .300, a significant increase from more years where he's closer to .250.
3 Key Cards:
• 2006-07 Upper Deck USA Baseball Signatures Black Brandon Crawford #2 /595
• 2008 Playoff Contenders Brandon Crawford Autograph #61 PR: 339
• 2011 Topps Update Brandon Crawford RC #US234
C – Wilson Ramos, Tampa Bay Rays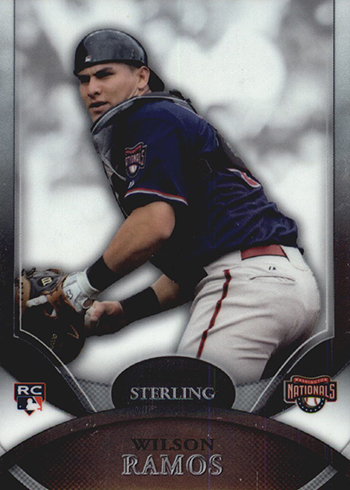 Wilson Ramos Card List and Price Guide
Over the past couple of years, Wilson Ramos has emerged as one of the better hitting catchers in baseball. It really started in 2016 when he was named to the All-Star team while with the Washington Nationals. Last year, his first with Tampa, wasn't great, but Ramos has rebounded in 2018. He's currently leading all catchers as far as batting average goes. His seven home runs so far aren't going to break any records, but Ramos looks well on his way to passing the 11 he hit last year. If you're looking for Wilson Ramos autographs, he doesn't have many. And he hasn't signed since 2012.
3 Key Cards:
• 2008 Prime Cuts Limited Phenoms Autographs Wilson Ramos #16
• 2010 Bowman Sterling Wilson Ramos RC #28
• 2010 Topps Chrome Rookie Autographs Wilson Ramos #189
RF – Mitch Haniger, Seattle Mariners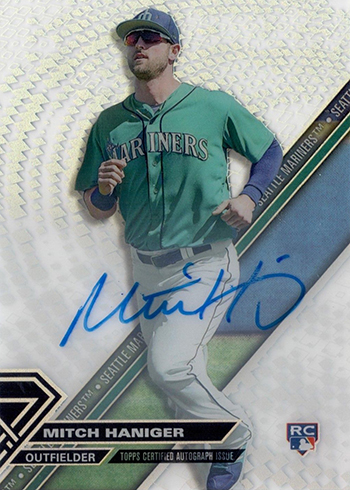 Mitch Haniger Card List and Price Guide
Mitch Haniger was one of the overlooked names in the trade between the Mariners and Diamondbacks deal that also saw Jean Segura, Taijuan Walker and Ketel Marte switch teams. Well, it turns out Haniger was one of the cornerstones. He started out 2017 on fire before injury hit. But in 2018, Haniger is looking strong again in Seattle. Not only has he been a big contributor on offense, he's also come up clutch on multiple occasions, helping Seattle off to a stronger than expected start.
3 Key Cards:
• 2012 Bowman Chrome Draft Draft Pick Autographs Mitch Haniger #BCA-MH
• 2017 Panini National Treasures Mitch Haniger RC Auto Jersey #196 /99
• 2017 Topps High Tek Autographs Mitch Haniger #HT-MH
CF – A.J. Pollock, Arizona Diamondbacks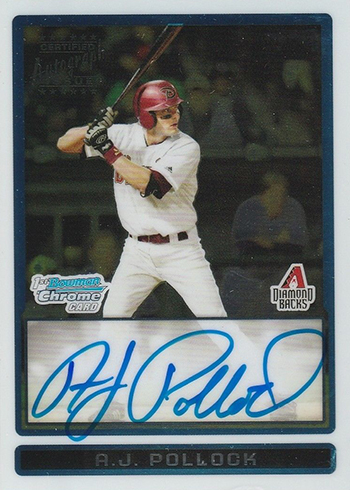 A.J. Pollock Card List and Price Guide
Through mid-May, A.J. Pollock was having an MVP-type season for the Diamondbacks. Then, injury hit in the form of a fractured thumb. It shouldn't be too long before the Diamondbacks outfielder returns. And even with the injury, it could be a career year for Pollock. His 11 home runs are just three off of his 2017 season total. His batting average is still around .300 and he's still in the top 20 in the NL for RBI despite missing time.
3 Key Cards:
• 2009 Bowman Chrome Draft Prospects A.J. Pollock Autograph #BDPP82
• 2012 Bowman Sterling A.J. Pollock RC #27
• 2012 Panini National Treasures A.J. Pollock RC Autograph #151 /99
LF – Khris Davis, Oakland Athletics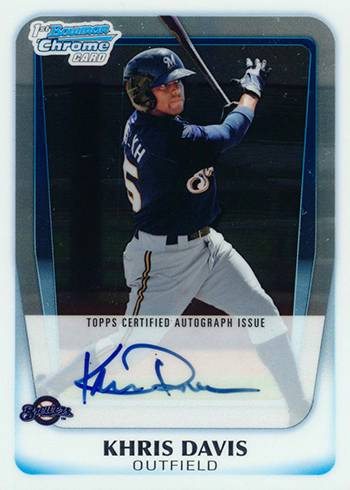 Khris Davis Card List and Price Guide
There's a good chance that Khris Davis is on his way to his third consecutive 40+ home run, 100+ RBI season. Sure, his batting average isn't great and his strikeout totals are high, but Davis is still a slugger. Yet, you hear very little about him, both in the highlights and in the hobby.
3 Key Cards:
• 2009 Donruss Elite Extra Edition Khris Davis Autograph #123 /150
• 2011 Bowman Chrome Prospect Autographs Khris Davis #BCP163
• 2013 Topps Chrome Khris Davis RC #22
P – James Paxton, Seattle Mariners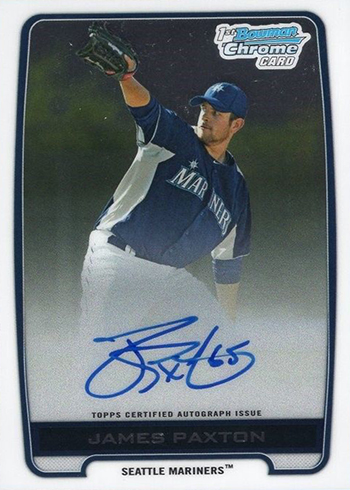 James Paxton Card List and Price Guide
Sorry, Felix Hernandez, but there's a new ace on the Mariners staff. His name? James Paxton. The Canadian's emergence began in 2017 and has carried over to 2018. Every game he starts, Paxton has the potential to be dominant. None more so than his no-hitter in May against the Toronto Blue Jays. After two months, Paxton is among the top 10 pitchers in all of baseball in several categories including strikeouts, innings pitched and opponents' batting average.
3 Key Cards:
• 2012 Bowman Chrome Prospect Autographs James Paxton #BCA-JP
• 2012 Bowman Sterling Prospects James Paxton #BSP32
• 2014 Panini National Treasures James Paxton RC Auto Jersey #220 /99
Who do you think is overlooked in baseball right now? Let us know in the comments below or on Twitter.
Comments? Questions? Contact Ryan Cracknell on Twitter @tradercracks or by email.