Baseball or Football? What Will Kyler Murray Do? – Beckett Pricing Insider
Heisman-winning quarterback, and member of the Oakland Athletics organization, Kyler Murray, might be declaring for the NFL draft. Normally, this would be a big story but with Murray, who is also an elite baseball player, it's different.
Murray was selected with the ninth pick overall in the 2018 MLB Draft by the A's and signed a deal that included a $4.66 million bonus. They also agreed that Kyler could go back to the University of Oklahoma for one more year of football. I'm guessing the A's did not expect him to go out and win the Heisman.
Now reports are out that unless Oakland is willing to put up more money, Murray will make himself available in the NFL Draft.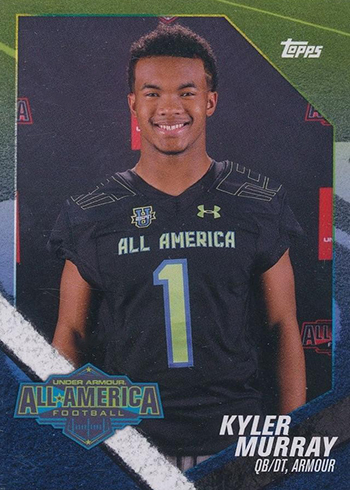 The Athletics open up their Major League Camp in Spring Training on February 15 and Kyler is expected to be there. Unlike many younger prospects who spend just a week or two in the major league portion of camp before going back to the minors, Oakland currently has Murray scheduled to stick with the team all the way until they leave to start their season in Japan.
A few key dates for Kyler will be February 26 to March 4 during the NFL Scouting Combine to see what sport he chooses to ultimately focus on.
For Murray, this decision has been a long time coming. He was a highly regarded prospect in both sports in high school and actually opted out of the MLB Draft his senior year because of his desire to play football in college.
He has said he would love to play both professionally, and there's a good chance we see him do so at some point. Bo Jackson, Deion Sanders and Brian Jordan are some of the past players to do so. But the demands of an NFL quarterback nowadays make it almost impossible to do that and play another sport.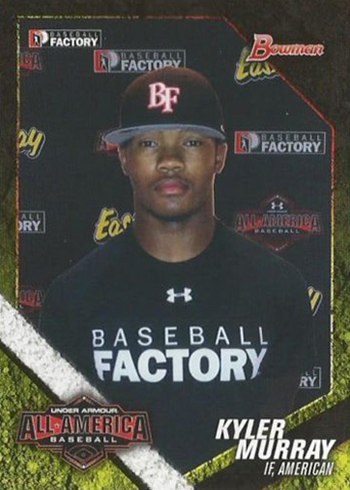 Murray was the first high school athlete ever to be selected for both the Under Armour All-America Football and the Under Armour All-America Baseball games. Because of these appearances and Topps' deal with the Under Armour games, Murray already has two cards in the Beckett Database, one for football and one for baseball. Both of these cards jumped up with sales $150 – $200 after Murray was awarded with the Heisman. The cards, which were available at the event, appear to be fairly rare with not many listed for sale. It's possible an autographed version of his baseball card could end up in packs one day should Murray stick with baseball.