Baseball Cards with Baseball Writers – Beckett Pricing Insider
Baseball's off-season has been one of patience. We're sitting here, a week into the new year waiting to see whether Bryce Harper or Manny Machado will make the first move. As we ponder and prognosticate, there are many in the game who are hard at work trying to find a scoop on what either of these players will do.
I'm talking about the writers.
One may be surprised to know that you can find trading cards with some of your favorite writers and sports journalists. We owe much of this to Topps and their Allen and Ginter product that goes a little outside of the normal baseball realm.
Here are some of my favorites:
Jayson Stark
I have to start with Stark, whom it was recently announced is the recipient of the 2019 J.G. Taylor Spink Award. This award will be given to him by the Baseball Writers Association of America for his contributions to baseball writing during the 2019 Hall of Fame induction. Stark has just 35 cards in the Beckett database, all from 2017 Topps Allen and Ginter and Allen and Ginter X. His mini framed autograph runs anywhere from $5-$20.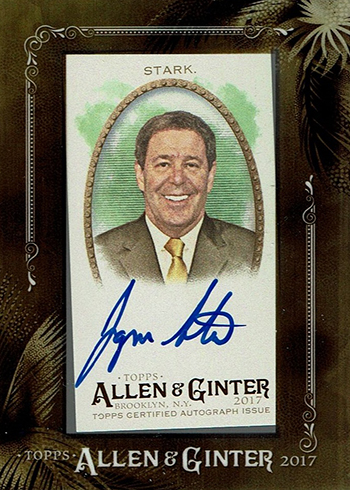 Ken Rosenthal
Rosenthal is a well-known reporter with The Athletic who is unique in his fashion style, wearing a bow-tie when he is on the field. Rosenthal has 42 cards in the Beckett database, all from 2017.  His 2017 Topps Archives Fan Favorites Autograph sold for just around $20.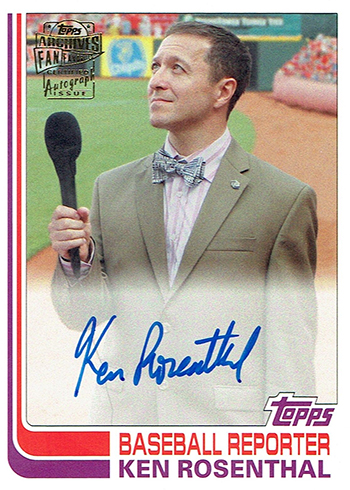 Keith Law
Currently a senior baseball writer for ESPN, Law has an even more direct experience in baseball, spending time in the Blue Jays' front office as a special assistant to the General Manager. Law has just 24 cards in the Online Price Guide, all from 2015 Topps Allen and Ginter and its spinoff Allen and Ginter X. A relic card, with what I would guess is a piece of his tie, sold for just around $5 with shipping.