Baseball Cards of Spring Training Celebrities – Beckett Pricing Insider
I saw a headline the other day about Garth Brooks joining the Pittsburgh Pirates for their first week of Spring Training and it made me feel like I was having déjà vu. I'd seen this before — 15 years ago..
Back when the internet was still dial-up and daily newspapers were commonplace I read this article. I didn't read it online, but from the sports section of The Daily Oklahoman. It was about Brooks playing Spring Training with the Royals to raise awareness for his Teammates for Kids Foundation. The article goes into detail about how the Royals are the third team Brooks has "joined" in Spring Training. The San Diego Padres and the New York Mets came before. He is batting 1-39 in exhibition games and even has his own page on Baseball Reference.
This year is the 20th anniversary of Garth's Teammates for Kids Foundation, which has raised over $100 million for kids charities.
This made me start to think of other celebrities who have participated in Spring Training and the list is solid. It may surprise how many (or how few) cards some of these stars have sports cards.
Garth Brooks
5 cards
I was surprised to see such a low number for a guy who is at his fourth Spring Training. I saw a lot of custom or unlicensed stuff out there so be careful.
Spotlight Card: 1991 Oklahoma State Collegiate Collection #87
This is part of a 100 card multi-sport set dedicated to Oklahoma State Athletics and famous alumni. You can find this one for around $5 or less.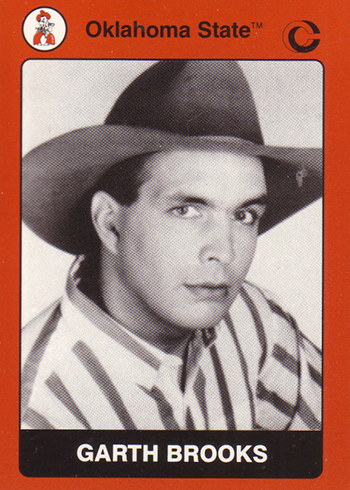 Billy Crystal
18 cards
In 2008, the lifelong Yankees fan got a chance to play to play for his dream team when for his 60th birthday he got to suit up in pinstripes. He proceeded to strike out in his one appearance.
Spotlight Card: 2008 TRISTAR PROjections #400
Before Topps took over with licensing, Tristar included Crystal in its High Series in their 2008 set. This card is fairly common and can be found for just a buck or two.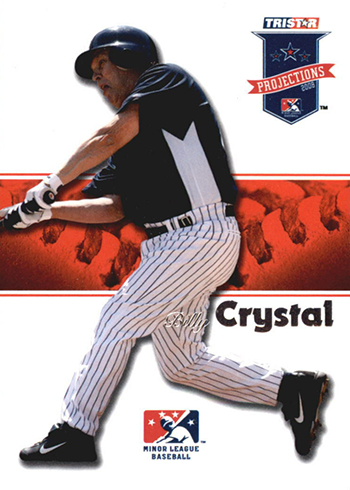 Kevin Costner
69 cards
The actor who gave us Crash Davis in Bull Durham and Ray Kinsella in Field of Dreams technically didn't play in Spring Training but an exhibition game for the Single-A Inland Empire 66ers against their parent club, the Seattle Mariners.
Spotlight card: 2016 Topps Archives Bull Durham Autographs
From the early 1988 and 1989 Star Durham Bulls sets by Star, to his autograph in 2016 Topps Allen & Ginter as Ray Kinsella, and  autograph relics in 2016 Topps Triple Threads as Crash Davis, Costner's roles certainly have help to build up his assortment of cards. This one is my favorite. Costner, who wasn't included in the seven-card Bull Durham insert set, was included in the nine-card autograph set. This one is gonna cost you a significant amount, though, with sales ranging between $200 to $500.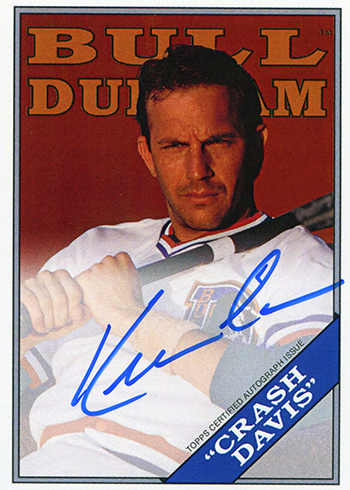 Tom Selleck
3 cards
This one really surprised me since I actually have his only common card. He's another guy with a lot of customs on the market. In 1991, Selleck, a diehard Tigers fan was preparing for his role in the film Mr. Baseball, got the chance to suit up with the ball club and proceeded to strike out in his only at-bat.
Spotlight Card: 1992 Upper Deck SP4 with Frank Thomas
His only licensed card that isn't a cut autograph is this promo card from Upper Deck that was randomly inserted into 1992 High Number packs. These sell for around $5.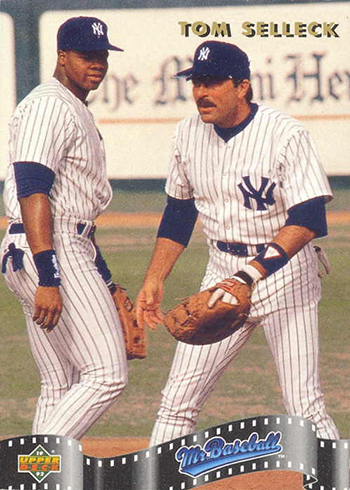 Will Ferrell
79 cards
Many may remember the comedian's epic day in 2015 when he played all ten positions for ten different teams. Ferrell, along with Funny of Die created a documentary for HBO called Ferrell Takes the Field that he used to help raise money for cancer research through Cancer for College. He even one-up's the rest of the guys on the list because he has a Baseball Reference Players page accurately providing not only his statistics for the day but a detailed list of the transactions and teams he played for.
Spotlight Card: 2015 Topps Archives Will Ferrell Autographs WFA6
Because of this event, his card library expands past non-sport sets. Two sets from 2015 help to promote this event, Topps Archives and Topps Dynasty. Archives did most of the work with a 10-card Will Ferrell insert set as well as an autographed parallel set with each card numbered out of 10. This Cincinnati Reds version recentlt sold for $800. There is also a limited set of variations to the basic ten-card insert set that were given away at a promotional event, few of which are likely to ever see the light of day.