Baseball cards create lasting memories for one Derek Jeter collector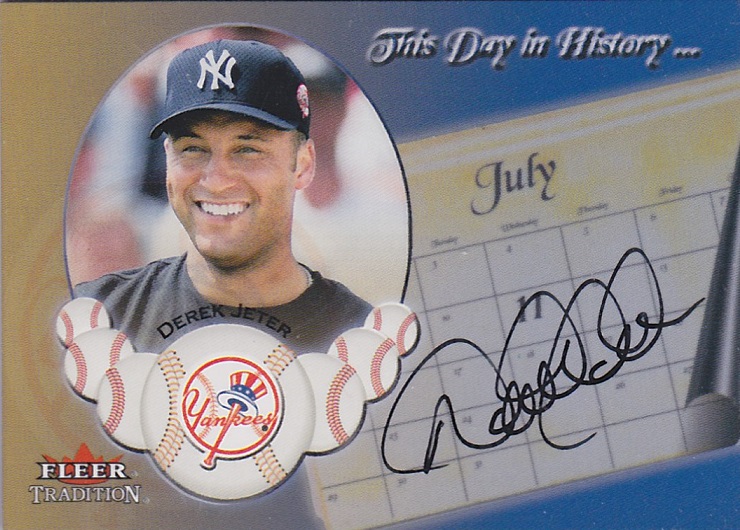 By Susan Lulgjuraj | Beckett Sports Card Monthly Editor | Commentary
I knew the day would come. It inched closer and closer with every at-bat, every season, every centimeter of forehead that was new and fresh.
Derek Jeter would eventually retire from baseball.
Jeter announced today that 2014 season would be his last. Even though I knew it was coming, it gave me a pause. I stopped what I was doing and simply stared out into nothing.
Then, I smiled.
While there is a part of me that is sad because Jeter has been my favorite since 1996, I can't help but enjoy thinking about the way he played. I had season tickets to Yankee Stadium for several years; I traveled on the road to more than 15 different ballparks to watch them play. I got to see spectacular plays in person that get replayed on highlights reels all these years later.
For me, Jeter is the Yankees. He is my Mickey Mantle, my Joe DiMaggio, my Babe Ruth.
He has defined the New York Yankees I have known for two decades.
Collecting Derek Jeter cards has been one of my greatest hobbies since the late 1990s. When I got my first job as a cashier at The Sports Authority, I used my hard-earned money to buy Jeter card lots on eBay. I would write check after check, sending them to people around the country to get more and more Jeter cards. Bubble mailers would show up every day, which usually got an eye roll from my mother.
Not much has changed since I was 16 years old. Bubble mailers still show up in the mail with Jeter cards – mostly recently I added a handful of 2014 Topps Series 1 cards to add to my ever-growing collection.
At this point, I have more than 2,000 unique Jeter cards dating back to his pre-MLB days. There are favorites that I love to look at when the mood strikes. I bet this week, I will spend a lot of time going through the binders and boxes filled with Jeter cards.
That's one of the greatest things about collecting cards. Even though Jeter's career is near its end, I have 20 years' worth of memories tucked away that I can view at any time. I get to laugh at how boyish he looked when he started with the Yankees or marvel at him diving into the stands to catch a foul ball or wonder why President George W. Bush is in the stands at Yankee Stadium with Mickey Mantle in the dugout while Jeter is at-bat.
And every time, I am going to smile.
Susan Lulgjuraj is an editor at Beckett Media. You can email her here with questions, comments or ideas. Follow her on Twitter here. Follow Beckett Media on Facebook and Twitter.