A brief history of Back to the Future trading cards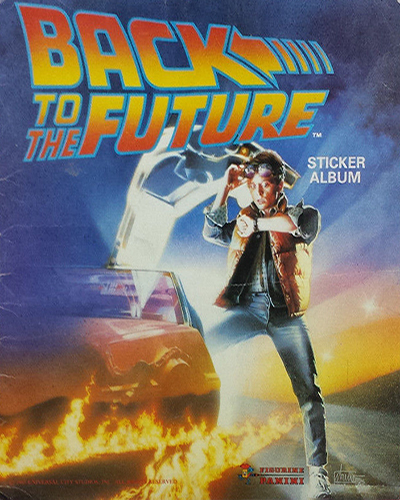 By Ryan Cracknell | Hobby Editor
From replica Deloreans to fancy self-lacing shoes to insanely expensive bottles of Pepsi, Back to the Future has spawned some pricey collectible. But when it comes to Back to the Future trading cards, there's not much out there.
It started with the first film. Despite being a massive hit, a mainstream release never came to be — at least in the traditional sense. But that doesn't mean there's nothing.
1985 Kellogg's Back to the Future Trading Cards
As far as cards go, Kellogg's released a small set in a handful of boxes of sugary cereals: Corn Pops, Froot Loops, Frosted Flakes and Marshmallow Krispies.
A complete set has eight cards. The design is very basic with an image on the front surrounded by a white border and the film's logo in the corner. Backs have a very short write-up that feels more like a caption. The logo and the iconic poster artwork of Marty looking at his watch are also on the back of all of the cards.
Like a lot of food-issue sets, particularly when it comes to entertainment trading cards, these aren't easy to find and are easy to overlook. But without a tradition set of Back to the Future trading cards to go with, they carry a lot of significance. The bilingual text suggests that these might have only been distributed in Canada, although we haven't been able to confirm this. If that's the case, that would make them even rarer.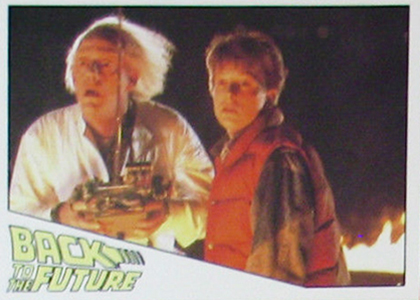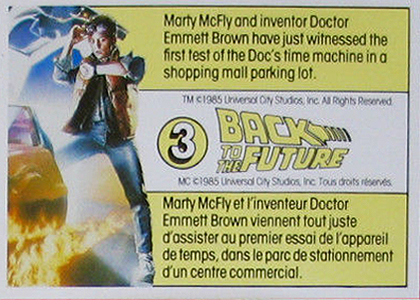 1985 Panini Back to the Future Stickers
Sticker albums are a lot like card sets. However, like food-issue cards, most don't consider them quite in the same light. Again, with not a lot of choice, sometimes you have to look elsewhere.
1985 Panini Back to the Future Stickers offer the most comprehensive look at the first film in the classic trilogy from a hobby perspective. But they're not exactly cards. These stickers have smaller dimensions and they're intended to be housed in an album.
Full sets have 180 stickers. They're all images from the movie, although some are split up to make images.
The album offers the captions, summarizing the plot and offering a little more on the characters and background.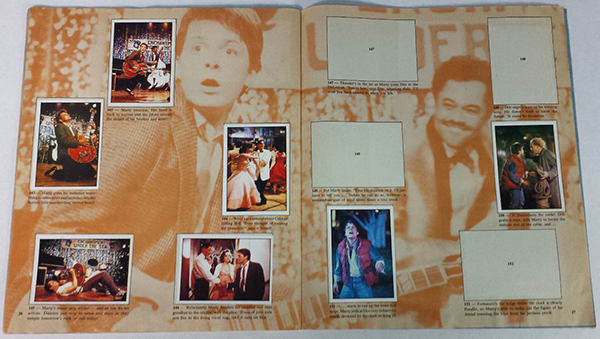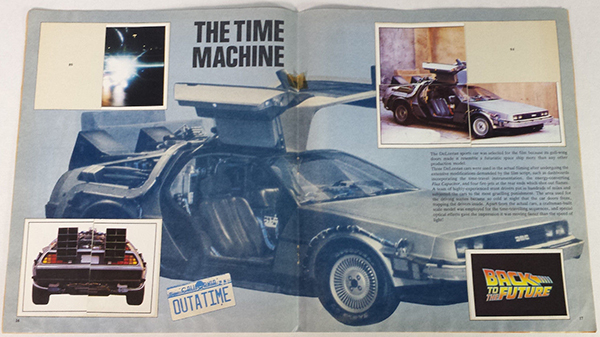 As is the long-standing tradition for Panini sticker sets, you could finish your sets by mailing away for missing stickers. But that offer has long since expired. 1985 Panini Back to the Future Stickers surface for sale with some regularity but usually not in any quantity. Buying a complete set can be expensive.
1989 Topps Back to the Future II Trading Cards
Because it's still tough to go back in time, Topps tried the next best thing by getting in on the sequel. 1989 Topps Back to the Future II might not have totally the same appeal but it is something.
A full set has 88 cards plus 11 sticker. Boxes also had a poster inside intended to be hung in stores to advertise the set. With the rise in the franchise's popularity in recent years, it's worth a little more than it used to be. However, there's still a lot of Back to the Future II trading cards out there.
Many of the remaining boxes are found with a black mark across the top. This was normal practice for Topps at the time with returns that were sent back and later cleared out.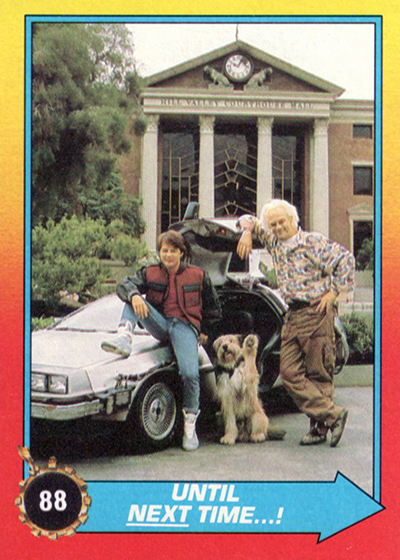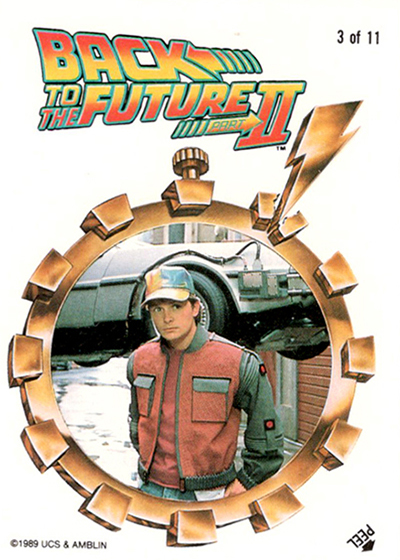 One of these cards was later used for the 2013 Topps 75th Anniversary anthology set. Original cards were also inserted in these packs as buybacks. These have a commemorative 75th foil stamp added to them noting the release.
2015 Back to the Future Almanac Promo Cards
Printed to promote the Back to the Future Almanac, these cards were primarily handed out at the 2015 San Diego Comic-Con. The set of 14 cards are inspired by the 1989 Topps Back to the Future set. The numbering also carries on from when the original set left off.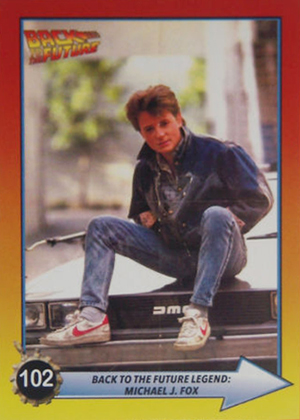 Most of these promo cards feature various collectibles connected with the film.
Also available at the 2015 SDCC is a lenticular card advertising the Back to the Future: The Ultimate Visual Guide book. This is just a single card and not a set.
Back to the Future Autographs
While there aren't any official Back to the Future autograph cards, some of the key stars have signed for other products. Christopher Lloyd (Doc Brown), Lea Thompson (Lorraine) and Marc McClure (Dave McFly) have all appeared in celebrity-themed sets like Americana and Leaf Pop Century. Lloyd also has an autograph in 2007 Rittenhouse Complete Star Trek Movies.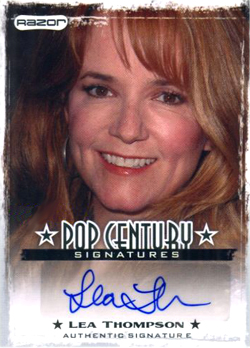 Other Back to the Future promo cards and one-offs can be found periodically. Perhaps you've got another obscure oddball or food issue release hiding in a box. But even so, it appears as though the hobby is primed for something modern and all-encompassing as far as new Back to the Future trading cards go.
Would you like to see a new set of Back to the Future trading cards? What would you want to be included?