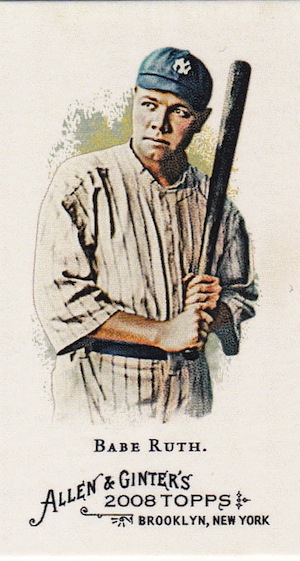 By Chris Olds | Beckett Baseball Editor
The Bambino is coming to the Ginter.
One of the sports world's biggest names is coming to one of the baseball card world's more-popular brands this summer as a game-used memorabilia card for the first time that's not on a 1/1 basis.
Babe Ruth is among the Relic subjects for the upcoming Allen & Ginter release from Topps and the company confirmed his inclusion to Beckett Media on Wednesday.
"He will have an Allen & Ginter Mini Relic card," said Jon Einalhori, Topps' assistant brand manager for baseball. "The card will be limited."
Ruth, who was Major League Baseball's career home run leader for more than 50 years until Hank Aaron topped his 714 in 1974, is no stranger to cardboard more than 60 years after his death. He appears on 4,211 cards valued at more than $1.07 million not including rarities. (Click here for a checklist or Online Price Guide.)
Ruth also is no stranger to memorabilia cards, either, with 1,185 different ones made through the years. For Ruth and Ginter, there's just a single 1/1, a book card from last year's Ginter pairing him with another Yankees legend, Joe DiMaggio.
Ruth made his Allen & Ginter debut in 2008 with a single insert card in that year's product. After a couple of one-offs — a National Sports Collectors Convention Ginter card and an eTopps Ginter card — he had not been used in Allen & Ginter until just last year. (Ruth Ginter checklist here.)
The eighth edition of Allen & Ginter will arrive on Aug. 7.
Chris Olds is the editor of Beckett Baseball magazine. Have a comment, question or idea? Send an email to him at colds@beckett.com. Follow him on Twitter by clicking here.