Awesome Inserts: 1993-94 Pinnacle Masks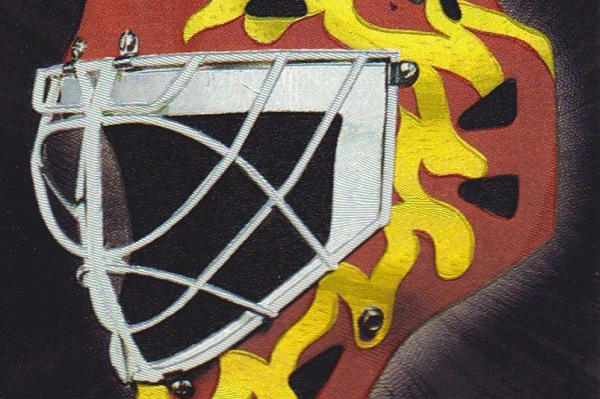 Unless it's a modern memorabilia card, athlete gear doesn't normally make for a compelling sports card focal point. But that doesn't mean it can't work. 1993-94 Pinnacle Masks is one of the most memorable hockey insert sets of the decade — and players are nowhere to be seen on the card fronts.
The ten-card set mixes goalie helmets, Dufex and black backgrounds to bring the cards to life. No doubt inspired by the 1991-92 Pro Set Patrick Roy "The Mask" #CC2 card, 1993-94 Pinnacle Masks took things a step further by adding the popular printing technology.
The checklist has a couple of big names like Grant Fuhr, John Vanbiesbrouck and Mike Vernon, but it's primarily goalies that were never superstars.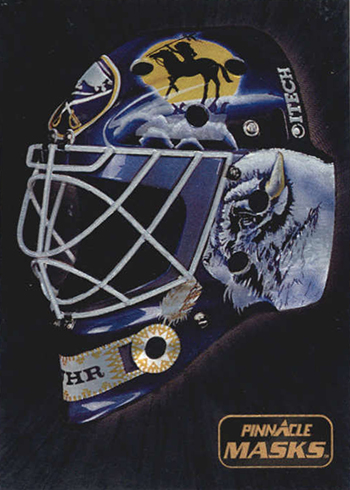 Although the fronts don't offer a glimpse of the actual player, card backs do. A close-up portrait offers an opportunity to see the person behind the mask, something not a lot of cards do. While you can attempt to peer into their soul, there isn't much in the way of additional information outside of the player's name and team. In a couple of instances, the team name on the back doesn't match the helmet on the front as the player had switched teams.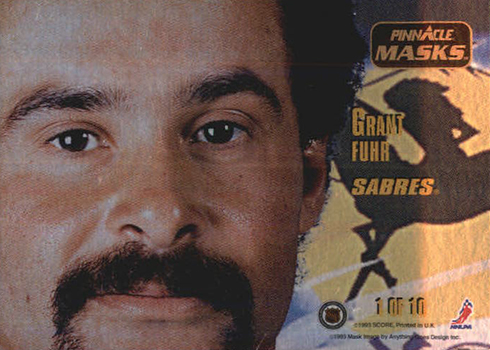 While the set isn't large, they're inserted 1:24 1993-94 Pinnacle Hockey Series 1 packs. So putting it together wasn't the easiest at the time. Today, they're not too hard to find and most can be found for a few dollars.
The story behind each mask's design would have been a cherry on top of an already memorable set of 1990s hockey inserts. Even still, 1993-94 Pinnacle Masks is an influential set. The inserts became a Pinnacle Hockey staple for several years until the company went out of business in the latter part of the decade. The set's legacy continued years later with In the Game's Between the Pipes brand and a multi-year insert line titled The Mask.
If you are looking to pick up some 1993-94 Pinnacle Masks cards, you can see what's available on the Beckett Marketplace and on eBay.
1993-94 Pinnacle Masks Checklist
Want a specific card? Click on the links to see what's currently listed on eBay.
1 Grant Fuhr, Buffalo Sabres
2 Mike Vernon, Calgary Flames
3 Robb Stauber, Los Angeles Kings
4 Dominic Roussel, Philadelphia Flyers
5 Pat Jablonski, Tampa Bay Lightning
6 Stephane Fiset, Quebec Nordiques
7 Wendell Young, Tampa Bay Lightning
8 Ron Hextall, New York Islanders
9 John Vanbiesbrouck, Florida Panthers (New York Rangers mask)
10 Peter Sidorkiewicz, New Jersey Devils (Ottawa Senators mask)
1993-94 Pinnacle Masks Gallery