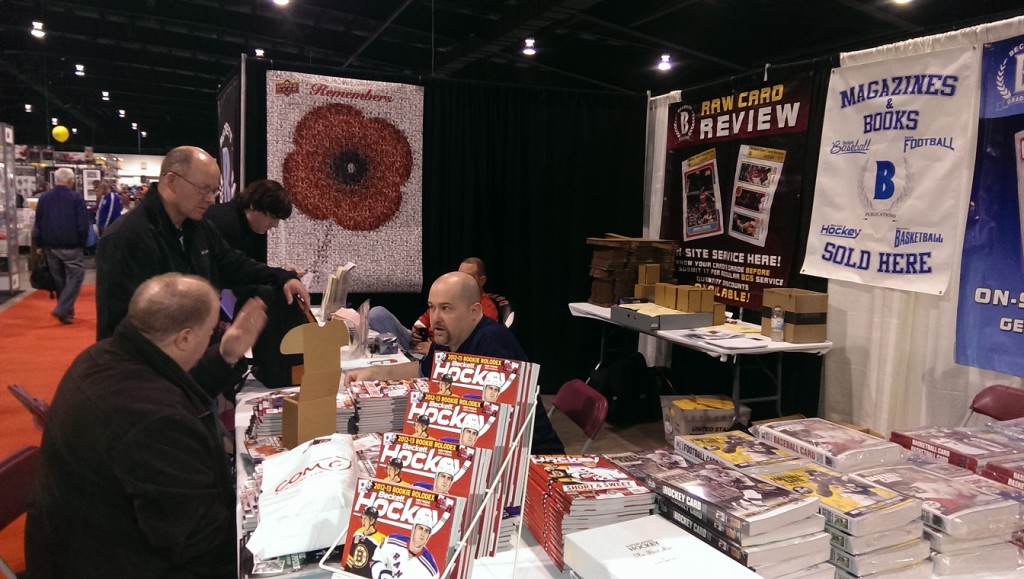 By Susan Lulgjuraj | Beckett Hockey Editor
The 2014 Sportcard & Memorabilia Expo kicks off Friday at the Toronto International Centre.
In The Game, Upper Deck and Panini America will all be represented at the show, featuring giveaways and prizes for attendees.
Here's a look what each company is doing and how you can get your hands on all the swag.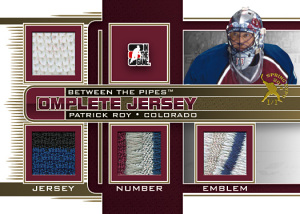 In The Game
ITG is having a special guest – Pete Rose on Sunday, May 4. He will tentatively appear at 1 p.m. and will be signing autographs starting at $59.
In The Game fans can redeem products for specially made cards from the Spring Expo. If collectors bring sealed boxes of 2013-14 Between the Pipes, 2013-14 Heroes & Prospects, 2013-14 In The Game-Used, or Lord Stanley's Mug, they can get stamped redemptions of memorabilia cards.
ITG will also offer games and prizes throughout the show.
ITG is hosting a party on Saturday night, In The Game's Customer Appreciation Night. Collectors breaking products at the ITG booth will receive customer appreciation points. Earn 400 customer appreciation points and exchange them for a VIP Guest Ticket to the event.
Each VIP Special Guest will be entitled to one personal autograph and photo with special guests, which includes Pete Rose, Wendel Clark, Sam Bennett, Jayna Hefford and Aaron Ekblad. Rose will only be signing special Sport King Commemorative Blow-Up cards for this event.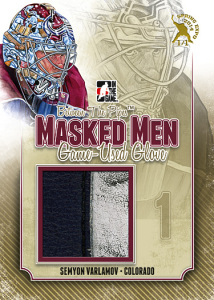 The following products qualify for the points toward VIP guest tickets:
2013-14 Heroes and Prospects (8 points)
2013-14 Between The Pipes (10 points)
StickWork (15 points)
In The Game-Used (15 points)
Lord Stanley's Mug (18 points)
Past, Present and Future Baseball (18 points)
Superlative Hockey – The Original Six (40 points).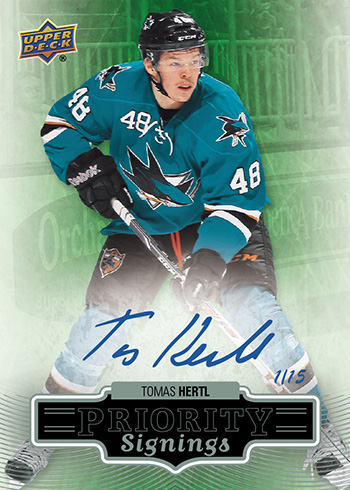 Upper Deck
Upper Deck can't head to the Sportcard Expo without bringing its Priority Signings.
These exclusive autographs can only be found at the show as a redemption for purchasing an Upper Deck product. Purchase a box of 2013-14 NHL® UD Series 2; 2013-14 NHL® SPX; 2013-14 NHL® SP Game Used; 2013-14 NHL® Black Diamond; or 2013-14 NHL® Artifacts from a Diamond Dealer at the show and bring it to the Upper Deck booth to receive a Priority Signings autograph.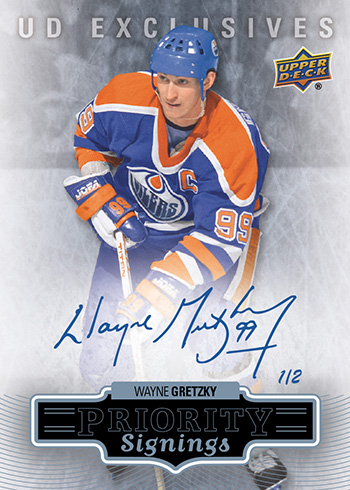 Upper Deck continues it Priority Signings Case Breaker Promotion. Purchase a sealed case of 2013-14 NHL Artifacts, 2013-14 NHL Black Diamond, 2013-14 NHL SP Game Used or 2013-14 NHL SPx from a Diamond Dealer and bring the voucher to the Upper Deck booth. Those collectors will receive one 2013-14 NHL Upper Deck Priority Signings Autograph cards at random; one 2013 Upper Deck Team Canada uncut sheet (only available to the first 50 fans); and one bonus instant redemption item, which includes autographs and memorabilia from players such as Bobby Orr, Evgeni Malkin, Wayne Gretzky, Seth Jones and Nathan MacKinnon.
Upper Deck is bringing back its Bubble Hockey Tournament and offering a free raffle for signed prizes and more.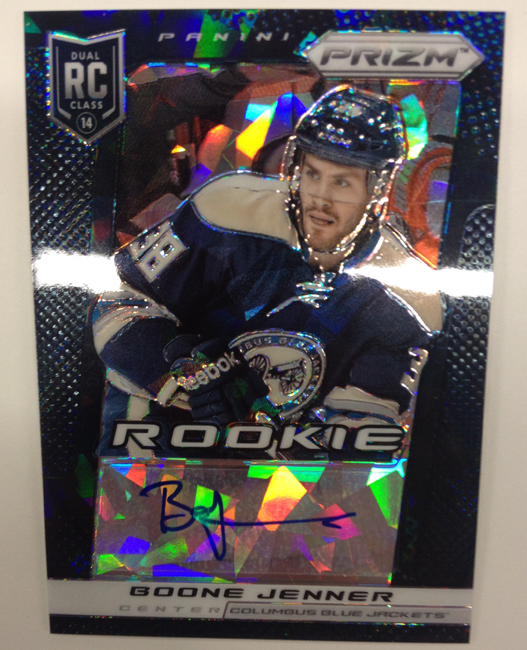 Panini America
Along with Box Wars and its Redemption Trade-Up program, Panini is having its Wrapper Redemption Program once again. This is year's wrapper redemption cards will feature Cracked Ice versions of 2013-14 Prizm Hockey and 2013-14 Select Hockey as the base set.
To participate, bring unopened product to the Panini booth and open the box for Spring Expo packs. See the products eligible below and how many packs you get for each box.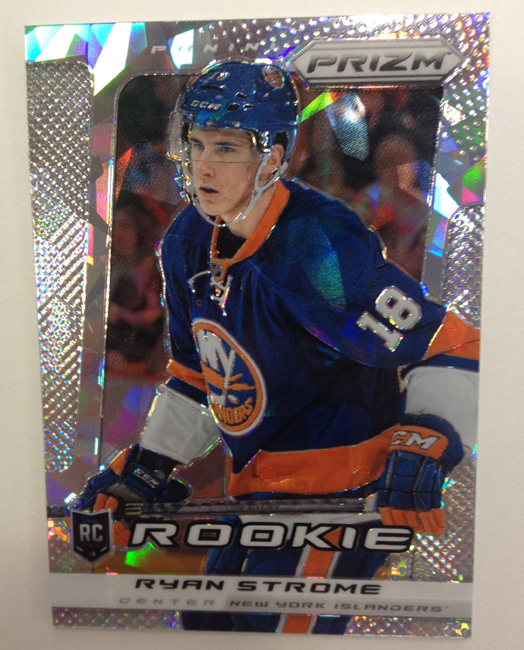 Update: Panini announced on Thursday that NHL rookies Sean Monahan and Ryan Strome will be signing autographs this weekend at the Panini America booth.
Monahan, a Calgary rookie, will be there on Friday from 4-5 p.m. and Strome, an Islanders rookie, will be available Saturday from 1-2 p.m.
Collectors have to purchase two packs of 2013-14 Titanium Hockey and redeem them for an autograph ticket at the Universal Distribution booth. The players will sign a Panini Private Signings oversized card.
If collectors want their own items signed by Strome, they need to purchase a box of 2013-14 Titanium Hockey and redeem it for an autograph ticket at the Universal booth.
| | |
| --- | --- |
| Product | Redemption Packs Per Box |
| 2014 Donruss Baseball | 4 |
| 2013-14 Score Hockey Jumbos | 8 |
| 2013-14 Prizm Hockey | 8 |
| 2013-14 Titanium Hockey | 12 |
| 2013-14 Crown Royale Hockey | 4 |
| 2013-14 Timeless Treasures Basketball | 8 |
| 2013-14 Hoops Jumbo Basketball | 8 |
| 2013-14 Titanium Basketball | 8 |
| 2013-14 Prizm Basketball | 4 |
| 2013 Crown Royale Football | 4 |
| 2013-14 Select Hockey | 10 |
| 2013-14 Totally Certified Basketball | 8 |
| 2013-14 Elite Basketball | 8 |
| 2013-14 Intrigue Basketball | 4 |
| 2013-14 Gold Standard Basketball | 16 |
| 2013 Black Football | 16 |
| 2013 Spectra Football | 16 |
Beckett Media
Beckett will be doing Raw Card Reviews at the Spring Expo.
Also, collectors can buy Beckett magazines and books at the show.
Susan Lulgjuraj is an editor at Beckett Media. You can email her here with questions, comments or ideas. Follow her on Twitter here. Follow Beckett Media on Facebook and Twitter.