Autographs, patches highlight Walking Dead set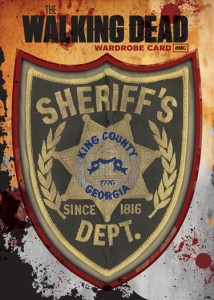 By Susan Lulgjuraj | Contributing Editor
The Walking Dead are getting closer.
Cryptozoic Entertainment is bringing the show about zombies closer to its fans as only the entertainment company knows how – through trading cards.
The Walking Dead Trading Cards is scheduled to come out in mid-December. Packs should cost around $3.50 with five cards in a pack and 24 packs in a box.
The 72-card base set will feature pictures highlighting memorable moments from the first season. But that's not where all the fun comes in.
The set will feature autographs (1:24), wardrobe cards (2:24) and sketch cards (1:288).
There are also special wardrobe "patch" cards, which are very limited. Twenty redemptions will be found in the product. Eighteen of them for a piece of character Rick Grimes' shoulder badge patch.
But two of the redemptions will be for full intact badges on oversized cards – one of Grimes' badge and another for character Shane Walsh's badge.
Check out a gallery of autograph cards and badge cards below.
Susan Lulgjuraj is a contributing editor for Beckett Media. You can email Susan here. Follow her on Twitter here.