Autographed handprint cards coming to Triple Threads Football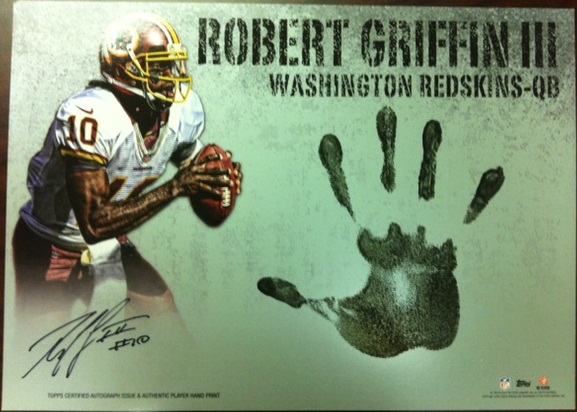 By Susan Lulgjuraj | Beckett Football Editor
There's something new this week with 2012 Topps Triple Threads – oversized autographed handprint cards.
Not new to Topps, but certainly a new element in football that will be included in one of Topps' high-end products.
"We put a special Cal Ripken "Touched by Greatness" card in Archives Baseball that created much buzz," Topps said in a press release. "The card included Cal's autograph as well an impression of his actual inked handprint. We are now ready to blow this idea up and go Prime Time with our NFL products."
Collectors can get these cards by finding a redemption in Triple Threads packs.
The subjects of these cards are all rookies, and here is the checklist:
– Andrew Luck
– Robert Griffin III
– Justin Blackmon
– Brandon Weeden
– Ryan Tannehill
– Trent Richardson
– Michael Floyd
Triple Threads is the first NFL product to feature the handprint autographed cards, but it won't be the last. The cards will also be in 2012 Topps Supreme, Valor and Five Star.
Susan Lulgjuraj is an editor of Beckett Football. You can email her here with questions, comments or ideas. Follow her on Twitter here.