Auction Diary: Wahoo McDaniel's Rookie Card & Joe Willie Namath come my way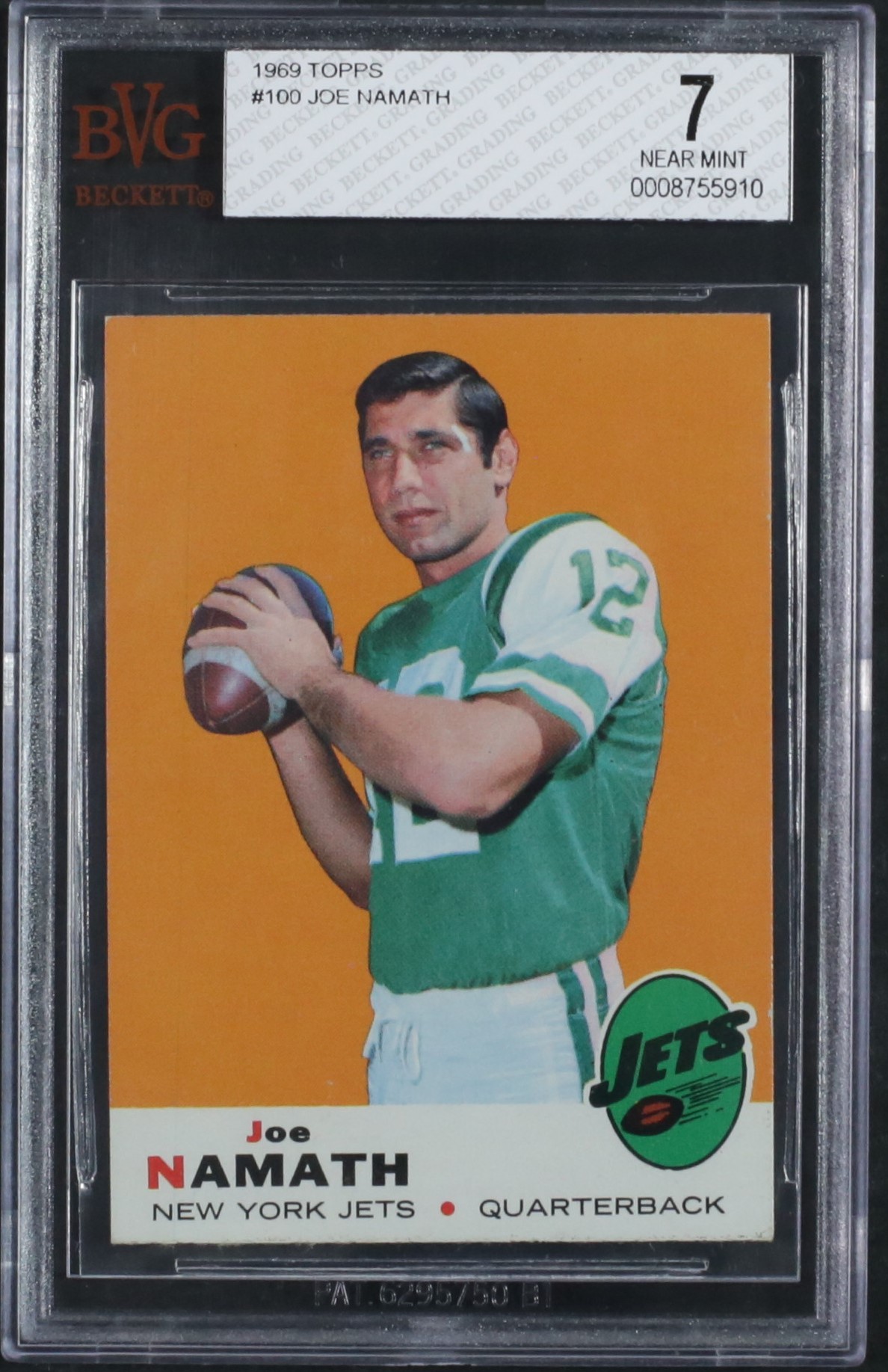 By Chris Olds | Beckett Sports Card Monthly Editor | Commentary
One of my eternal struggles as a collector is a big one — what to collect — and two recent pick-ups from an auction this past weekend are perfect examples of why that struggle continues to this day.
I know nice cards when I see them. I know nice cards when I want them. I know that, most of the time, I can't afford them.
This time, though, I won.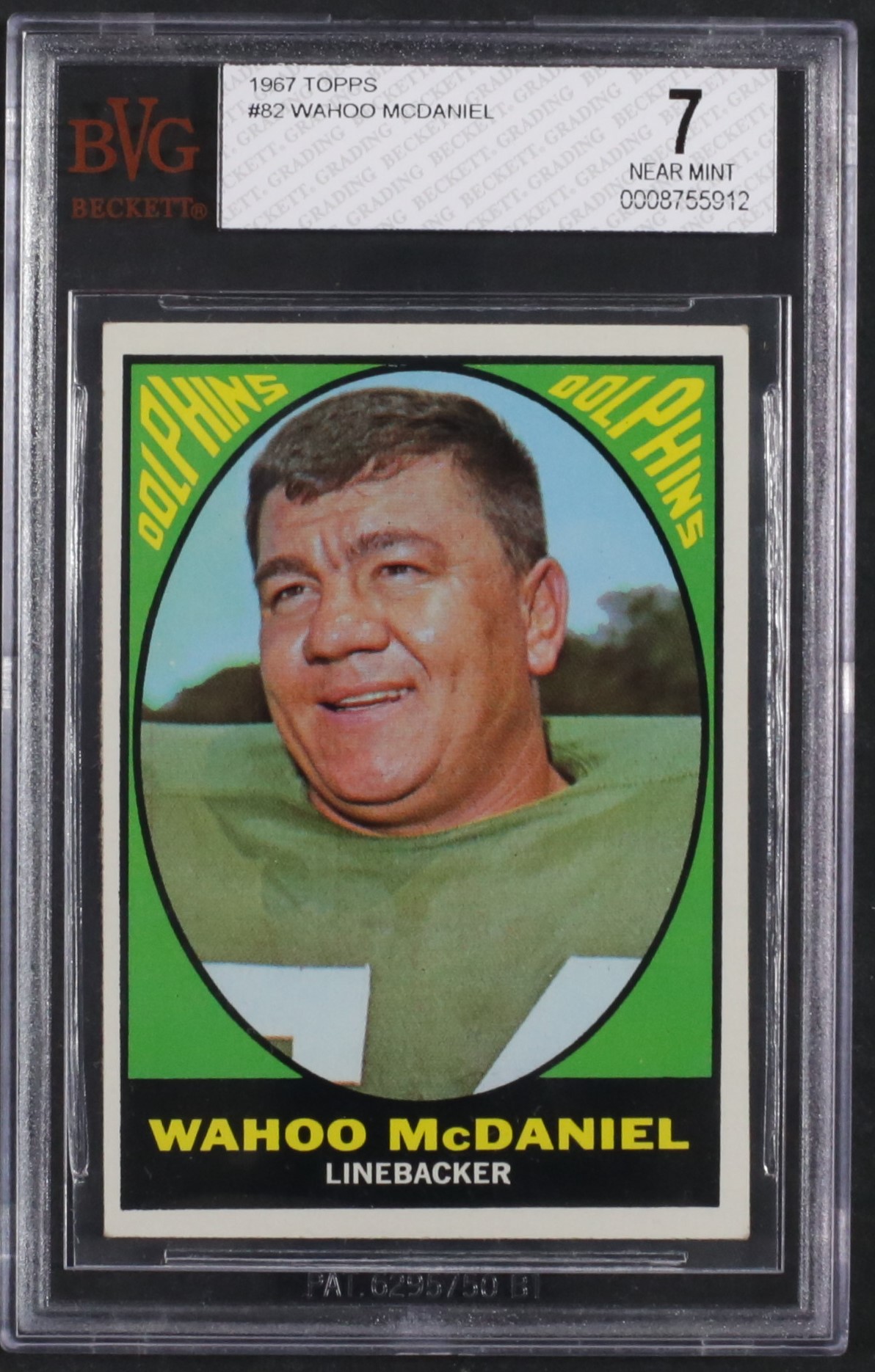 A perk of being in the Dallas office of Beckett Media is seeing all of the cards and memorabilia that come in for consignment via the auctions division of the company, Beckett Auctions. If I have a few extra minutes I can check out a box or two of stuff that's been brought in or mailed in to be sold. On one recent afternoon (last month), I got to poke through some serious vintage collection boxes where star after star was to be found and not always in prime condition. (That meant I might be able to afford them.) Mickey Mantles, Hank Aarons, Julius Ervings, Terry Bradshaws — tons of big names' big cards were there and eventually headed to the auction block.
Not everything arrives graded — in fact, a lot doesn't. A lot gets sold in lots ungraded where bargains can be had. Why? Sometimes, sellers don't want to pay the extra fee for their cards to be inspected and slabbed before they are sold — even though it could land them more cash. (In other words, there can be real gems in vintage lots — if you take the time to look.)
On this recent afternoon, two cards caught my attention — a 1969 Topps Joe Namath that looked very, very clean for its age and a 1967 Topps Wahoo McDaniel Rookie Card that, while a bit less perfect, still impressed. That's also a card I have passively eyed for a long, long time. Why? That's the only football card of an eight-year AFL veteran who also had a successful career as a professional wrestler during his football days and well beyond. Namath, of course, is a member of the Pro Football Hall of Fame and a legend for my school, the University of Alabama.
Both of these cards stood out to me as "must-own" even though they weren't graded at the time and they weren't candidates for perfect 10 grades.
They did seem perfect for my collection, though, and I recommended that they should be graded because they looked nice (albeit not perfect).
A few weeks went by and both cards made the grade. Both got BVG 7s, though the Namath really looks stronger than that due to a rough bottom edge. Once I found out they were on the block, I placed a bid — I get in line like anyone else — and hoped for the best. As it turns out, my opening bids were enough to land them both at significantly less than what they typically sell for.
Interestingly, they're two very different cards on the pop report, too. Namath is a card that's been graded 395 times with my card topped 105 times. Two 9.5s exist but nothing higher, and my BVG 7 is actually tied for the most-common grade. The McDaniel card has been graded far fewer times — just 36 copies — but only seven have graded better. The best there is a BVG 8.5.
To me, vintage grading can be very tough. I easily could have paid far more raw for cards that could have graded for far less. But, in this case, I landed them both — one for my small stash of graded wrestling cards and the other for my overall larger stash of Crimson Tide greats.
How much? Well, I could have landed a wax box of the new stuff for about the same price — but the results for my collection could be very different. For that same amount of money I could have ended up with cards that basically don't have a space in my collection at all.
Instead, I landed two cards that I want and don't see everyday — in conditions that are pretty respectable. That's the kind of collecting win I wish I could have started with — and stuck to — decades ago.
Chris Olds is the editor of Beckett Baseball and Beckett Sports Card Monthly magazines. Have a comment, question or idea? Send an email to him at colds@beckett.com. Follow him on Twitter by clicking here.