At the National: Yasiel Puig's Topps redemption cards in demand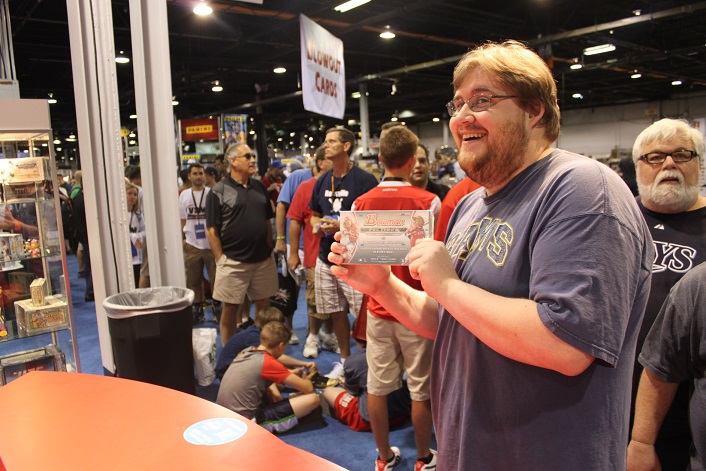 By Susan Lulgjuraj | Beckett Sports Card Monthly Editor
CHICAGO | It's 2:30 p.m. The National doesn't officially open for another hour, but the dealers are waiting.
Not at their own booths, either. Instead, they're in front of the Topps display, hoping to capitalize on the company's wrapper redemption program.
The Topps wrapper redemption program is a popular one again this year at the National Sports Collectors Convention with a 25-card Bowman Platinum set and Gypsy Queen redemption cards. However, the draw isn't just the exclusivity of the cards. It's Los Angeles Dodgers phenom Yasiel Puig, the hottest player on cards right now.
He's worth the hour wait.
"Puig. Puig. Puig," said Tyson Hauser, who works with RBI Cru 7 in St. Louis. "You sell to people when it first comes and make a lot of money. If you wait, you don't know what you're going to get."
The Bowman Platinum redemption is good for a 25-card set for the first 100 people. Open a box of 2013 Bowman Platinum baseball and get 25 rare cards.
At 3:30 p.m., the doors open for the VIP ticket-holders at the National.
"That's the line?"
It sure is. You're an hour too late.
"I expected that," said collector Bob Bawiec of Baltimore. "He's the rookie everyone wants."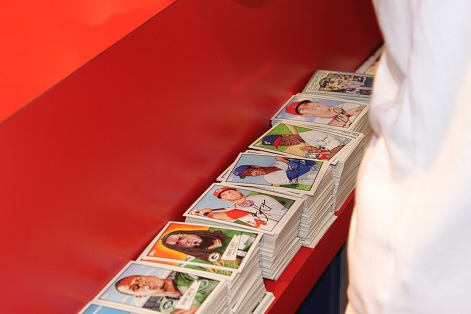 Bawiec planned to sell the card – if he was able to get one. Bawiec was near the cut-off as soon as he got on line. But those in front definitely had their thoughts in one place.
"Puig makes the set because he's so hot right now," said Sean Phillips of Collector's Corner. "I don't even know who else is in the set right now, honestly."
The plan for many dealers and collectors is to hit the Topps booth every day for the redemption. Extra cards mean extra money or even hanging on to one for yourself.
"They're unique. You can't get them anywhere," Hauser said. "If you wait until eBay to try and buy it, you're going to be paying a lot of money. It's something special about just being here and getting it."
Some didn't wait to get their cards online. Sellers have already begun to put their exclusive Puig cards on eBay – at least 10 Gypsy Queen cards have hit the auction site. And the first day of the National isn't even over.
Susan Lulgjuraj is an editor of Beckett Sports Card Monthly. You can email her here with questions, comments or ideas. Follow her on Twitter here. Follow Beckett Media on Facebook and Twitter.