AT THE NATIONAL: Remembering the Seattle Pilots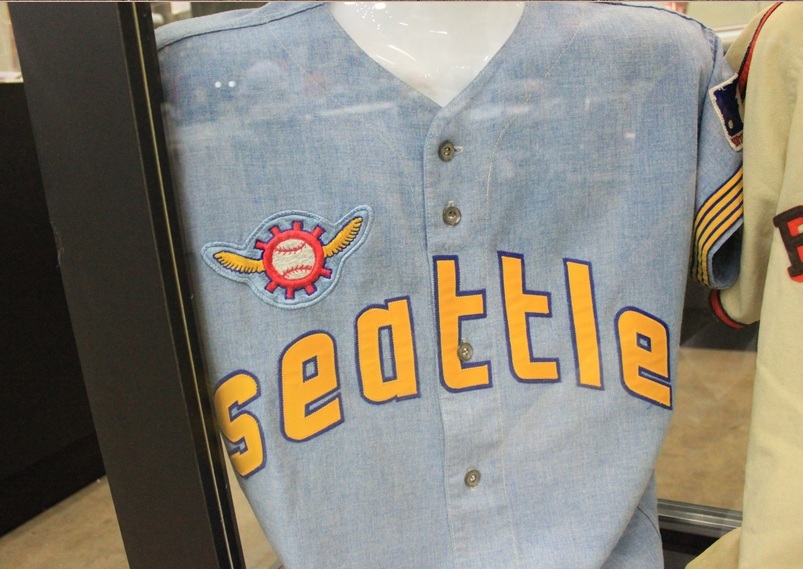 By Dan Good | Contributing Editior
BALTIMORE — Baseball's Seattle Pilots are alluring for obscurity's sake – one season in existence, a last place finish, and an eventual move to Milwaukee.
The team is probably best remembered for the diary that pitcher Jim Bouton wrote about his season with Seattle, the classic "Ball Four."
The Pilots lost 98 games in 1969. By 1970, the Pilots were the Brewers.
But Seattle's first MLB team lives on in a handful of Topps cards and scant remaining memorabilia. Two jerseys from the team's only season are visible on the floor of the 2012 National Sports Collectors Convention, worn by pitchers John Morris and Paul Click.
The powder blue jerseys feature yellow lettering, yellow stripes on the sleeves and a winged baseball design over the chest.
Troy Kinunen, President/CEO of MEARS (Memorabilia Evaluation and Research Services), said the jerseys are so rare because after the team's sale, most of the uniforms were re-purposed with Brewers patches and re-used in 1970.
"This is probably the first time that two Pilots jerseys in such good condition were in the same place since 1969," Kinunen said.
Morris, the more successful of the pair, pitched in 132 big league games between 1966 and 1974. He was 0-0 in six games in 1969, compiling a 6.39 E.R.A.
Signed photos of Morris – wearing the flannel uni on display in Baltimore – pop up on eBay sometimes. For Kinunen, the uniform is an educational tool, and a chance for his company to study actual game-worn uniforms from one of baseball's glory eras.
The Click Jersey, on display at Mile High Card Company's booth, also carries an interesting story.
"The player who wore this, Paul Click, was hit in the head with a ball during spring training and never made it to the big leagues," said Mitch Rosenberg, the company's Consignment Director.
A No. 42 did eventually suit up for six games for the Seattle Pilots, journeyman Skip Lockwood. Somehow, the 42 jersey avoided the move to Milwaukee – and remains a shining, powder-blue reminder of baseball futility, futility on display in two locations this week in Baltimore.
Dan Good is a contributing editor. You can email him here and follow him on Twitter here.