AT THE NATIONAL: Group case breakers open more nearly 200 Panini redemption packs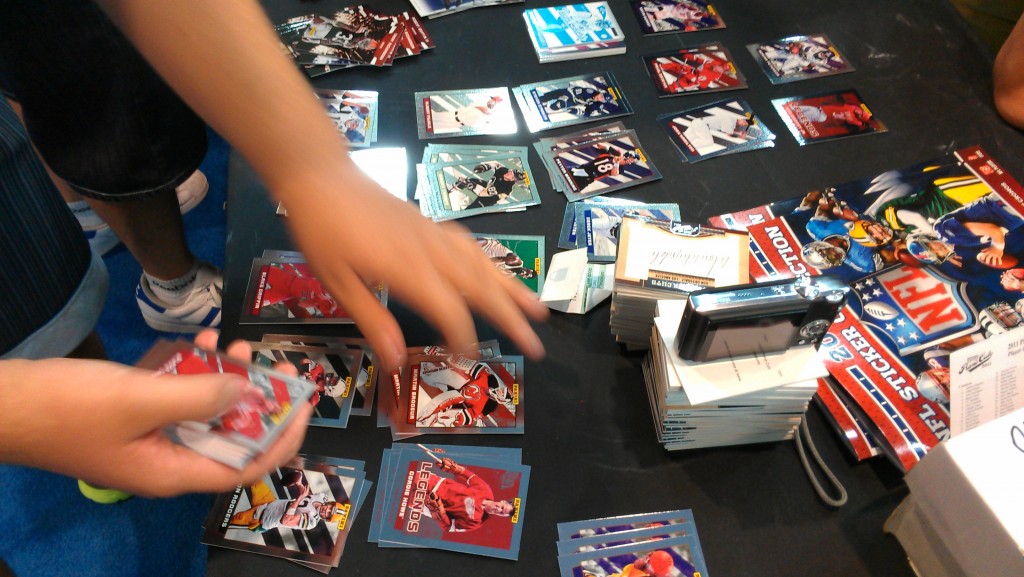 By Susan Lulgjuraj | Beckett Sports Card Monthly Editor
BALTIMORE – Not everyone can make it to the National Sports Collectors Convention. Money, distance and work are all things that can get in the way.
But a community of collectors on YouTube and BlogTV have found a way to be here without actually being here.
About 125 collectors have joined a group break to get as many Panini America redemptions as possible. Only about 30 or so of the group will make it out this weekend, but as of Thursday afternoon, they have ripped 180 wrapper redemption packs after buying two cases of 2011 Prime Cuts.
The group, which is run by Chad Redfern (TheTTruth17 on YouTube), plans to open even more.
"I do group breaks all the time," Redfern, 30, who lives in the Los Angeles area said. "This was a way to get the people who can't be here involved."
The group pulled all types of cards from the Panini redemption packs: base cards, player-used towels, player-worn hats, 1/1 autographs, press plates and those Tim Tebow and Peyton Manning cards that weren't placed in Prestige.
The way the process worked is 28 people get in on each group case break. The teams were randomized to the participants. They get all the cards in the break. Then, the cards from the NSCC packs will be randomized once Redfern gets home – after shipping all the cards to himself.
Buying all these cases also gets the group past the $6,500 threshold for a pass into the Panini Bucks VIP event on Saturday, which will have Biz Markie as a DJ. Also, Panini will have autograph guests at the show that will be announced later.
The group chose Panini because they liked the different types of cards they would be able to get out of its packs. The opportunities to pull unique cards such as employee autographs appealed to them.
"Panini always steps it up above the other companies when it comes to redemption packs," Thomas Auyeung of Vancouver, Canada said. "They do a good job every year."
Susan Lulgjuraj is the editor of Becket magazines. You can email Susan here with ideas, comments and questions. Follow her on Twitter here.