AT THE NATIONAL: Former AAGPBL player talks baseball, movies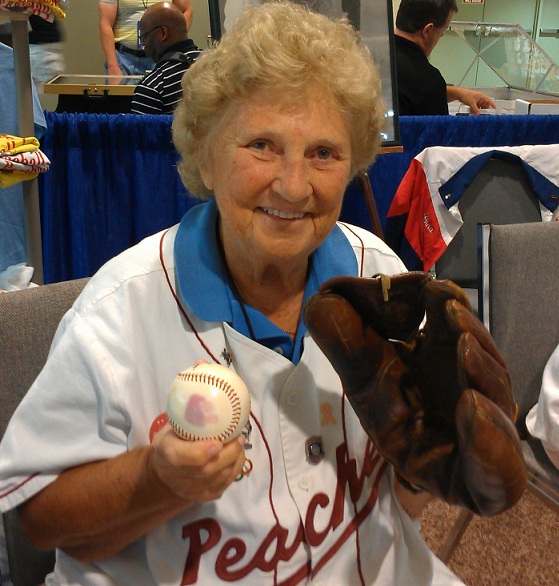 By Susan Lulgjuraj | Beckett Sports Card Monthly Editor
We all know the movie. We know the famous line. But the women who were really part of it don't resonate with many baseball fans.
"A League of Their Own" was a popular film about the All-American Girls Professional Baseball League of the 1940s – a league and film that gave hope to girls who could one day play baseball because there were women before them who did it.
One of the actual players, Dolly Niemiec Konwinski, 81, was at the 2012 National Sports Collectors Convention talking about her playing days. She was also in the movie as one of the extras playing baseball on Doubleday Field in Cooperstown, N.Y.
Niemiec Konwinski played second and third base for the Grand Rapids Chicks from 1949 to 1952. She also played in Chicago the two years earlier before she got promoted.
Like many girls who played baseball, she learned from the boys in her Chicago neighborhood. She would run around outside, getting dirty and bruised with the rest of them.
"We would play in a huge lot behind a factory," Niemiec Konwinski said. "We used sickles to cut the grass and cardboard boxes for the bases. Then we put big rocks on them so that they wouldn't blow away."
Then when Niemiec Konwinski was 15 her father saw a newspaper article for tryouts in a women's baseball league.
Niemiec Konwinski's first reaction: "Girls don't play baseball."
Not that they can't. She just didn't know of any other girls who did.
But she arrived at the field to find dozens and dozens of other women. Niemiec Konwinski was amazed.
"I thought I was the only girl in the city who played baseball," Niemiec Konwinski said.
Niemiec Konwinski loves talking about the game and the movie that made the women's baseball league famous. The most popular question she gets is how much of the movie was true. About 85 percent, she said.
There were no kids like Stillwell running around and the managers never went into the ladies room.
But the women did sneak out on the fire escape.
Not many of the women who played baseball travel to shows anymore. Niemiec Konwinski only does about two to three shows a year.
But it's OK. After all, there's no crying in baseball.
Susan Lulgjuraj is the editor of Beckett Sports Card Monthly magazine. You can email Susan here with ideas, comments and questions. Follow her on Twitter here.