AT THE NATIONAL: Evander Holyfield's estate up for auction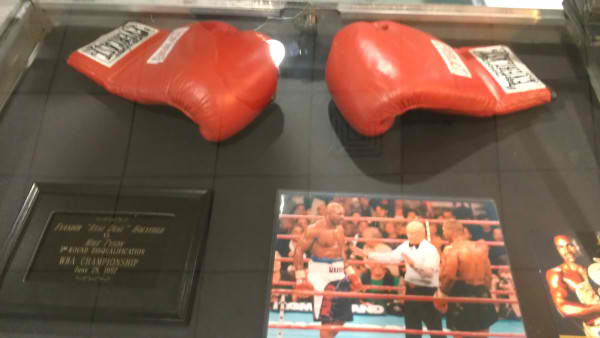 By Susan Lulgjuraj | Beckett Sports Card Monthly Editor
BALTIMORE – As first-timers to the National Sports Collectors Convention, Julien's Auctions are showing up with the real deal.
Normally an entertainment auction house – selling items from Michael Jackson and Cher – Julien's is putting together it's first full day of auctions for sports. The items will include nearly the entire estate of boxer Evander Holyfield.
Championship belts, rings, furniture, cars and even the gloves he used in the bout with Mike Tyson – where Tyson bit his ear – are being auctioned. His 1984 bronze medal from the 1984 Summer Olympic Games is also on the block.
Dan Nelles, a sports specialist for Julien's, said the company just acquired the deal two weeks ago, but they haven't gone through the entire inventory yet. However, he expects they have about 400-500 items.
"We're going to have about 30 to 40 robes, 15 or so gloves," Nelles said. "One of the first things he bought when he made money was a 1962 Corvette and we'll have the Corvette too."
Holyfield's memorabilia hasn't made it to the public very often because he kept almost all of his stuff over the year. He did give a pair gloves to Chuck Norris, which eventually found its way to auction house and sold for around $5,000, Nelles said.
In the end, Nelles thinks the auction could bring in about $3 million, possibly more.
"I think it has the chance to break $5 million It's tough because hardly any of it has made the market. " Nelles said. "There is not a lot of precedence so we are going to put our estimates on the conservative side."
The auction takes place November 30. The items will be on display for two weeks leading up to the live auction at the Beverly Hills studio. An online auction will begin a couple of weeks earlier, and then there will be a live video streaming during the live portion in order for people to bid from home.
In an interview last month with the Atlanta Journal Constitution, Holyfield admitted he was broke.
"When it falls, it falls, " Holyfield told AJC reporter Bill Torpy.
Susan Lulgjuraj is an editor of Beckett Sports Card Monthly magazine. You can email Susan here with ideas, comments and questions. Follow her on Twitter here.