AT THE NATIONAL: Hall of Famer Earl Weaver affirms $3 thrift-store find with a glance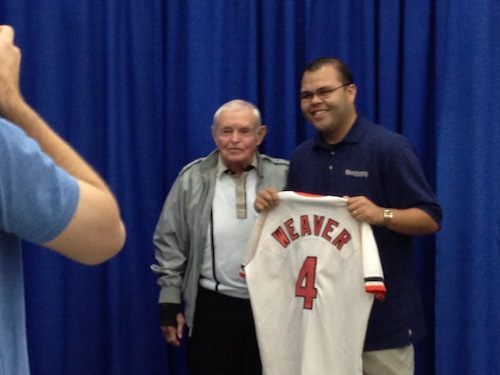 By Ben Aguirre Jr. | Contributing Writer | Commentary
BALTIMORE – The proof is in the details.
From the day that I found a game-used 1977 Baltimore Orioles Earl Weaver jersey in a San Francisco Bay Area thrift store, there has always been one tell-all sign that what I had located was truly a garment worn by the Hall of Fame manager himself.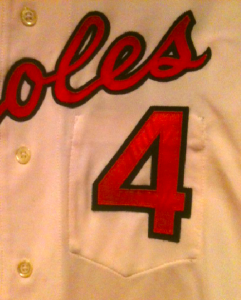 The giveaway?
"Does it have the pocket for my cigarettes?" Weaver said Saturday at the National Sports Collectors Convention as he handled the jersey, placing his right middle and index fingers over the area where the chain-smoking skipper kept his pack. "Oh … yeah."
Weaver is an elder statesman of the game and life, physically showing his 81 years of age. (He'll be 82 on Aug. 12.)  He wore a black wrist guard on his right hand and winced when I shook his left hand with my own. But his mind is there, and so is the classic spark that made him the poster boy of bad boy managers who enjoyed verbal sparring with umpires.
"Ow, you're gonna hurt my hand, dammit," he said as I thought I shook his hand gently. "I've got arthritis you know."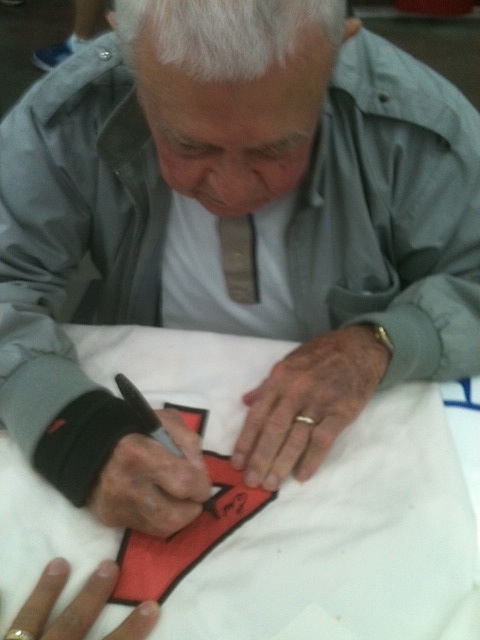 The handshake was a classic moment, one that could not have been written in a script anywhere. Which really was apropos considering that the circumstances of this encounter between Weaver and I were unlikely to begin with.
The story began about a year ago when I was making my thrift store rounds, which I often do seeking out sports collectibles in second-hand stores.  It was a mid-week jaunt to a series of shops in the Bay Area. I hadn't located anything of real value all day until I walked into a shop in Hayward, Calif. As soon as I stepped in the door, there were two mysterious jerseys staring at me from the distance.
They were hanging on the clothes rack just like any other discarded replica fan jersey – seemingly worthless and tattered.  From a distance, all I could see was the black and orange colored striped on the sleeves. I initially thought they were older remakes of the local San Francisco Giants jersey, which still would have been a cool find.
But as it turned out, they were giants all right … giant scores for a thrift hunter. The jerseys were Orioles jerseys, authentic baseball shirts; one for pitcher Mike Torrez (issued for 1976) and the other for Weaver.
When you hit big finds in a thrift store, there is always a moment of truth before you can scream from the roof tops:  It's getting past the cashier before they start questioning why the item is priced so low.
As soon as paid for the items, I quickly walked to my car fearing that someone else would notice that I had purchased a piece of baseball history for a mere $3. And once I was secured in my vehicle, I carefully examined the jerseys again to confirm my notions.  The fact that these two jerseys were found together gave me a pretty good indication that they were authentic, but their tagging was spot-on and the pocket sewn to the interior of the Weaver jersey was the calling card.
I showed images of the jerseys almost instantly via Twitter, which received a great response.  But for months the jersey sat dormant in my collection, its fate uncertain. Was I going to sell it, frame it, or put it in a garment bag and wait. I decided on the later.
Sort of out of the blue, I was asked in December to write about the find for the February edition of Beckett Sports Cards Monthly, which was a topical issue about game-used memorabilia.
The story of my thrift treasure was revitalized for a while.  I showed the jersey off to a few more friends and family. And several months later, TRISTAR released the list of its signers for the National, which was being held in the city where Weaver solidified his place in baseball history. Weaver was on the list.
Crazy thoughts entered my mind. Was I really going to scrounge up the cash to pay for flight and hotel to get this jersey signed?  Initially, the answer was no. It was a ridiculous notion. But things fell into place and suddenly I was on my way to Baltimore. I was briefly going to re-unite the game-used jersey with the Hall of Famer who made it famous.
I'd never been to a National, but if I was going to make the cross-country trip to go to a sports card show, there had better be a good reason for it. This certainly was.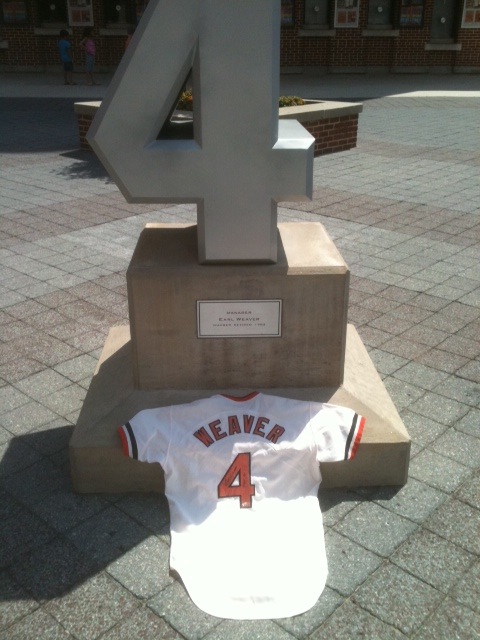 In the days before the trip, I worked four 10.5-hour days and had little sleep the entire week leading up to the event.  Then I took a red-eye flight from San Francisco to Baltimore for the eventual meeting with Weaver.
On Saturday, I woke up and felt uneasy about the Weaver signing. Was this thing really going to happen? A day earlier TRISTAR had four autograph signers cancel their appearances for various reasons. I was still a bit skeptical because I held autograph ticket No. 10, meaning I was just the 10th person to purchase a ticket — and I bought mine only a week before the event.
Would Weaver cancel due to a lack of interest?
All of these thoughts remained with me as I toted the piece of baseball history through the streets of Baltimore. But a short while later, my frazzled nerves were calmed shortly after I was introduced to employees of a card company who wanted to see the jersey.
After a brief discussion with the card company employees, I was led to a booth where people who know Weaver were selling authentic signed items from the Orioles and legendary players.
"They'll get a kick out of it," the card company employee said as we walked.
When we got to the booth, the person whom we were looking for was not there – he was already behind the scenes with Weaver in the show's autograph area. But another person in the know wanted to see the jersey. They took a look at the jersey and instantly reached for the custom flap of fabric sewn to the inside.
"You know how you know this is real?" he said. "It's got the pocket."
I then shared the story of where the jersey was found and how much it cost.
"You paid how much?" he said. "Unbelievable."
Exactly.
Ben Aguirre is a Contributing Writer for Beckett Media and author of the blog Cardboardicons.com. You can follow him on Twitter.