At the National: Collectors in the Olympic spirit with pins, medals and more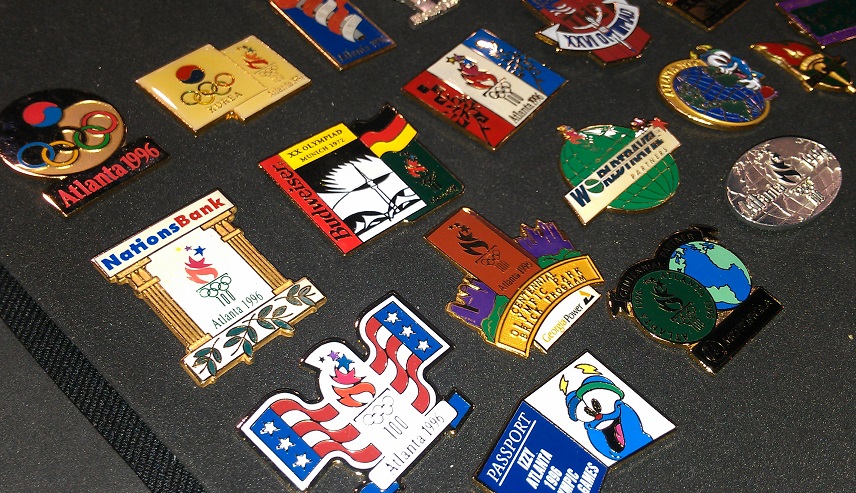 By Susan Lulgjuraj | Beckett Sports Card Monthly Editor
The Olympic Games have their own collectors. They look for all types of memorabilia from programs to medals to pins. The National Sports Collectors Convention hosted the Olympic Pavilion, a place with dealers and collectors with all of the above and more.
Theresa Utecht is an Olympin Trader – just as it sounds, she enjoys collecting Olympic pins and trading with other collectors.
Utecht was at the NSCC with just a small part of her collection of which she says she has about 500 pins. The Apple Valley, Minn., resident says that isn't much compared to her brother-in-law who has thousands. She has a tough time letting go of her pins.
"All the pins have a story so I don't like to trade them away later," Utecht said. "It's hard for me to part with some of them."
Utecht and her family got the pin collecting bug in 1984 when they went to the Los Angeles games. Utecht was there with her three young children, all under the age of 3.
"For me it's a people thing," said Utecht, who has found pins at antique shops and Goodwill Stores. "I enjoy the stories and the people I've been traded with as much as the pins."
The Olympic Pavilion was filled with many others searching for unique items from past games. One of the most popular spots was Jon Becker's booth who had some winning medals and a number of memorabilia items from the Miracle on Ice, when Team USA beat Russia in hockey in the 1980 Lake Placid Games.
Becker also had a medal from the 1900 Games in Paris among his display case – a rare item.
"People like the prize winner medals," Becker said. "We have some here, including one from Sarajevo. This stuff is always great. I get them from all over."
Susan Lulgjuraj is an editor of Beckett Sports Card Monthly. You can email her here with questions, comments or ideas. Follow her on Twitter here. Follow Beckett Media on Facebook and Twitter.