At the National: Collectors can get customized sketch cards on the spot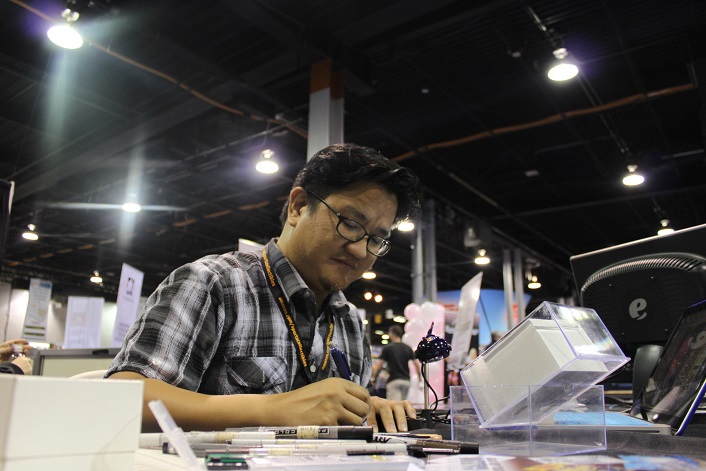 By Susan Lulgjuraj | Beckett Sports Card Monthly Editor
CHICAGO | Collectors spend their lives collecting pictures on cards.
It can be anything from athletes to movie stars to Martians. But Leaf is giving collectors at the National Sports Collectors Convention a chance at getting anything you want on a card, and most collectors are going for pictures of their family.
Jay Pangan III is holed up at the Leaf booth on the National floor. He's doing custom sketch cards for $40 a card.
"It's great," said Pangan of Long Beach, Calif. "I started doing sketch cards in 2009. I did work for Leaf and they said they had a table open here at the show."
Pangan worked for Leaf on the Best of Hockey set that featured his 1-of-1 sketch cards. He displayed sketches of Gordie Howe at his table along with other sport stars such as Mike Trout and Yasiel Puig. But many collectors didn't want another picture of an athlete – they have plenty of those. They were getting their children sketched on small 2.5-by-3.5-inch cards.
Pangan understands why collectors want these small keepsakes. He was an avid card collector. Pangan had binders full of cards of Mike Greenwell, his favorite baseball player in the 1980s.
"I collected everything I could of him," Pangan said. "Then I started drawing him. Next thing you know it became a thing to do."
That thing he did – drawing small sketches – became his passion. Pangan went to school for portraits in England and has a BA in graphic design and 3D animation. He travels the country going to different Comic-Cons and has done graphic design for a graphic novel.
But for this weekend, Pangan will spend his time drawing memorable keepsakes for collectors who want to have their children on cards.
Susan Lulgjuraj is an editor of Beckett Sports Card Monthly. You can email her here with questions, comments or ideas. Follow her on Twitter here. Follow Beckett Media on Facebook and Twitter.