At the National: 1952 Topps Mickey Mantle stolen from dealer's display
By Dan Good | Contributing Editor
Thieves stole a 1952 Topps Mickey Mantle from a dealer's case at the National Sports Collectors Convention – and now authorities and fellow dealers are trying to track down the card.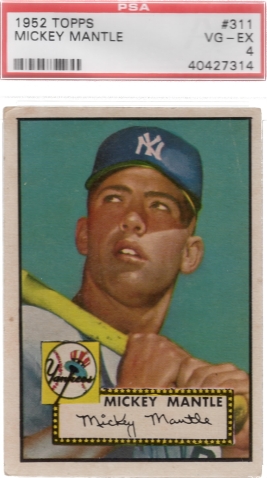 Jeff Foy, a dealer with Indianapolis-based Card Country, said he believes a group of three people were likely involved, with two people distracting employees while the third person swiped the card.
"It's so frustrating," he said. "You think people are honest and decent and 99 percent are. All it takes is that one person to change that."
The card pulls from Topps' first complete baseball series – one of baseball's most iconic cards, featuring the young slugger with a bat over his shoulder. Foy purchased the Mantle – graded PSA 4 – from a collector about three months ago. A Mantle in that condition recently sold for $8,000 online.
Instead of simply talking to collectors today, Foy was talking to the police officers, grading companies and fellow dealers.
One positive aspect of off-condition cards is that they carry defects that make them distinguishable. In this case, the upper right-hand corner of the card features a white line, something that gives Foy hope that the card will emerge.
"It's disheartening," he said. "I hope someone will recognize it."