Askin' Gaskin: Interview with Artist Dave Gaskin
Dave Gaskin has a lifelong love of movies and vintage toys from his childhood. He has also worked the past 20 years as an illustrator for Cambridge University.
Outside of work, he tries to spend as much time outdoors as possible to help keep him grounded during those busy periods.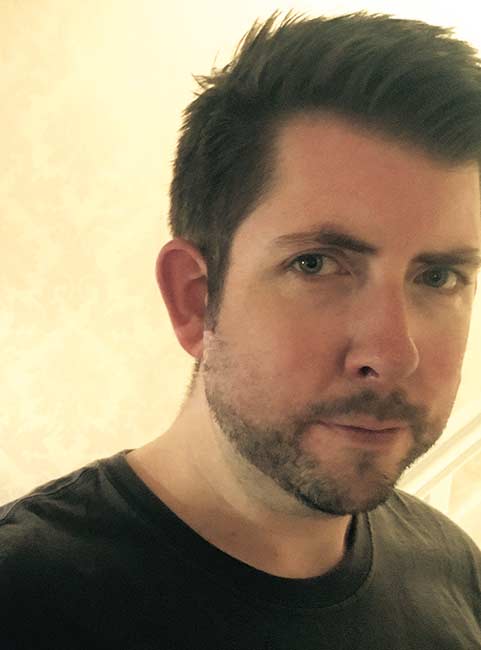 Non-Sport Update: Thanks for talking with us! Did you collect trading cards as a child?
Dave Gaskin: I was completely unaware of trading cards, especially the sketch card aspect, until 2010 when I stumbled upon Mark Raats' contribution to the Empire Strikes Back 30th Anniversary set. It was a lightbulb moment that I'll never forget. I was able to add one of Mark's ESB sketches to my collection a few years later. It felt like I'd come full circle and I consider it to be the card that started it all.
NSU: What was the first sketch card set you worked on?
DG: Unstoppable Cards' Terminator 2 set in 2017. I got that gig by practicing at 2.5″ x 3.5″ size and sharing the results online. Drawing had been a hobby for 25 years but this set was still an in-the-deep-end experience. I had worked almost exclusively with graphite, and, because the cards needed to be full colour, I had to learn some new techniques very quickly. While working on that project, I received my first Topps invite to work on a Star Wars set (Masterwork 2017) which was a dream come true.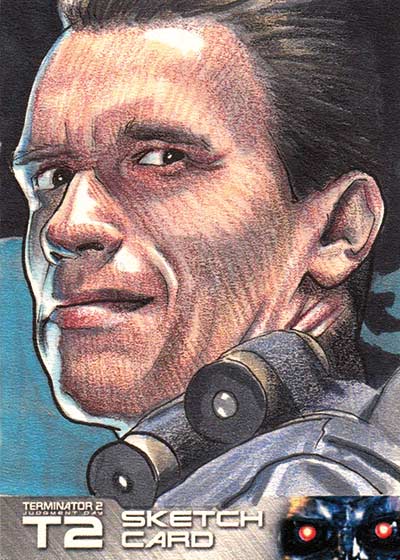 NSU: Do you stick to Copic marker and Faber Castell Polychromos pencils?
DG: I usually alternate between ink and markers or purely colour pencil. On T2, I was very new to markers and didn't have many to work with so I started with a greyscale base and added colour pencil over the top. Working that way was a steep learning curve but my progression using colour is the one thing I'm most proud of in the past few years. It's encouraging to look back and see how far I've come.
NSU: How do you imbue the character's personality into your drawings when sketching portraits?
DG: Whether it's the slope of someone's eyelids, a curl at the corner of the mouth, or Harrison Ford's chin scar, those individual components combine to build the whole. Each face is unique and the challenge of nailing those small details is what fascinates me. I love capturing 'moments' too, spending hours freeze-framing movies to get the perfect reference shot.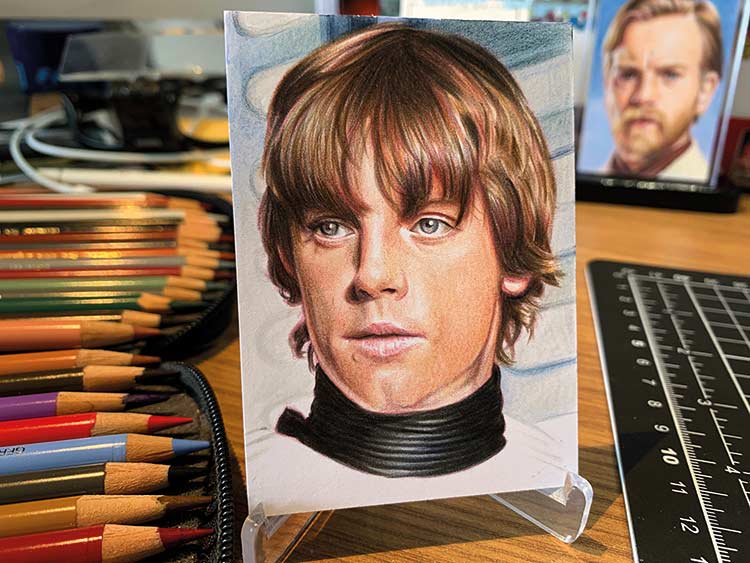 NSU: You drew two-card puzzles for The X-Files: UFOs & Aliens card set. Was this outside your wheelhouse?
DG: It was an experimental set—I played with layout, trying to capture 'moments', and although most wouldn't consider them particularly complex, I was out of my comfort zone and really proud of the results. Who wouldn't enjoy drawing Mulder with the word 'ALIENS' literally projected across his face?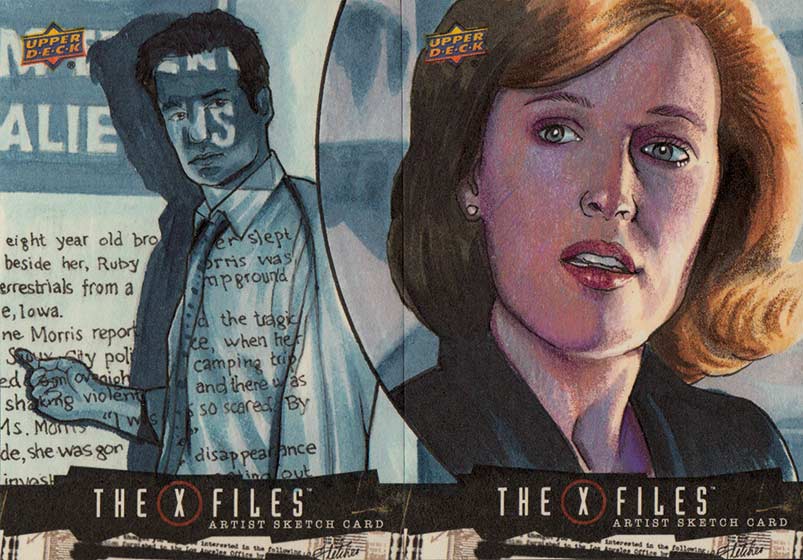 NSU: Do artists build community and talk to each other?
DG: I'm an introvert by nature so I'd always draw to quietly pass the time. That all changed when the Internet arrived. I realized there was a world of knowledge at my fingertips and connecting with fellow creatives was a huge opportunity. Hearing how others approach projects and gaining insight into their techniques has been invaluable.
NSU: Do you have a favorite property you wish would be made into a card set?
DG: Back to the Future would be a dream project. And although Star Wars was always top of the list, I was thrilled to be invited to Cryptozoic's Middle-earth set. As a youngster, Tolkien
lived in my hometown of Birmingham and my school was a stone's throw from Sarehole Mill and Moseley Bog—an area that helped inspire Hobbiton. I've always felt a connection towards the world of Middle-earth. I'm also a big fan of second breakfast.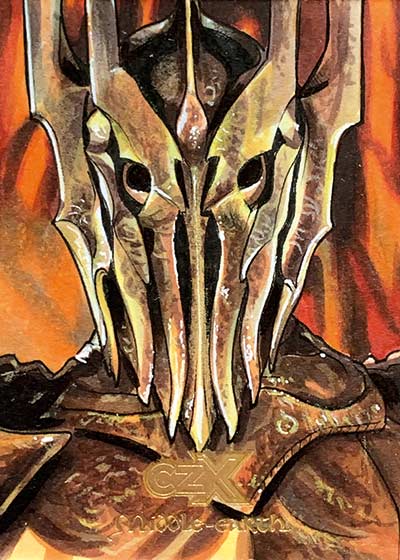 NSU: Are you a full-time artist?
DG: I have an unrelated day job. It's technical and precise and that's definitely informed my artistic style on cards which has evolved to become quite meticulous. Thankfully, I've been able to strike the right balance between the two—they're both creative roles but in different ways. I'd love to go freelance one day but for now I'm happy to use the fun stuff as a break from the 9–5.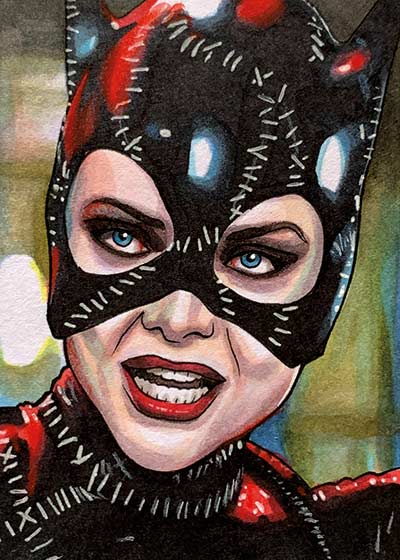 NSU: How can people contact you or follow you?
DG: I'm active on social media and love hearing from collectors! My website, DaveGaskin.com, has links to everything and I'm reopening my Etsy store soon where I hope to offer ARs, PSCs and a few commission slots.