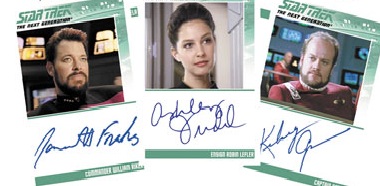 By Susan Lulgjuraj | Contributing Editor
Star Trek: The Next Generation is, well, on to its next generation of trading cards.
Rittenhouse Archives announced the addition of Star Trek: The Complete TNG (1991-1994) Series 2 to its assortment of non-sports cards.
Each box (MSRP: $84) should offer four autographed cards. Some of the signers include Ashley Judd (Ensign Robin Lefler), Jonathan Frakes (Commander William Riker) and Kelsey Grammer (Captain Bateson).
In addition to the main autographs, cut signature cards of James Doohan – better known to Star Trek fans as 'Scotty' – are randomly inserted throughout the product.
Missed an episode of TNG or wanted to catch up on a plot point, the base cards will allow collectors to do that. The base cards will consist 90 cards, one for each of the episodes in the second half of the series. Each card will also have five photos and a detailed synopsis of each episode.
Collectors can purchase the 90-card base set for $25 from Rittenhouse.
On top of base-card parallels, inserts include Tribute cards, Best of the Holodeck, U.S.S. Enterprise cards and Star Trek Communicator pin cards.
For those buying in bulk, Rittenhouse is offering added bonuses. For every three cases purchased, an autograph of Brent Spiner (Dr. Soong) is thrown in.
Fans of Star Trek can get an exclusive Leonard Nimoy (Spock) in 'Unification' for every six cases purchased.
The product is expected to be released some time in early 2012.
Susan Lulgjuraj is a contributing editor for Beckett Media. You can email Susan here. Follow her on Twitter here.