Artists splash National with some color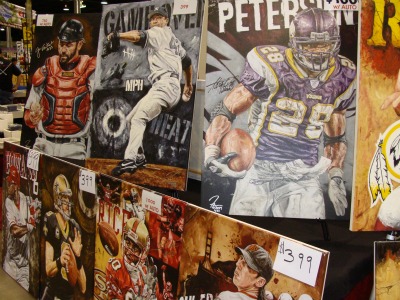 By Susan Lulgjuraj | Contributing Editor
When it comes to high-ticket items, collectors aren't settling for trading cards or autographed memorabilia anymore. Paintings – better known as sports art – is becoming a popular collectible.
Several artists displayed their work at the National Sports Collectors Convention, all with unique, distinctive styles.
The process to get the paintings into the hands of collectors could be time consuming. It seems most of the artists create a large painting first, bigger than a normal canvas size. Then use a digital scan and put that on a canvas. Afterward, they add detail with paint to create unique portraits and are able to create several paintings – sometimes in the hundreds.
Of course, these paintings come with a hefty price tag – especially if the subject has signed the artwork.
One of the coolest things about the paintings is that you can walk from one booth to the next and find the same person depicted in different ways. All of the artists at The National had Derek Jeter portraits and yet captured him differently.
At least one painting should appeal to any fan.
One of the greatest things is also seeing the artists at work. When they aren't dealing with customers, the artists to the spare time to create.
One of the most notable artists on the floor was Justyn Farano, whose style isn't just about the subject. The background is as important to him as is the foreground. These paintings look more like posters with the splashy backgrounds. In addition, he seems to capture the essence of the player or the team within the portrait.
William Lopa's paintings are most distinctive. He doesn't use every color on the palate. His paintings have more blue in them most other colors, which help the subject pop out when he paints them greens, red and yellows.
Stephen Holland's paintings have been well known throughout the years. He started painting Muhammad Ali during his prime, moved on to Sandy Koufax and then Wayne Gretzky. Since then, he's painted hundreds of subjects.
Art as a collectible seems to be one of the fastest growing areas in the market. The National is just one of the areas where collectors could get a glimpse of sports art.
Susan Lulgjuraj is a contributing editor for Beckett Media. You can email Susan here. Follow her on Twitter here.