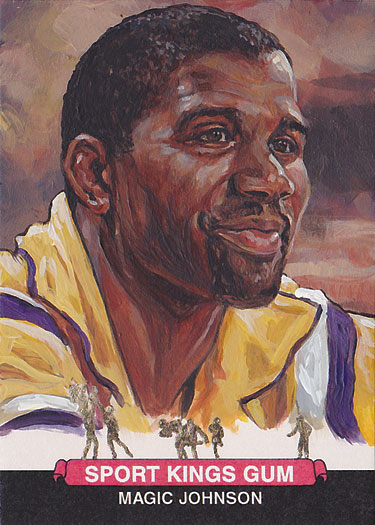 By Susan Lulgjuraj | Contributing Editor
Artist Jared Kelley has signed an exclusive deal to paint for Sport Kings and In the Game trading cards.
Kelley has been featured on trading cards before, but Dr. Brian Price hopes to add something new to his products.
"I have been admiring Jared's work for some time now and felt that his work would be an awesome addition to my trading card companies," said Price. "His painting directly on trading cards brings another dimension to the hobby and I know collectors of my products are going to enjoy collecting his work."
The first of Kelley's cards will be in 2012 Sportkings Series E, which will be released next spring.
Kelley is not a stranger to trading cards. He painted 22 of the 42 United States Presidents for the Upper Deck's Goodwin Champions.
Kelley spends most of his time involved in the art community. He has taught grades 6 through 12 in visual art, he is the executive assistant for the Alabama Alliance for Arts Education and hosts yearly paint classes at Camp Smile-A-Mile for children and teens fighting cancer.
"We will be adding a couple of new wrinkles in the painting of these cards to make them even better than the ones Jared has done before," Price said. "I am excited to have Jared join our family as we are all dedicated to make trading cards that collectors want to collect."