Art and autographs combined in 2013 Leaf Masterworks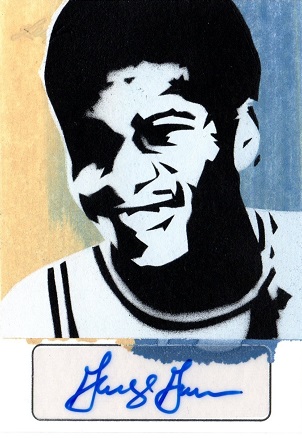 By Susan Lulgjuraj | Beckett Sports Card Monthly Editor
Leaf has added art cards and autographs in several products over the last year.
Now, it has put it all together for one set – 2013 Leaf Masterworks.
Leaf Masterworks contains three art cards with an autograph of the featured athlete. Since these are all custom created, every card is considered 1-of-1.
The athletes from this set come from all over the sports world. There are athletes from mainstream sports such as baseball, basketball and football. But collectors can also find people from pro wrestling, gymnastics and softball.
Although these are considered one-of-a-kind cards, no more than 20 cards of any player has been produced. So you might see a couple of Cal Ripken Jr. cards pop up, however, they are all different.
On the first day of the release, several cards have already landed on eBay. The different artists use different styles, so the cards are subjective. There could be an art card you really like of a certain player, but may not like another of the same player by a different artist.
What do you think of Leaf's use of art and autographs in its products.
Here's a sampling of the cards that have appeared so far.
Ric Flair
Paul Hamm
Greg Maddux
Magic Johnson
Tom Mack
George Gervin
Susan Lulgjuraj is an editor at Beckett Media. You can email her here with questions, comments or ideas. Follow her on Twitter here. Follow Beckett Media on Facebook and Twitter.