Are you setting any collecting goals for 2016? You should.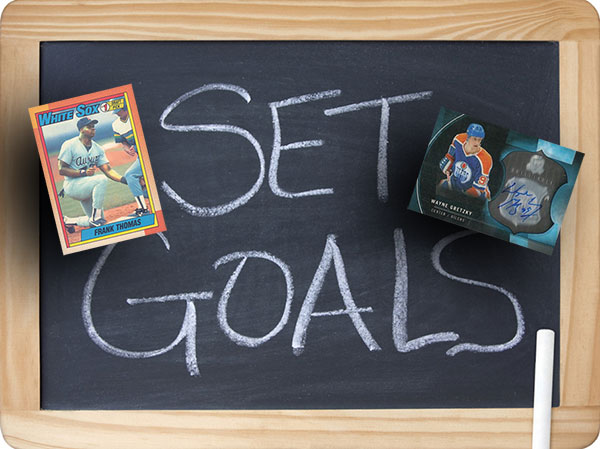 By Ryan Cracknell | Hobby Editor | Commentary
I'm not a fan of New Year's resolutions. Change can be made on any day at any moment. But when it comes to collecting, a new calendar year is a good time to set goals. A resolution implies change. Goals are all about setting a benchmark and going after it. For the past few years I've set some loose collecting goals. In the process, I've been more focused and happier with my collecting.
So as you hang your new calendar, it's a great time to take a few moments and set a couple of goals and get your collection to a place where you're happy.
Why Setting Goals Is Important to Collecting
Goals give us focus. Focus gives purpose. To me, these are key to being a happy collector.
I went a long time buying this, that and everything that was new whether I was interested in it or not. If it was there at the shop, I'd try it. The result is a pile of cards I don't know what to do with and not exactly attached to.
Doing this can also get expensive and leave you with little or nothing to show outside of said stacks of cards.
By setting collecting goals, you're probably focusing on what you like most about the hobby. That might be cards of a certain player, a specific white whale or inching towards completing an old set.
Goals are all very personal and there's no wrong answer. If it's something you want, target it and work towards it.
That might mean saving up for a while or cutting back from your current collecting routines. This can be hard at first, especially if it's a habit. But it's much more rewarding when you meet you goals.
It's important to be realistic in setting your collecting goals because the aim is to achieve them. I could easily jot down a 1933 Goudey Babe Ruth as one of my goals this year, but that's not going to happen. Instead, I keep my goals within my budget, even if that does mean a couple of leaner card months.
Likewise, aim for the Three Bears approach in setting the number of goals. If you have too few, you can be done next week. Set too many and you're setting yourself up for failure. The best goals are the ones that are challenging but attainable. It's also a great feeling to reach your main goals a little early and move onto some secondary ones.
But no matter the case, setting a target goes a long way in helping you get the things you truly want without throwing money around aimlessly. While impulse buys are fun, too many and they add up.
Don't feel that all your collecting time and money should be spent on whatever goals you set. I love discovering new cards and finding deals. But be sure to keep those goals in mind, especially when you're making big collecting decisions.
My 2016 Collecting Goals
My 2016 collecting goals take a similar approach to last year. I'm targeting very specific cards or autograph cards of specific players. While there's still plenty of room to wiggle and grab other things, taking this specific approach helps me a lot when I'm working out my card budget or there's a little extra kicking around to grab something.
Also impacting my goals this year are changes in the way I'm collecting. Set building is one of my big loves in the hobby. I've long thought it'd be cool to chase every flagship Topps Baseball set from my birth-year on. The past couple of years, I've been rethinking that and it's even more so now. And it's not because of the cards themselves.
I live in Canada. Our dollar is tumbling fast. So whether that's buying from my local shop (they don't normally carry much that I collect) or ordering online, things are already significant more expensive. Add to that skyrocketing shipping costs and it's tough to justify just about any box purchases right now. If I'm looking at an American retailer, I can expect to pay more than double what the initial price is once the exchange and shipping are factored in.
Another reason is more practical — space. Collecting one base set doesn't take up much room. But now I'm approaching 40 for just my Topps baseball sets. That adds up no matter how you store them. Looking down the road another 30 years, that's even more space. I'm starting to ponder whether or not I should bother keeping up. Gone are the days when I loved buying cards in bulk. I'm quickly moving more and more towards the singles market simply because I can focus on the things that I really like and there's a lot less of it. I also don't have to consider an extra $30 or so for shipping on a box.
So with that in mind, I have five main collecting goals for 2016. A couple are carry-overs from 2015 that I didn't get around to acquiring. You'll notice that several are autographs that have no specific designation. These have some set criteria for me, though. The big one is that it has to be an on-card autograph. Unless it's not an option, I don't add stickers to my personal collection. Often times, that means making the search harder and more expensive. And that's okay because I've learned that, for me, chasing something that I like is worth it. I don't have that nagging voice telling me I could have done better. With specific criteria, I have a measurable goal and if I hit it, I'm happy.
Goal 1: 1990 Topps Tiffany Frank Thomas
Growing up, Frank Thomas was my favorite player. Putting together a full run of his rookie cards was done years ago. Today, it'd be easy and only a few dollars. But his 1990 Topps Tiffany card is a lot more limited and has a price tag I need to do a little saving for, especially if I go the graded route.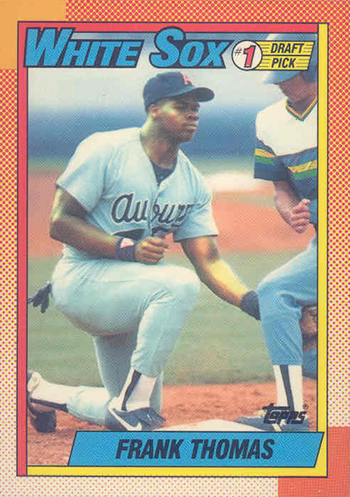 Goal 2: Mike Piazza Autograph
Hopefully this one will be done shortly — as in the next couple of days. It's looking like Piazza could be heading to Cooperstown this year, which should result in a surge of interest for his signature. My hope is that if this gap isn't filled right away that he'll continue to sign more frequently. While he was playing, Piazza had a limited number of autographs. And a lot of those came in an era when stickers were on foil that I'm not at all a fan of, even when it comes to stickers. Should he still be signing, that will hopefully keep prices from climbing to the point where they're out of my price range. While I'd prefer a Dodgers card, the Mets are perfectly acceptable too.
Goal 3: Wayne Gretzky Autograph
This is one I had last year. It's definitely the most expensive on my list, which means some planning for me. I'm also very particular in my criteria here. Not only does it have to be an on-card signature but Gretzky must be in an Oilers uniform. Take those two things into account and add in the fact that I don't have a huge budget and there is a surprisingly small window of opportunity. While there's no shortage of Gretzky autographs out there, the majority that meet my criteria are extremely limited in number and, therefore, too expensive for my budget. While I'm a big believer in setting attainable goals, this is one I'm okay carrying over again if I have to because I know one day the time will come that I land it. And I'll be stoked. To me, a big part of collecting is the chase itself.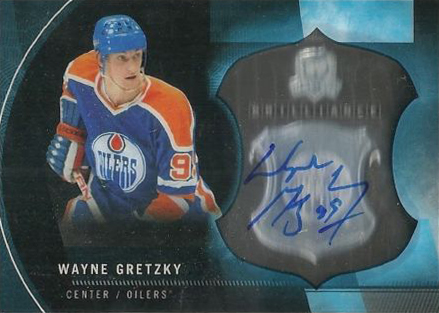 Goal 4: 1999 Buffy the Vampire Slayer Season 2 John Ritter Autograph
This is another one of my 2015 collecting goals that wasn't fulfilled. I came close once, but ultimately decided not to. And I'm not certain this card will stay on my list. If you grew up in the 1970s and '80s, there's a good chance that John Ritter is a comedy icon for his role as Jack Tripper on Three's Company. A guest spot on the second season of Buffy the Vampire Slayer led to his lone autograph card (not counting cuts). One of the product's headliners, the card has a bunch of variations, particularly when it comes to ink color. For me, I'm a little worried about the quality and authenticity of some. For that reason, I'd only consider one from a dealer I've bought from before or have a stellar reputation. And even then, I might not feel great about the quality of the signature itself. If I'm spending a couple hundred dollars on a card, I want to know I'm not going to regret it even a little.
Goal 5: Finish 20 Montreal Expos Team Sets
One of the nice things about collecting Montreal Expos team sets is that, save for a handful of singles here and there in modern releases, I've got a finite number to chase. I'm not overly interested in getting everything, just the base cards. And that's challenging enough. My lists of wants are shrinking and it's getting harder to (affordably) fill in the gaps. Normally I get a bunch of Expos in bulk and take care of a bunch of team sets at once. A lot of what remains, though, are short prints from 1999-2005 that are a lot more hit-and-miss. That said, finishing off 20 more team sets shouldn't be too hard if I remember to focus on them.
What are your 2016 collecting goals? Let us know in the comments below or on Twitter with #2016CollectingGoals.