Are you digging Topps' Diamond code cards? I am …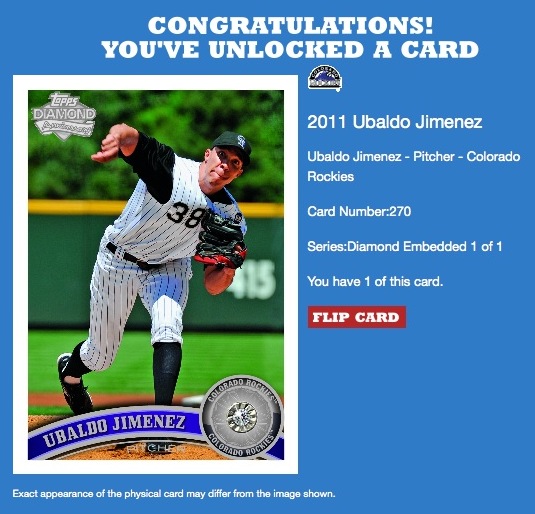 By Chris Olds | Editor
The 2011 edition of Topps' code card madness has begun as the Topps Diamond Giveaway site opened on Tuesday with countless codes for free stuff being entered en masse.
You know, we're all in search of those minty fresh 1988 Jody Reeds and 1983 John Dennys … right?
Well, a new part of the mix this year — to go with the heavy dose of vintage-flavor cardboard — are a few diamond-themed cards. There are die-cut cards which have a little less cardboard and then there are cards with a bit more inside … an actual diamond.
Topps' promotional online presence began with last year's popular Million Card Giveaway, and this year's code cards are found one in every six packs.This year, though, each card also comes with a chance to "dig" for an additional prize as well.
After a long day of the typical to-do and a trip to Walmart for highlighters (that's code for more packs of 2011 Topps), I settled down to rip into four jumbos and see what collectors were talking about on Twitter.
My packs were fruitless for new codes, so in the aftermath of many a code being redeemed, I decided it was time for my 19 code cards — all found in retail packs this year — to be unlocked.
I didn't have high expectations after my first card, a 1996 Tony Tarrasco. That discovery prompted a Chris Rock–inspired thought and then I moved on.
My second card, a 1973 Topps Dick Green, prompted a bit of mini-euphoria — it was an Oakland A's player from back in the day — and not a 1986 Topps checklist (but I got one of those, too).
It prompted a tongue-in-cheek comment to anyone who was also entering their codes and reading my babblings online at the time. (There were a few of us with apparently little else to do on a Tuesday night.)
"Face it," I wrote, "my codes are just better than yours…"
Turns out, my third code was pretty darn good — it has just 329 other equivalents to be found for the rest of the year-long program. "Congratulations! You've unlocked a card," read my screen as I did a double-take looking at the image.
It wasn't a 1988 Bip Roberts, but rather a 2011 Ubaldo Jimenez 1/1 diamond card — one of the ultra-rare cards with an actual gem inside. You can see a screenshot of it above.
Had it been one of Beckett's beloved Box Busters videos, it would have been given a smackdown by the FCC.
Now, that used code card sits in a top-loader (I'm not sure why… just felt necessary) that's marked "Ubaldo 1/1." For the record, the front of the card shows Tim Lincecum's diamond die-cut insert …for all you Wade Boggs-style code card buyers.
After that, I apologized for a previous "can you dig it?" crack publicly — clearly, I could dig it now — and moved on to my additional codes. It was an untouchable stash that yielded a 1992 Jeff Fassero, a 1989 Tom Bolton, a 2001 Chris Stynes and, yes … even a 1986 checklist.
Despite my run of bad luck after landing a true big one, I'll undoubtedly be back on the site for more soon — there's digging to be done once it's fully operational.
Why? I don't know … I just will.
I've got to find that 1/1 diamond card of Nick Swisher.
Chris Olds is the editor of Beckett Baseball. Have a comment, question or idea? Send an e-mail to him at colds@beckett.com. Follow him on Twitter by clicking here.