Are Jeffrey Dean Morgan autographs about to get a boost thanks to The Walking Dead?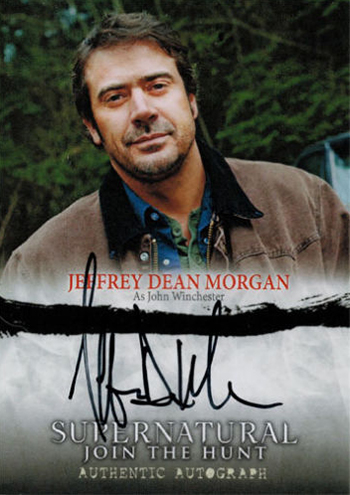 By Ryan Cracknell | Hobby Editor
Even if you're not overly familiar with Jeffrey Dean Morgan, you would probably recognize the actor if you saw his picture. And if you're a fan of The Walking Dead, his profile is about to get a lot bigger.
So what will that mean to his autograph cards?
Morgan has been cast as Negan and will debut on the show before the end of its current sixth season.
For those who have read the comics, you'll know what kind of a character he is and probably have an idea as to how it might carry over to television. Even if the storylines don't match up completely, it's safe to say that Morgan will have the opportunity to steal more than a few scenes.
On the hobby side, Morgan was one of the key signers in 2014 Cryptozoic Supernatural Seasons 1-3. To date, this is his lone autograph card.
He had an autograph redemption in 2008 Americana II that was limited to 50 copies but never signed. Those that sent the redemption in got back a stamped card noting that he didn't sign.
With Cryptozoic currently holding The Walking Dead license, that could potentially bode well down the road as there's an established relationship between the two. However, it might be a while as the manufacturer has only released up to season three so far.
In the meantime, this could lead to a bump in interest in the Jeffrey Dean Morgan autographs that are out there already. For entertainment sets, there is often a direct connection between an actor's role and the card's value. So Walking Dead fans may be apt to pay less for a Supernatural card. That said, Supernatural has a huge following of its own. Both shows are also in the same sort of genre realm.
Morgan other roles include Watchmen, The Good Wife and Grey's Anatomy.