Giannis Antetokounmpo and Pascal Siakam Heating Up in Battle of the East – Beckett Pricing Insider
As the Milwaukee Bucks and Toronto Raptors maneuver back and forth at the top of the Eastern Conference standings, Giannis Antetokounmpo and Pascal Siakam are drawing increased hobby interest. Antetokounmpo has emerged as an MVP frontrunner. Siakam, meanwhile, is among the most improved players in the league.  With their Rookie Cards heating up, here are two of particular note:
2013-14 Panini Gold Standard Giannis Antetokounmpo RC Jersey Autograph
This Beckett Hot List member has remained one of the most popular Antetokounmpo rookie offerings.  Though not serial numbered, the combination of jersey swatch and an on-card autograph makes this an appealing target for collectors.  Recent sales have been very strong, with raw card prices inching past the $800 mark. Just a few months ago, Gem Mint versions were selling in $800 territory.  The days of acquiring a 9.5 copy of this key RC for less than $1,000 appear to be over.  Expect a continued steady rise or a price boost explosion depending on how far Milwaukee goes in the playoffs.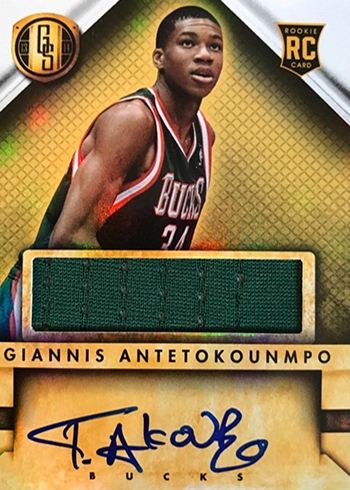 2016-17 Panini Prizm Pascal Siakam – Base RC and Parallels
Recent hobby activity has led to price increases across the board for Siakam Prizm Rookie Cards.  Though his base Prizm RC has risen in value, it remains a top option for collectors seeking an affordable Rookie Card from a popular brand.  The Silver Prizm parallel is nearing triple digits in price, quite the jump for a card that could be had for less than $10 a year ago.  Although graded sales are few and far between at the moment, expect more slabbed versions to appear on the market as collectors recognize the profit potential.