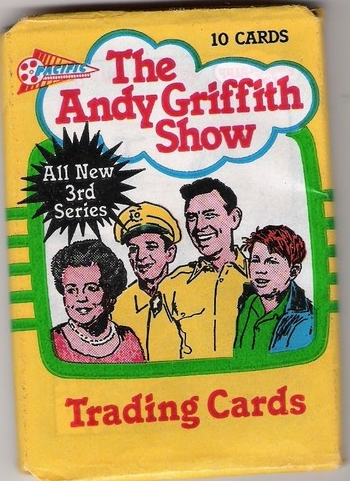 By Andrew Tolentino | BSCM Editor | Commentary
The world is somberly whistling that familiar tune today, as television star Andy Griffith passed away today at the age of 86. Official reports indicate that he died this morning at his home in Dare County, N.C.
Today we pay hobby homage to the lovable, deliberate southern lead on The Andy Griffith Show and Matlock.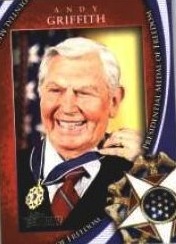 Despite being a television icon, Griffith doesn't have many trading cards officially attributed to his name. His page in the Beckett OPG actually reveals that the only card in his name is a special Presidential Medal of Freedom (No. MOF19) from 2009 Topps American Heritage Heroes. The Andy Griffith Show, however, was featured in set form with various releases from Pacific and on several cards in an Inkworks non-sport set called 1998 TV's Coolest Classics.
Perhaps until now, most of the Griffith-related cards that Beckett has cataloged are priced below one dollar. His trading card  popularity and value may spike in the days following his passing, but the mostly humble sales figures somehow match the unflappable, far-from-flashy characters that made him famous.
Today, all is quiet in Mayberry. But wherever Griffith is, I'm sure the fishin' hole is full and that Aunt Bea has an apple pie cooling on the window sill.
Rest in peace, Andy.
[youtube]http://www.youtube.com/watch?v=fUERL6ITsAE[/youtube]