Andrew Luck 2012 Contenders Championship Ticket goes for $42K, but seller doesn't get paid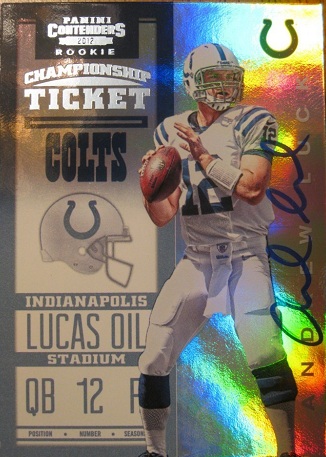 Update: The card went to auction again, but the seller did not get paid a second time. He decided to do it as a BIN on eBay, and the card sold for $7,500 and was paid for this time.
By Susan Lulgjuraj | Beckett Football Editor | Commentary
Whenever you open a pack of cards, how many times do you wish to pull the big one – the mega item that could solve all of your financial woes?
We've all done it from time to time, slowing peeking at a potential hit card to see if it's the pull everyone wants.
Recently, Wisconsin collector Derek Reiter got that card. He pulled an autographed 2012 Contenders Championship Ticket of Andrew Luck, a 1-of-1, probably the top card in the product.
Reiter listed the card on eBay and in just a couple of days the price had shot to five figures. By the time the auction was over, the card sold for $42,300
on Feb. 20.
But that word "sold" is a funny one. An auction ends, but money doesn't actually change hands just yet. So many things could go wrong with buyers who are not prepared to actually buy.
That's what happened in this case.
Reiter didn't get paid. He was told by the top bidder "his kids bid on it."
Ouch.
As Reiter put it: "I didn't think a $40,000 joke was appropriate."
He decided to relist the card.
Getting that big card is something a lot of collectors hope to happen, but once it's pulled comes many decision and potential issues. First, you have to decide if you want to sell the card. Once you choose to part with it, you have to figure out how to do it.
Plenty of people put it on eBay, but is that really the best choice?
Many high-profile auctions have resulted in exactly the same outcome as Reiter's Luck auction: no sale.
During last year's Linsanity craze, a 2010-11 Panini National Treasures Century Materials Prime Signatures numbered 17/25 (Jeremy Lin's jersey number), graded BGS 9.5 sold for $21,580. But seller Yair Rozmaryn never got paid.
"I had a bad feeling soon after the auction ended," Rozmaryn said in a recent interview with Beckett. "About an hour passed, and the bidder still hadn't contacted me. Eventually they claimed that their son had logged on at the last minute and placed the winning bid.
"I didn't believe it, but what can you do? It definitely left a sour taste in my mouth."
Rozmaryn relisted the card, but by the close of the second auction Lin's popularity had crested. The card ended up selling for about $4,000, more than $17,000 less than his initial sale price.
Rozmaryn wishes eBay would establish some sort of pre-approval system for high-profile and high-end bidding, giving sellers piece of mind – and hopefully the fully realized price for their biggest hits.
And people say "kids" don't collect cards anymore!
Dan Good contributed to this report.
Susan Lulgjuraj is an editor of Beckett Football. You can email her here with questions, comments or ideas. Follow her on Twitter here. Follow Beckett Media on Facebook.