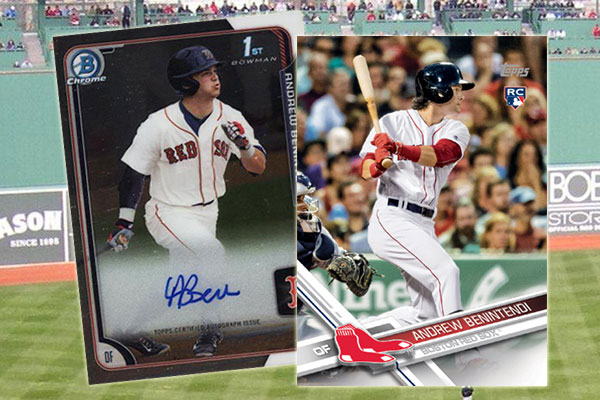 By Ryan Cracknell | Hobby Editor
Be prepared to hear a fair bit about Andrew Benintendi Rookie Cards as his first full season in the majors plays out. His cards have been that way since the first ones debuted in 2015.
But now the Red Sox super prospect sits atop Baseball America's top 100 prospects. The fact that he plays in Boston certainly adds to the attention as well. It's not like it's coming out of nowhere, though.
Having appeared in 34 games last year, Benintendi already has a taste of MLB play. The sample size was a small one, but so far, so good. Combine that with his couple of seasons in the minors and there are more reasons to see a future star versus an overrated bust.
The first Andrew Benintendi cards came out in 2015, not long after the Red Sox selected him with the seventh overall pick in the draft. Among those first cards are autographs in several prospect-driven sets including 2015 Bowman Chrome Draft.
His MLB debut came late in 2016. That was too late for Andrew Benintendi Rookie Cards in 2016 products. Instead, they're  included throughout 2017 sets. On top of regular base cards, there to be plenty of inserts, including autographs and other premium offerings.
Here's a detailed look at Andrew Benintendi Rookie Cards followed by a breakdown of several of his key prospect cards that came out before his MLB debut.
Andrew Benintendi Rookie Cards Checklist
This list will grow throughout the season as new sets are released. Only cards with the RC tag are included in this section. Inserts are not. Online Price Guide subscribers have access to card values.
Cards are listed in alphabetical order.
---
---
---
---
---
---
---
---
---
---
---
---
---
---
---
---
---
---
Key Andrew Benintendi Prospect and Pre-Rookie Cards
---
---
---
---
---
---
---
---
---
---
---
---
---
---
Comments? Questions? Contact Ryan Cracknell on Twitter @tradercracks.