And the 2015 Topps Tribute Mystery Redemption Autograph Is…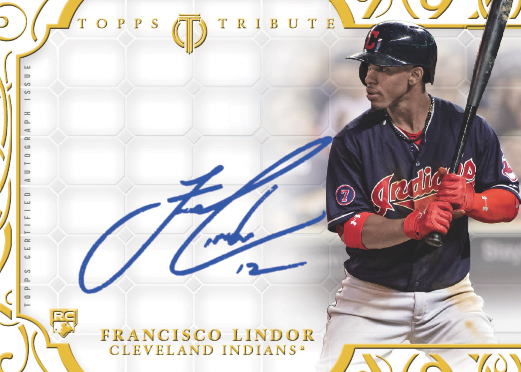 By Ryan Cracknell | Hobby Editor
…Francisco Lindor.
Topps has confirmed that the second-year Cleveland Indians shortstop gets a retroactive rookie autograph from the high-end product.
And from the looks of it, not a lot of them are out there.
Those with the redemption will receive a copy of the Lindor card, which sticks with the design of the set's other autographs.
2015 Topps Tribute Baseball was first released in early spring last year. However, following a major issue with the autographs, Topps recalled the product. While not all of it was returned, the bulk of it appears to have been.
Late last year, Topps released a special edition version of the product put together by what could be saved and re-signed from the returns. The configuration made it particularly expensive to most collectors on the box level but seemed ideal for group breaks.
Needless to say, between the starts and stops, it isn't the most common product. The 2015 Topps Tribute Mystery Redemption seems to be particularly tough. Over the course of the last few months before the announcement, not a single card has been listed on eBay.
Comments? Questions? Contact Ryan Cracknell on Twitter @tradercracks.