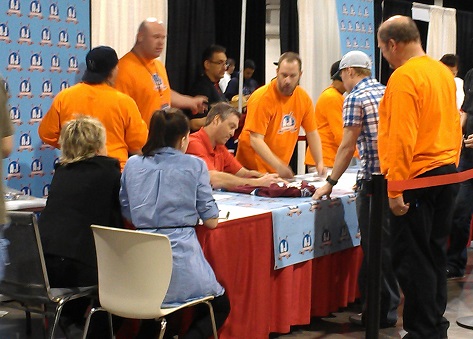 By Susan Lulgjuraj | Beckett Hockey Editor
Hockey fans got a treat at the Sportscard & Memorabilia Expo when hockey goaltending legend Patrick Roy signed for what he says was his only card show appearance.
Fans took pictures with Roy, who was there as part of a 1993 Montreal Canadiens reunion. They also had pictures, pucks and sticks signed by the hockey great.
After his signing, Patrick Roy spent a few minutes with Beckett Media talking about his own collection and meeting fans.
Q. What sort of unique items did you see out there today?
A. Unique items? There is nothing in my head right now popping up. Basically, to be honest with you because I've been a hockey card collector, I respect everything. Maybe 10-15 year ago I stopped. But what people like to collect is what matters and precious to your eyes. I respect whatever people want to get signed.
Q. What did you collect?
A. Hockey cards, but old cards. I have 1912-1913 (C57) and from the '30s. Every card in the '50s and up to probably '85 with my own Rookie Card.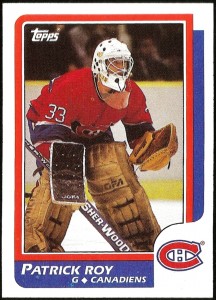 Q. Do you ever look at your cards or keep them in storage?
A. I look at them once in a while. They are in binders.
Q. What made you stop collecting?
A. At the start of the 1990s, it started to be out of control a little bit. Too many cards. I was buying a lot of O-Pee-Chees and stuff like that.
Q. Do you see what cards look like now with jerseys and autographs, how do you compare that to what you used to collect?
A. I think it's great. It's different. As a collector, I look at some sets I have and some are sideways, some are longer, some are smaller. I mean I think that's what makes it special, you know?
Q. What's it like for you to be out there and meet with the public?
A. It's the time in public in a long time. First time I do a card show. If I did one, I don't recall it. It' been a long time.
It was nice. At the same time, I certainly could appreciate that they are big hockey fans. Because of people like this, our game has grown. It's still very entertaining.
Q. What was it like to see a lot of old teammates?
A. That was fun. I see Mike Keane once in a while. I see Guy Carbonneau and (Vincent) Damphouse a lot because of RDS. It's always fun to see them.
Q. After doing this card show, is it something you plan no doing more of?
A. Not really. I enjoyed my day. I just feel it's so unique you cannot do it every day or every week or every year. Once in a while it's good. It's fun.
Susan Lulgjuraj is an editor of Beckett Hockey. You can email her here with questions, comments or ideas. Follow her on Twitter here. Follow Beckett Media on Facebook and Twitter.