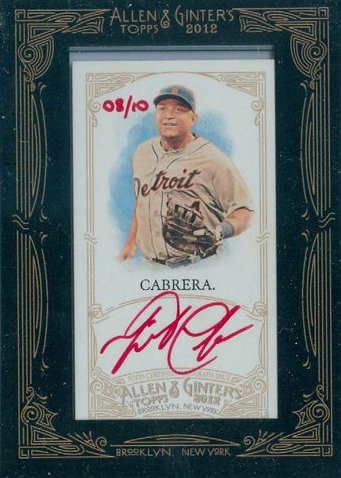 By Chris Olds | Beckett Baseball Editor | Commentary
With the exact postseason picture not quite clear just yet — but five American League teams definitely in — now's the time to be readying those cardboard caches for potential movement if you're a seller.
If you're a buyer, you've probably already picked off a few favorites from the bunch.
And if you're the rest of us? Well, it's time to sit back and watch it all unfold — and watch the cardboard madness that follows.
There have been more than a few surprises this season — from explosive starts, much-ballyhooed call-ups, dominance on the mound and more, to the dramatic finishes that will unfold in the coming days.
While we'll let it all shake out in the next two days, here are five players to watch this postseason.
Miguel Cabrera, 3B Tigers (Click here for a checklist or OPG)
With two games remaining, Cabrera is in contention to win the first Triple Crown since 1967. His .329 average is four points higher than newcomer Mike Trout in second, while his career-high 44 homers are just one ahead of Texas' Josh Hamilton. His 137-RBI total is 10 above Hamilton as well. Presuming Hamilton doesn't play spoiler, Cabrera's key Rookie Cards and autographs could see quite a surge in interest with the Triple Crown. His 2000 Topps Traded and Topps Traded Chrome cards check in at Nos. 7-8 on the next Beckett Sports Card Monthly Baseball Hot List with upward-moving values of $40 and $60 respectively. Meanwhile, his 2000 Topps Traded Autograph typically sells for $300 to $500. You can expect added interest in those autos showing him as a Tiger — especially if the AL Central champs improve upon their showing in the postseason this year — though they often aren't all that cheap as it is.
One to grab: 2012 Topps Allen and Ginter Autographs #MC, $100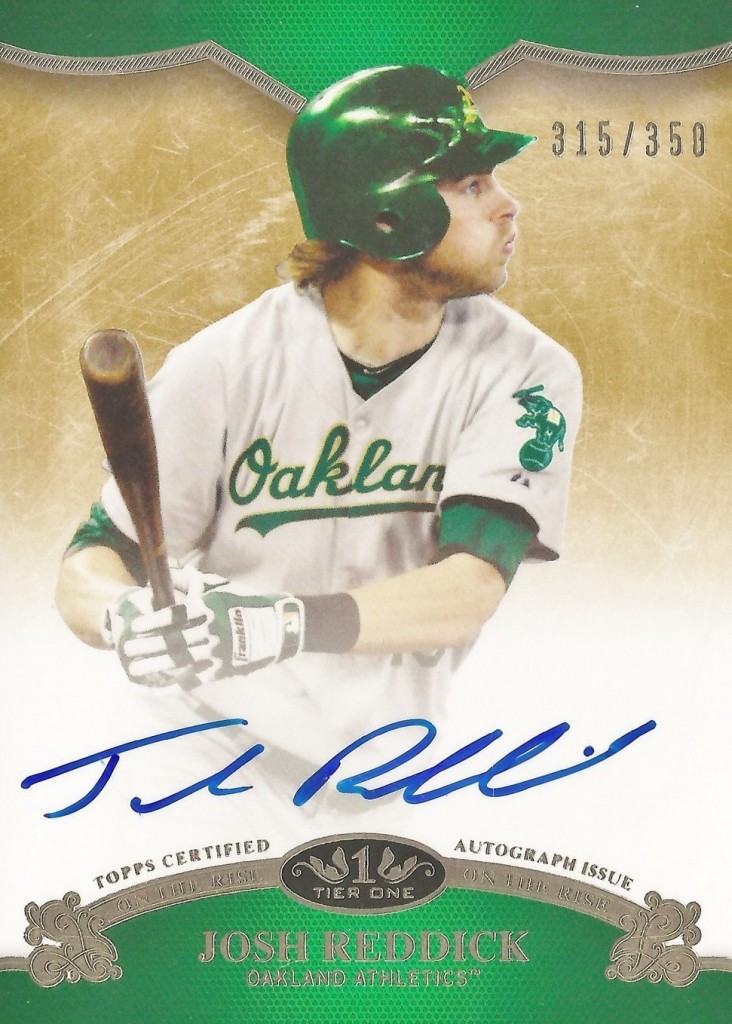 Josh Reddick — OF, Oakland Athletics (Click here for a checklist or OPG)
If you're asking "Who?" then clearly you haven't been watching much of the Green-collar Baseball happening in Oakland these days. (And based on their attendance last night hosting the Texas Rangers with a postseason berth on the line, you're not alone.) However, the unlikely surprise that is the Oakland A's this year — the team ranks 29th in salary at roughly $55 million — and their postseason showing could be, in part, attributed to Reddick, who has hit a team-leading 32 home runs and driven in 84 in his first season with the club. In three past seasons with the Red Sox, he hit just 10 homers in 365 at-bats. When it comes to cardboard, he has plenty (dating back to 2007) but not that many options for those who want a card — or an autograph — of him in his Oakland uniform. This Tier One card is a Photoshoppped creation, but since he's an affordable guy — like many in Oakland — you'll likely be seeing more of him to come when it comes to the ink. (A's rookie Yoenis Cespedes is a bonafide hitter for the team and could get attention, too, but with his $9 million salary he's likely to vanish quickly like many of the team's past stars. Reddick could stick around.)
One to grab: 2012 Topps Tier One On The Rise Autographs #JR /350, $15
—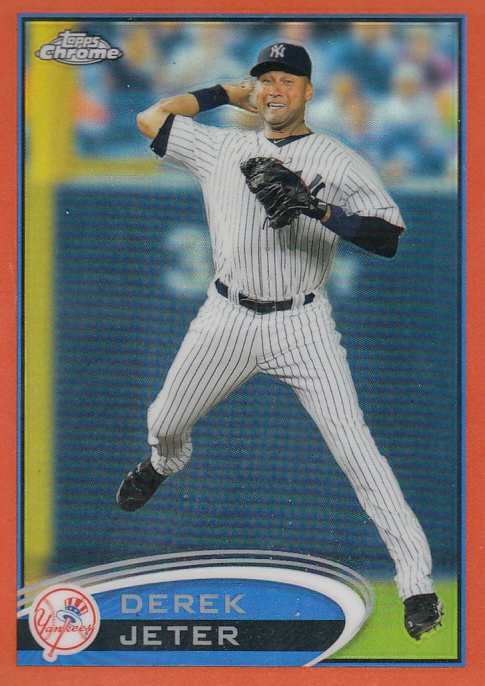 Derek Jeter — SS, New York Yankees (Click here for a checklist or OPG)
There are plenty of stars in New York but the focus will be on one guy if they add yet another World Series title. The Captain had a strong year compared to the recent past and he's signed through next season, which will be his 19th in the majors, all in pinstripes. What will the future hold? How much longer will he play? Where will he rank in MLB history when it's all said and done? He's the iconic player of the Yankees so no matter what happens, his baseball cards will get attention. And he'll continue to overshadow, on cardboard, even the superstars around him.
One to grab: Any certified autograph.

—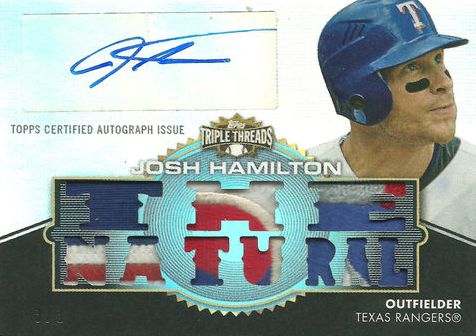 Josh Hamilton — OF Texas Rangers (Click here for a checklist or OPG)
Can the two-time defending American League champion Rangers finally win it all? Or will they even win the American League West? On paper the Rangers look dominating but against Oakland they just haven't been. On paper, there's been no bigger star this season than former MVP Josh Hamilton, who is second in the AL in both home runs and RBI. While the questions for the team loom large, there's an even bigger one for the team and their franchise player — will he leave via free agency after the season? Whether he heads elsewhere or remains in Texas, there's no doubt that he's got a place deep in the hearts of Texas fans — the franchise's unprecedented recent run of success could not have been done without him. His RCs and early graphs are strong, but his Rangers sigs such as this Triple Threads patch Relic will generate some good heat, too.
One to grab: 1999 Topps Traded Autographs #T66, $500

—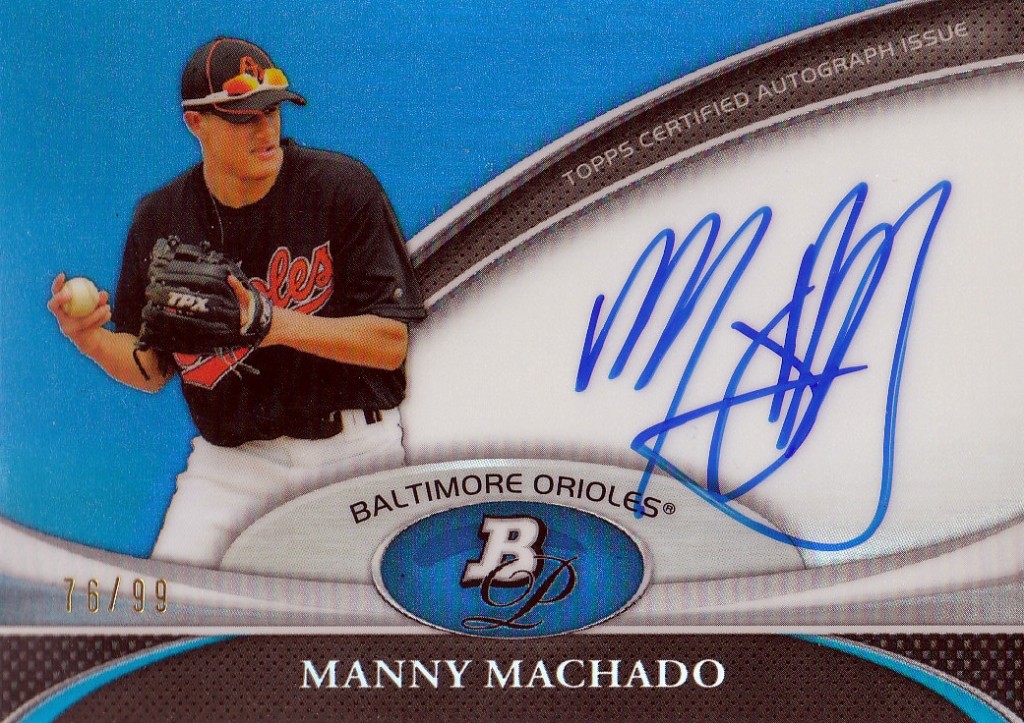 Manny Machado — 3B Baltimore Orioles (Click here for a checklist or OPG)
Like the Oakland A's, not many saw this one coming at the beginning of the season — the rise of the Baltimore Orioles, who finished dead-last in the AL East last season. On the stat sheet and on cardboard, there's not much to see here — a group team of guys who once had their primes on cardboard but aren't going to be lighting things up any time soon: Matt Wieters, Chris Davis, Mark Reynolds, J.J. Hardy, Nick Markakis and even Adam Jones, a talented player who spent part of his Sunday trash-talking haters on Twitter, including Hall of Famer Peter Gammons (that tweet since deleted). That lack of superstar power leaves the highly touted rookie as one guy who could move the needle quite well on cardboard with a good game or two in the postseason. He's hit .267 with seven home runs and 26 RBI in his 49 games this season — so he's just getting warmed up.
One to grab: Any of his certified autographs.

—
Chris Olds is the editor of Beckett Baseball magazine. Have a comment, question or idea? Send an email to him at colds@beckett.com. Follow him on Twitter by clicking here.