In the summer of 2008, a soon-to-be senior in high school named Mike Trout arrived in Cary, N.C. as one of 144 ballplayers vying for a spot on the USA Baseball 18U National Team.
Trout had traveled from his hometown of Millville, N.J., where he was a standout at Millville Senior High School, mostly as a shortstop and pitcher. He actually hadn't played much outfield at that point. But when he arrived at the USA Baseball National Training Complex as part of Team AABC to compete in the USA Baseball Tournament of Stars, he was playing outfield and he was just hoping to stand out among the assembled top high school players in the country.
He played well, earning an invitation to the 18U National Team Trials – one of just 40 players from the Tournament of Stars to receive an invite. From there, the field of 40 players would be cut down to 20 that would comprise the USA Base-ball 18U National Team.
Trout did not make the final cut of 20. He headed home.
Yet the USA Baseball experience helped Trout realize his own immense talent, and he recalls a play that helped him shake the nerves he was feeling during the tournament. In one game, while playing left field and his AABC squad trailing 2-1, a single to left appeared as if it would score a run. Trout fielded it cleanly. "I came in and gunned out a runner at the plate," he told South Jersey Sports several months later. "That's when everything started. I started hitting the ball, playing better."
Even though he didn't make the 18-U team, scouts in attendance knew who he was. And, quite frankly, so did USA Baseball. Indeed, that Tournament of Stars and 18U trials wouldn't be the end of Trout's association with USA Baseball. Just two years later while a minor leaguer, Trout – by then 19 years old – was selected by USA Baseball as part of its USA Baseball Professional Team to participate in the 2010 COPABE Pan Am Qualifying Tournament in Puerto Rico. Among his 23 teammates – all minor leaguers at the time – were now big-leaguers Mike Moustakas, Chris Archer, Todd Frazier and Eric Hosmer, among others.
Playing centerfield for the U.S., Trout hit .350 with a team-best three home runs over nine games and was named to the 11-player tournament All-Star Team.
And, maybe just as important to a kid who had baseball cards of his favorite Phillies players and Derek Jeter, Trout did eventually find himself on a USA Baseball card. As part of a photo shoot for that 2010 USA Baseball Professional Team, several images of the outfielder were snapped for marketing use in programs and other media uses. One of those snapped that day landed on his first USA Baseball card – a part of the USA Baseball insert set in 2012 Panini Prizm. It was the first time collectors had seen him in the red, white and blue uniform and familiar USA Baseball cap.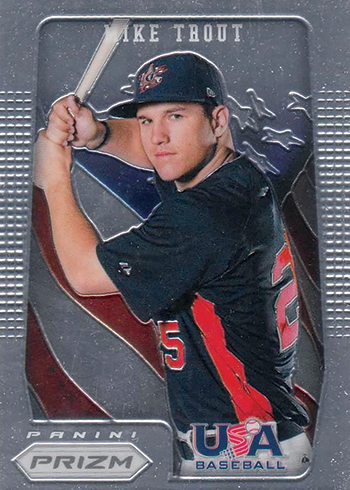 Prizm parallel versions of the card were also produced, as were 25 autographed cards.
Panini added another Trout USA Baseball card the next year in 2013 Prizm, again adding Prizm parallels as well as 25 autographs. This time they also produced a 1/1 Finite autograph parallel.
Since 16 members of the 1984 U.S. Olympic Team appeared as a subset in 1985 Topps, USA Baseball has played a role in the growth of the trading card category. It's also become a key revenue generator for the organization through its licensing agreements with card companies over the years.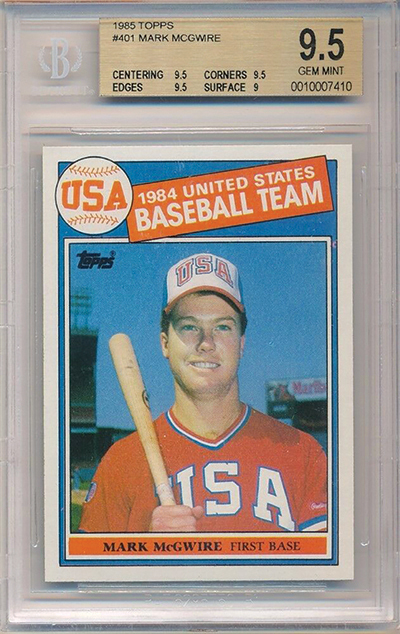 "The revenue from baseball cards continues to be an important part of the overall financial strategy for USA Baseball," says USA Baseball Chief Operating Officer David Perkins. "Unlike many other national governing bodies, USA Baseball is not membership-driven. In other words, we do not have individuals paying to be members of our organization. Consequently, we have had to find other revenue streams to fund our national team programs and baseball cards continue to be pivotal in making that happen."
Perkins points out that trading card revenue has played an important role in getting the best players in the country on the field of play. "I'm not sure how many people know that," he says, "but our role in this category has had a direct effect on that. [Trading cards] are helping support our athlete programs, and we think that's important."
Topps and USA Baseball held a partnership from 1984 until 1993. For the remainder of the decade of the '90s, no new licensing agreements were signed, meaning no new USA Baseball cards were produced. The organization and Upper Deck signed an agreement in 2000, bringing USA Baseball cards back to market.
In 2002, Upper Deck released what would prove to be a ground-breaking box set – although few realized that at the time. USA Baseball was looking for more opportunities to promote its current Collegiate National Team, and the idea of a box set containing cards of the current Collegiate National Team as well as a game-used jersey card from one of those players and a USA Baseball alumni player autograph card was born.
"Collectively, we felt that providing collectors with a set of all of the players on the Collegiate National Team would be a nice way to kick-off the inclusion of current college student-athletes in the program," Perkins says. "This was also the first time we reached out to alumni of the organization to provide autographs for a trading card program. We were fortunate to have 100 percent participation among the players we asked – including Ryan Howard, Joe Mauer and Mark Prior."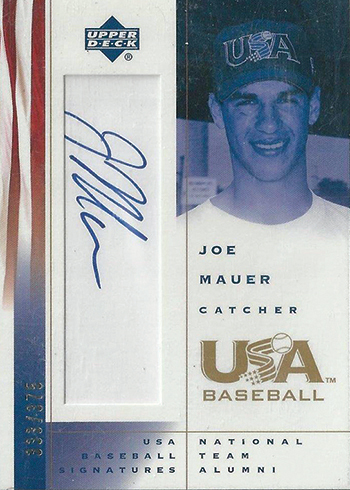 The Mauer autograph is still valued at $50.
There were no grand plans beyond the first box set. "There were no discussions about making it an annual program," Perkins says.
But the success of the box set created opportunities for future box sets, which were the lifeblood of the USA Baseball brand in the collectibles field. In 2004, UD and USA Baseball released a large box set of USA Baseball alumni as part of USA Baseball's 25th Anniversary. That set, cleverly titled Upper Deck USA Baseball 25th Anniversary Box Set, contained a complete 200-card base set of alumni, three alumni autographs, one jersey card and one of six different commemorative pins. Retail cost was $50 per set.
The autograph list – more than 170 players deep – was an impressive lineup that included Mark McGwire's first USA Baseball autograph (an SP at just 30 copies broken down as 20 black ink, six blue ink and four red ink), Will Clark, John Smoltz, Barry Larkin, John Olerud, Terry Francona, Nomar Garciaparra, Jim Abbott, Tino Martinez and 1984 USA Olympic Team Coach Rod Dedeaux, among so many other notable names.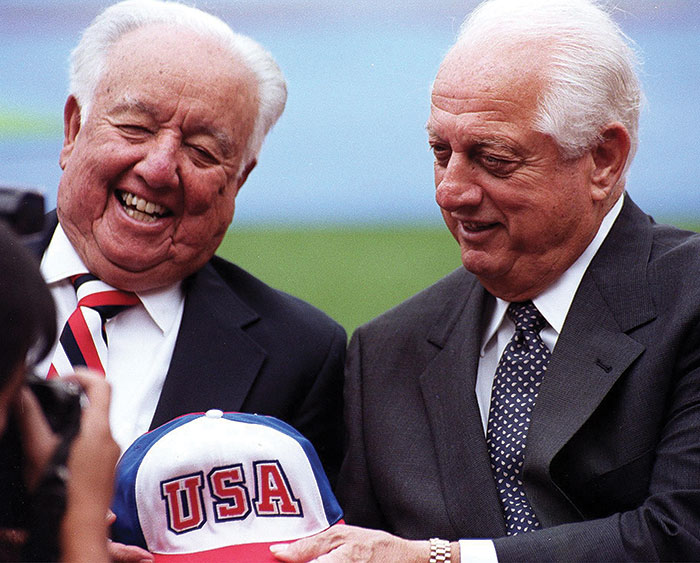 UD and USA Baseball continued their partnership until USA Baseball and Topps signed a licensing agreement bringing back the original rights owner. Topps produced box sets in 2010 and 2011. Once those rights expired, Panini signed an exclusive with USA Baseball in 2012, producing a box set as well as releasing content in various baseball sets. That's where the Trout USA Baseball cards came to be, as did cards of several other USA Baseball alumni including autographs of McGwire, Ken Griff ey Jr., Frank Thomas, Chipper Jones and others.
USA Baseball cards from all three manufacturers have brought collectors the first looks at players such as Max Scherzer, Justin Verlander, Stephen Strasburg, Bryce Harper, Manny Machado, Alex Bregman, Kris Bryant, Clayton Kershaw Alex Gordon and Freddie Freeman.
Harper's first card was base card was included in the Upper Deck USA Baseball 2008-09 Box Set, and was a late addition to the set after he led the 16U National Team to the 2008 COPABE AA Youth Pan American Championship, being named MVP of the tournament. It was a savvy move for USA Baseball and Upper Deck, as Harper landed on the cover of Sports Illustrated in June, 2009. When collectors began hearing and reading about the high school phenom, they already had a card to collect.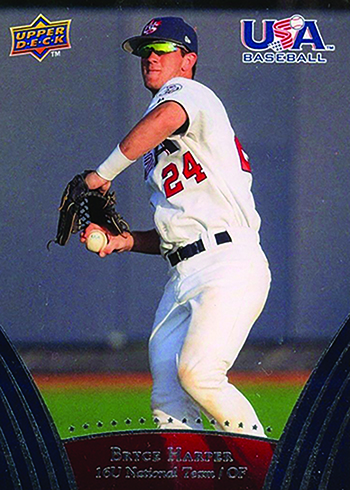 Panini took control of the USA Baseball license, and after five years of producing USA Baseball content, the two renewed their license in 2017.
"We're thrilled with what Panini has done with USA Baseball," Perkins said.
Perkins, who joined USA Baseball as an intern out of the University of Arizona in 1998, has been a part of the organization's trading card program for 19 years. He's seen the brand grow and his input and direction of how the organization's players are depicted on cards has been consistently effective. All of it works.
"USA Baseball is an aspirational brand and that has helped foster a very loyal following among both collectors and fans," Perkins says. "America, Team USA and red, white and blue all resonate with baseball fans in this country and give us a unique platform."
Under Panini, the USA Baseball brand has created retail blaster boxes to reach the consumer who is just looking for something different. They helped create a foil pack product – Panini USA Baseball Champions (with an impressive auto-graph list) in 2013 – which eventually evolved into the now annual USA Baseball Stars & Stripes.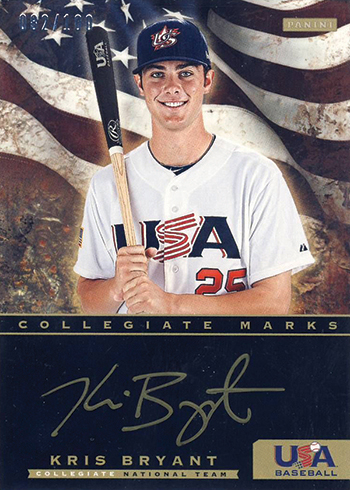 And the organization has brought back the USA Baseball Rack Set after the inaugural Rack Set product last year sold out just a few days after it was released. The 2019 USA Baseball Stars & Stripes Rack Set has a set of 68 cards including a complete set of 27 2018 Collegiate National Team (26 players, 1 checklist); complete set of 21 2018 18U National Team (20 players, 1 checklist); and a complete set of 20 2018 15U National Team (19 players, 1 checklist).
In addition to those sets, each $14.99 Stars & Stripes Rack Set includes two autograph cards #'d/100 from the 2018 National Teams and one exclusive 2018 Japanese Collegiate All-Star base card. The players from that set came from the squad that played in the 42nd Annual USA Japan Collegiate All-Star Series.
"We have evolved as a licensor to maintain the interest of collectors," Perkins says.
Ultimately, the success of the product is driven by the play on the fi eld, and the players chosen to participate on the National Teams. These are the best players at their age group.
"We believe our core audience continues to appreciate that, year a er year, our organization puts the best amateur players in the country on the field," says Perkins. "If you look at the 2018 MLB First Year Player Draft, ten of the players selected in the first round played on the 2017 18U National Team. That 2018 draft also marked the 16th time in the last 18 years that the first overall pick [Casey Mize] played for Team USA.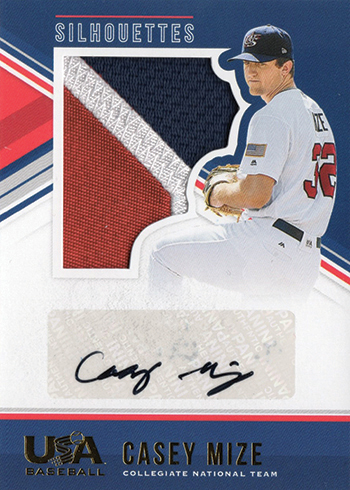 "We don't miss on guys."
It took two years for him to get the uniform, but Mike Trout would agree. They don't miss on guys.