Autographs really took hold of the sports card world in the 1990s. The decade produced some beautiful sets and legendary cards. For the most part, signatures were tough and everything was on-card. A massive collection of over 1,900 pack-pulled baseball autographs released between 1990 and 1999 are up for auction through Collect Auctions.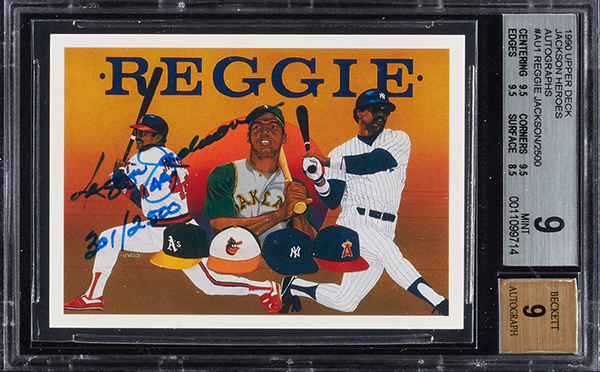 The lot lets you "Find the Reggie," Find the Ryan" and "Find the Aaron" all in one go. And that's really the tip of the proverbial iceberg. Mickey Mantle, Ken Griffey Jr., Ted Williams, Kirby Puckett, Derek Jeter, Willie Mays and Cal Ripken all have multiple cards in the massive lot.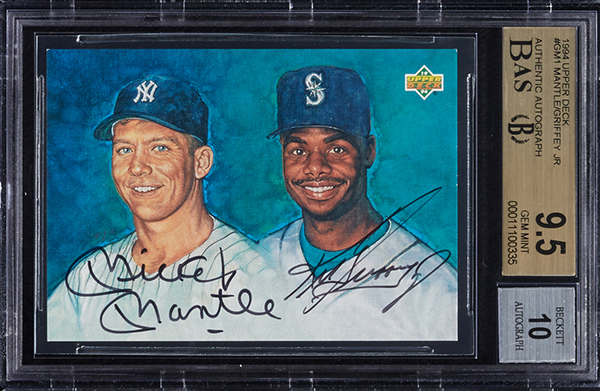 Here are a few of the cornerstone cards in the lot:
1990 Upper Deck Baseball Heroes Reggie Jackson Autograph BGS 9/9
1991 Donruss Elite Signature Series Ryne Sandberg BGS 8.5/10
1991 Upper Deck Baseball Heroes Nolan Ryan Autograph BGS 8.5/10
1991 Upper Deck Baseball Heroes Hank Aaron Autograph BGS 9/10
1992 Donruss Elite Signature Series Cal Ripken Jr. BGS 9/10
1992 Score Franchise Players Autographs Stan Musial/Mickey Mantle/Carl Yastrzemski BGS 9/9
1992 Upper Deck Baseball Heroes Ted Williams Autograph BGS 9.5/10
1994 Upper Deck Mickey Mantle/Ken Griffey Jr. Dual Autograph, BGS 9.5/10
1996 Leaf Signature Series Extended Autographs Derek Jeter BGS 9.5/9
1996 Leaf Signature Series Extended Autographs Kirby Puckett BGS 9.5/9
1999 Stadium Club Co-Signers Derek Jeter/Chipper Jones BGS 9.5/10
And that really is just a taste.
The auction listing has a long list of what's in the lot as well as images of many of the top cards. Even if it's out of your price range, the gallery has some cards that are seldom-seen today.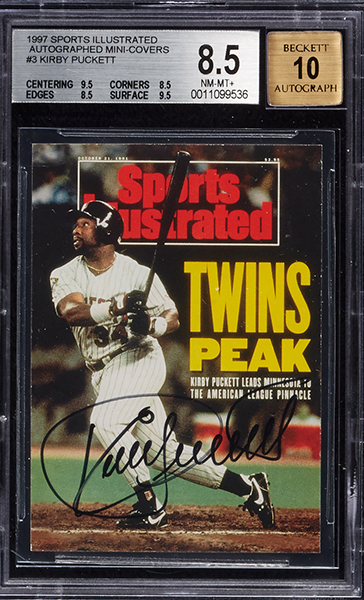 Bidding, which closes on Thursday, March 21, currently sits at $45,000. Collect Auctions also has several other listings featuring pack-pulled autographs from the early 2000s.