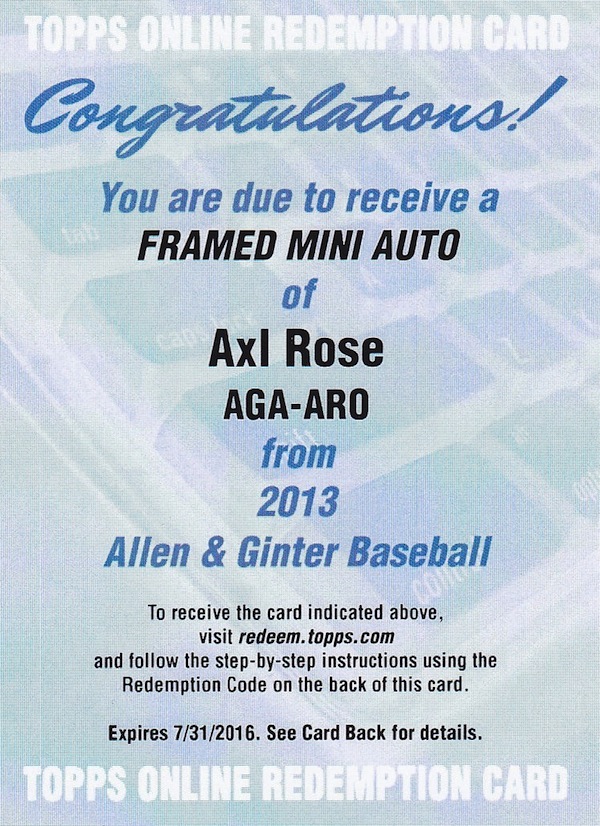 By Chris Olds | Beckett Baseball Editor | Commentary & Opinion
If there's one brand I have obsessed about as a collector more than any other through the years, it's Topps' revived ode to the world champion of 1800s tobacco cards, Allen & Ginter.
When I first saw the sellsheets for the debut edition of this new (but old) baseball card brand back in 2006, I instantly knew I would be digging in for a case in advance — and even more upon arrival — and I did. I knew it would be among the year's most-popular lines and I was right, though my days at Beckett were still a few years away. One card, among many, was on my sights and I knew it wouldn't be easy to pull. It was an autograph of a childhood icon — not idol, but icon — Hulk Hogan, sporting his Hulkamania red and yellow among a sea of top-tier Hall of Fame baseball players, superstar athletes, sports legends and others. It a crop that makes that 2006 set one of the landmark releases of the last decade.
The framed minis carry a Victorian aesthetic unlike much within the hobby these says and they struck a chord with me — one that still does to this day. At the time, Hogan only had a single wrestling auto from his "Hollywood" days and a Topps Heritage sig that I had not yet landed, so his Ginter card stood out as one on my collecting radar.
Logic went out the window and I bought pack after pack after pack, clearing Central Florida retail shelves, shredding my Hobby case ordered in advance to find quite a few sigs and more, and driving the price up at an Orlando hobby shop by buying as much as I could where it was no longer fruitful at its pumped-up, replacement price. After countless packs, autos and more, I was without a Hogan, who signed just 200 cards. I finally caved and spent more on getting that one card than I had ever before. (The cost was a hobby box or two if I remember correctly — meanwhile I'm probably still paying for all that wax.)
All these years later, this year another iconic autograph for myself — and many others — arrives in Ginter, and it's an autograph of someone who, until the last few months, has never appeared on a licensed trading card or signed a single autograph for a card company. And technically he still hasn't as his four cards found in 2013 Topps Archives and 2013 Topps Allen & Ginter were issued as redemptions.
It's Axl Rose.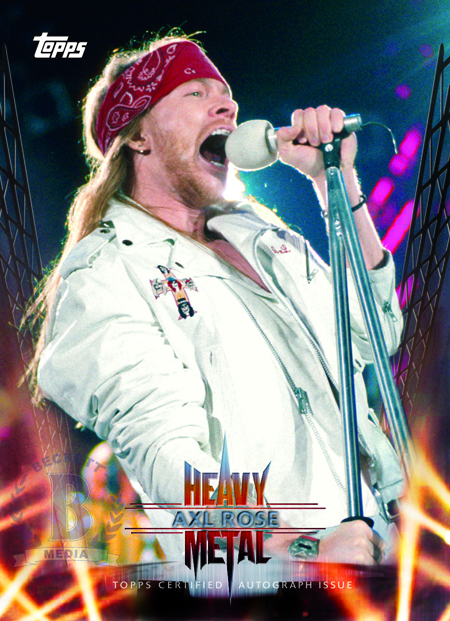 The Guns N' Roses singer who was always in the headlines for one thing or another years ago has never been a prolific signer of any kind — even before his well-embellished reclusive years or his 15 years of working on Chinese Democracy. PSA- or JSA-certified autos of Rose can command serious cash in online auctions — enough that I had never imagined him signing for a card company or adding Rose to my collection in any way, unlike other sports icons of the past who sign often and do shows on a regular basis. These days, the only shows Rose does are with his revamped GNR lineup as part of his recently completed tour.
When Archives arrived earlier this year, the skeptics emerged as quickly as the redemptions for Rose's autographs did.
"I wouldn't get too excited. It will probably be a redemption and you will never get it."
"Call me a skeptic. A better poll would be asking whether he will actually sign the cards."
"I've been to a show where he didn't show up, so I wouldn't definitely not buy a redemption of this dude." 
"That's a redemption that will never be filled."
Those comments and more echoed around Beckett.com and elsewhere as auctions came and went — many of the cards selling for a fraction of what I and others expected. Why? Considering his place in pop culture — an undeniable icon of the late 1980s and early 1990s — the only thing that makes sense for a soft market for his certified autos is one thing.
Because they're redemptions.
I watched the Archives auctions come and go — a couple dipping down low enough that I coulda-woulda-shoulda dug in but I played it safe and didn't. At the same time for my own curiosity (and perhaps a story), I occasionally asked Topps officials whether there was anything new for this one, whether there was any inkling of how soon some inking might take place. And, naturally, with a few other musicians — actually, several — appearing on this year's Allen & Ginter checklist, I openly speculated that Rose would be among them. Why? Because it wouldn't make sense for such a big name to only be used in a single product.
Turns out, he was.
It's no secret that many collectors have had their issues with redemption cards in the past and Topps' recent attempts at clearing back-logged redemptions with new, unique cards to clear out a backlog has left some unhappy of late. (And that might be an understatement at times.) On the other hand, in my personal experience, I've never been burned on any redemptions from Topps in all my years of collecting — and I have had my share. Sure, I have had cards replaced, and in a few instances they were upgrades. In others, they were for replacements for cards I had little interest in and merely pulled from packs. (In the recent wave, I've actually had cards upgraded to better players, though I have seen some instances where that wasn't the case.) I also have several I am still waiting on — just like many of you do.
Out of curiosity, I discussed the Rose redemption issue — I'd so love to call it "The Spaghetti Incident" but it's not sounding like it's going to be like that — with a Topps brand manager at the recent National Sports Collectors Convention. As part of a in-depth chat about that card and other goings-on for the company, I was once again assured that a pricey deal was in place, a key portion of it completed, and they were just awaiting a phone call for a finish. (I'd offer more details, but it wasn't an on-the-record chat for a story — just one to humor my curiosity.)
When Allen & Ginter arrived last week, I knew that Rose would be a redemption, but I knew it would be one that should have a bit more interest than Archives' Heavy Metal Autographs — a first-time offering from a popular but not-yet-landmark kind of brand. Ginter and its framed mini autos on the other hand? A no-brainer and one I figured, knowing the deep-pocketed devotees of the brand, that would reasonably be out of my price range from the get-go.
Turns out, at least thus far, it wasn't — and while the new-ripping arrivals continued to pile up on eBay (for now) I made one offer online and got a reasonable (but perhaps still high) counter. Then, I asked a big-volume case breaker whether he could beat it. He could. For the price of less than two hobby boxes, the redemption card was mine. And as of today, it is in my hands.
For another childhood icon in a Ginter frame, I broke one of my own routines and set the wax aside (this time) and purchased a redemption — something I have only one once before for a somewhat-meaningless card of Nick Swisher that, as it turns out, was never made and I got some forgettable replacement. (Remember those Swisher Turkey Red auto redemption cards in 2006? Never happened.)  Once my Rose card was removed from its envelope, I didn't quite give it the kind of staredown or obsessive multi-minute look that something like my T206 Christy Mathewson got. It didn't get anything even close to the stare-and-hold pattern that happened with Hogan and Ginter seven years ago.
Why? It's not that simple this time. This song's not quite done just yet — it's half-complete once I scratch off its back panel and enter my code online. One more future trip to the mailbox will make it reality and between now and then all I'll need is a little patience for a finish that will be written by Axl and Topps.
I'm confident it will be a hit.
Chris Olds is the editor of Beckett Baseball and Beckett Sports Card Monthly magazines. Have a comment, question or idea? Send an email to him at colds@beckett.com. Follow him on Twitter by clicking here.