Jermaine Dye discusses his favorite baseball cards – and the weirdest thing he's ever signed
Jermaine Dye returned to his second home this weekend.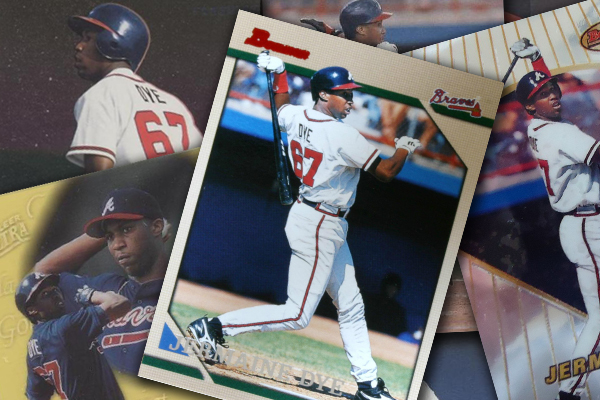 Bring a World Series title to Chicago for the first time in 88 years, and you're bound to make some new friends.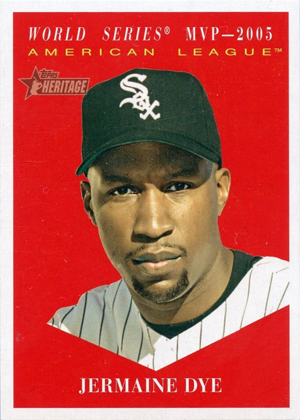 Dye led the White Sox to the championship in 2005, winning MVP honors in a four-game sweep of the Astros. He sealed the Game Four victory with an eighth-inning RBI that scored teammate Willie Harris, the only run of the clinching game.
Dye spent the final five seasons of his 14-year career on the south side, retiring in 2011. The two-time All-Star, 39, lives in San Diego today. He enjoys golfing and spending time with his family.
Every once and again he returns to the Windy City. He was there Saturday, meeting fans and signing autographs through TriStar at the National Sports Collectors Convention. Dye says Chicago's fans mean a lot to him.
"It's unbelievable to win a World Series in a big city like Chicago," he told Beckett. "I have people who come up to me all the time – even if they're Cubs fans, they're happy to see a championship from baseball in this city."
Dye signed lots of baseballs and photos Saturday, usual items for an autograph show. Sometimes the autograph requests surprise Dye.
"This lady's grandfather was in a vase, the ashes. He was a big White Sox fan, and he wasn't able to see us win the championship," Dye said. "That was probably the weirdest thing I've signed."
Athletes often identify rookie cards as their favorite cards from their careers. Rookies are generally more valuable than other cards, a player's first cardboard appearance. Dye was drafted by the Braves in 1993. His rookie card appears in 1994 Bowman, showing Dye standing next to the batting cage and on the reverse, posing with a bat on his shoulder.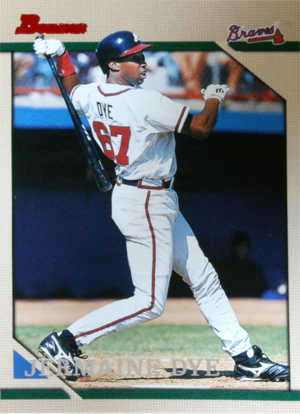 You'll have to flash forward two seasons to find Dye's favorite cards – those showing him wearing a unique number.
"Number 67," Dye said. "When you first get called up to big-league camp, they give you those lineman numbers. Being able to see me wearing 67 on a card was just weird to me, 'cause I wore 23 and 24 during my career."
Dye appears on a handful of 1996 cards wearing number 67, including Bowman, Bowman's Best, Fleer Update New Horizons, Leaf Preferred and Ultra Golden Prospects Hobby. No Braves player has worn that number in an official MLB game, according to Baseball Reference. No, that number is set aside for the spring training long-shots.
Dye would make his MLB debut later that season, and in his first at-bat, wearing number 24, he homered.
Stints in Kansas City and Oakland followed. And then it was onto the White Sox for that magical 2005 season, the season that left him signing containers full of human ashes, because that's what happens when you bring a World Series title to a city like Chicago.
Dan Good is a New York-based journalist. Follow him on Twitter here.