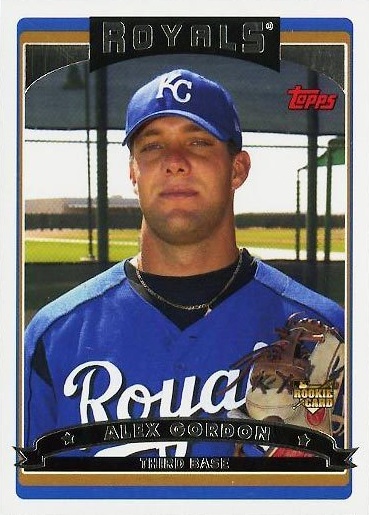 By Susan Lulgjuraj | Beckett Sports Card Monthly Editor
NEW YORK CITY | Before Alex Gordon was an All-Star, he became an overnight baseball card star.
Gordon was a top prospect in the Kansas City Royals system in 2006, but that wasn't what got people to take notice. It was a baseball card.
An Alex Gordon card was accidentally released in the 2006 Topps set, card #297.
It shouldn't have been there. Under new MLB Players Association rules, Gordon was not allowed a Rookie Card yet because he was not on the Royals' 25-man roster.
"All these people kept asking me about the card," Gordon told Beckett Media on Monday. "I was playing in Wichita at the time and apparently it wasn't supposed to come out. It got my name out there because of a baseball card."
Gordon, who still has a collection of cards from when he was a child – he was a big Ken Griffey Jr., collector – was on the lookout for the 2006 Topps card. He didn't buy any packs looking for it because he knew it was a tough pull, but would check out cards fans asked him to sign.
There are four versions of the card: a full card, a cutout card, a blank gold and a blank silver – all of which still pop up on eBay from time to time. The most popular is the full card, which features Gordon's portrait on the front with full name on front and back.
In 2006, the cards sold for thousands of dollars in the initial wave. According to ESPN, a collector sold five of the cards for $5,761.79 at the time.
The card is still valuable, but has since come down in price. On July 6, a raw card sold for $113.61 on eBay and on June 9, a PSA 10 sold for $281.66.
Luckily for Gordon, he doesn't have to scour eBay listings or hit up any shops to find the card. Several years ago, he played a game in Arizona where a broadcaster had five of the cards. He gave one to Gordon to keep.
"It's something I wanted to have," Gordon said. "I'm glad I was able to get one."
That's because it puts him on his way to completing a project he has in mind for when he retires.
"I want to try to collect one of each of my cards out there when I'm done," Gordon said. "I could make a poster out of them."
Susan Lulgjuraj is an editor of Beckett Sports Card Monthly. You can email her here with questions, comments or ideas. Follow her on Twitter here. Follow Beckett Media on Facebook and Twitter.