All QBs Fear Aaron Donald – Beckett Pricing Insider
Move over J.J. Watt, there's a new hobby king among the NFL's defensive players. Aaron Donald has been beating up offenses and quarterbacks all year and now his cards are starting to pick up steam.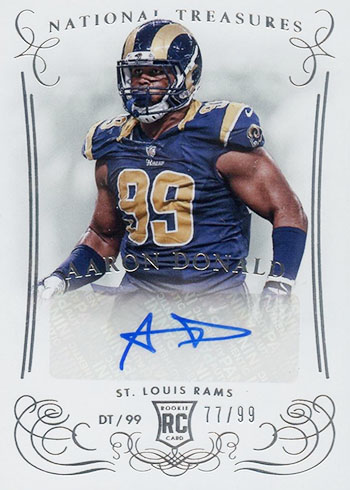 The Rams have one of the best records in the NFL and are among the favorites to go to the Super Bowl. Donald leading the defense is a big reason for the team's success. As of the Rams' win in Seattle, he had a league-leading 12.5 sacks. Four of those came in one game, his best this year (so far), against San Francisco.
The Rams took Donald in the first round of the 2014 NFL Draft with the 13th overall pick. He has always had solid defensive numbers, averaging around ten sacks and over 30 tackles a season for the first four years of his career. Donald has already surpassed his career-high sack total.
The only thing that he hasn't done in his career is score a touchdown–yet.
There are over 1,400 cards in the Beckett database. Of those, around 400 are autographs. Values of those signatures have gone up significantly over the course of the season. His 2014 Panini National Treasures rookie autograph card has even found its way onto the Beckett Hot List. Should the Rams continue their strong play, it might even be a mainstay of the list in the months to come.