Do you own Alexi Ogando's first baseball card and not even know it?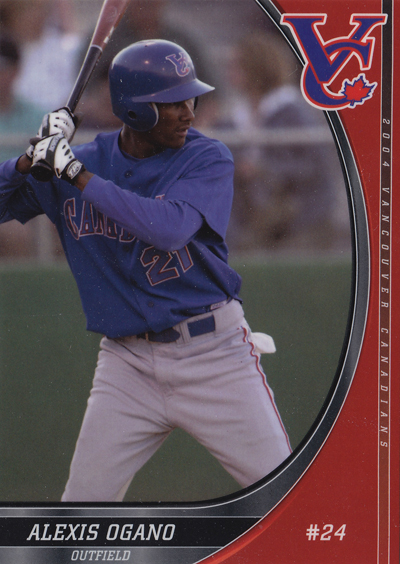 By Chris Olds | Beckett Baseball Editor | Commentary
Texas Rangers pitcher Alexi Ogando probably isn't a household name, but he was an All-Star this season and a key piece of the puzzle for the team's return trip to the World Series.
But there's another puzzling bit of Ogando's story that comes via cardboard … you see although he pitched in 44 games last season for the American League champs, he hadn't appeared on a single MLB card until some of this year's Topps releases — meaning he was a star on the field before he even had a bonafide Rookie Card.
Now, he's got several — all of which are competing for collectors' attention as his team has an eye on its first World Series championship. So, which one is a winner? I'll leave that one for the prospectors and wheelers/dealers. The card that caught my attention Wednesday night when Ogando was on the mound during Game 1 actually came from way back in 2004 when Ogando was still an outfield prospect for the Oakland A's known as Alexis Ogano.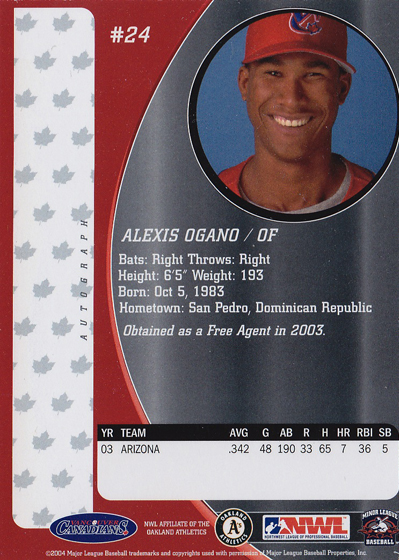 His first minor league card can be found in the 2004 Vancouver Canadians Team Issue, a 51-card set headlined by Kurt Suzuki (the reason I picked one up quite some time ago). It's Ogando's only minor league card (under either name) in the Beckett.com database, though there are likely some more recent ones still likely needing to be entered into the system.
Either way, it's his earliest card.
I had known that the 27-year-old Dominican righty was signed by Oakland as an international free agent in 2002 — but I had never thought to look up his potential minor-league cards until the commentators talked about his time before he converted to being a pitcher. I checked his minor league stats and then checked one of my MiLB card boxes (after hunting for it of course). Low and behold, the card was sitting in one of my commons boxes alongside the other guys who never made a big-league impact on that squad.
These days, while some fight it out for copies of his rarer Refractors or autographed cards freshly pulled from packs, this still somewhat anonymous card just might generate some dollars on eBay — or at least some steeper asking prices than in the past. (Mine's not going anywhere — except it's been upgraded from a cardboard box-filler to a top-loader.
Ogando's story has quite a few more twists and turns than one might realize — and there's even more confusion about his name if you read that story — but the fact of the matter is that he's one of the more versatile pitchers left playing in the game today … you know, in October for a team that just might end up being the World Series champions.
Chris Olds is the editor of Beckett Baseball magazine. Have a comment, question or idea? Send an email to him at colds@beckett.com. Follow him on Twitter by clicking here.