Alexa Bliss: Five Cards of Fury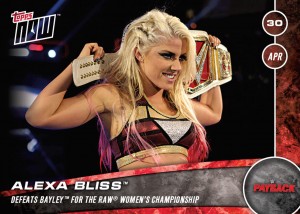 By Matt Bible | Beckett Non-Sports Analyst | Commentary
Move over, Charlotte Flair. Monday night has a new queen.
Alexa Bliss is known as the Wicked Witch of WWE and she is currently one of the hottest wrestlers in the industry. A top heel in the company, she recently made the switch to the RAW roster and won her third women's championship by defeating fan-favorite Bayley at WWE Payback. She's the first to win both the Raw and Smackdown women's titles since the brand split. Not too shabby considering she's only been in the industry for four years.
And, as usual, with championship caliber talent comes championship caliber cardboard. Here are five of Little Miss Bliss's most notable releases…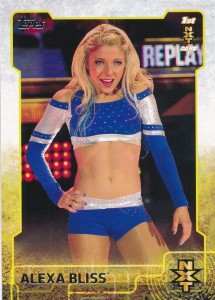 2015 Topps WWE NXT Prospects ($1-$2.50)
It wasn't long ago that Alexa Bliss was a bright-eyed newcomer to the squared circle in WWE's quasi-minor league circuit, NXT. With a fresh face and Disney princess gimmick, it didn't take fans long to notice her. Her "rookie" card was featured in the 2015 Topps WWE product as a part of the NXT Prospects insert set and it is extremely affordable on the secondary market.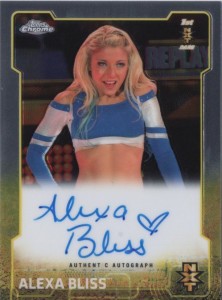 2015 Topps Chrome WWE NXT Autographs ($60-$120)
When a WWE superstar gains popularity, it doesn't take long before their autograph is in high demand. Alexa was one of five NXT superstars featured in their own autograph set in the 2015 Topps Chrome WWE product. The only other superstar from the women's division is Charlotte Flair, so Alexa is in good company. With a very clear signature signed in vivid blue ink and an inscribed heart, it is a very sought out 'graph. And, for the collector who likes a bit of variety, there are Atomic Refractor (#/5), Gold Refractor (#/10), and Red (#/5) Refractor versions.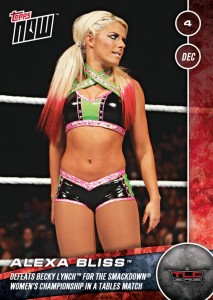 2016 Topps Now WWE #38/180* ($15-$40)
In 2016, the Topps Now brand expanded to include WWE. When Alexa won her first championship, the accomplishment was documented in this set. Only available for 24 hours, the final print run of the card was 180 copies. Usually with the Topps Now brand, the lower the print run, the higher the price. However, this Alexa card has one of the higher print runs in the set and is among the highest priced.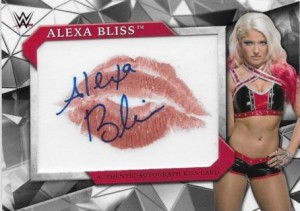 2017 Topps WWE Road to Wrestlemania Diva Kiss Autographs ($100-$200)
This card pretty much speaks for itself. The Diva Kiss cards are some of the most popular inserts in WWE products. For Alexa Bliss fans and collectors, this offers the combo of a sweet signature within an intimate albeit unique form of memorabilia. While this isn't Alexa's first kiss card, it is by far her most popular. Gold (#/10) and Red (#/1) versions also exist.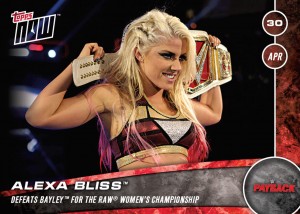 2017 Topps Now WWE #91/223* (n/a)
Last but not least is the most recent addition to the 2017 Topps Now WWE set. This card highlights Alexa's successful transition from Smackdown to Raw which culminated in her third championship win. The card features Alexa in her signature pose with championship gold that has become commonplace in sports entertainment.
Trading cards aren't the only collectibles that have been impacted by Alexa. As her popularity increases, fans and collectors alike can expect more and more collectibles and souvenirs to chase: t-shirts, both signed and unsigned collectible 8X10's, action figures, Funko Pops (eventually) and, of course, more trading cards. However, if someone still isn't convinced, they may want to check out a recent listing on WWE Auctions. Up for grabs was a replica of Alexa's Raw Championship belt to commemorate her big win in San Jose. The white strap is personally autographed in gold and it includes an inscription that marks the historic occasion. The auction ended Monday night during Raw and the final price was $3,982.
No matter how long her reign lasts, one thing is clear: Alexa Bliss has had a significant impact in sports entertainment and in the hobby. And, she's just getting started…
Matt Bible is the non-sports and gaming analyst for Beckett Media. Have a comment, question or idea? Send an email to him at mbible@beckett.com.