Alejandro Villanueva Cards Drawing Lots of Attention
When you click on links to various merchants on this site, like eBay, and make a purchase, this can result in this site earning a commission.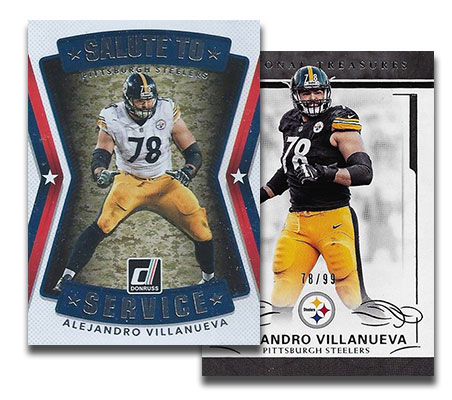 Week 3 of the NFL season brought with it no shortage of storylines. It's safe to say Pittsburgh's Alejandro Villanueva had no intention of being in the spotlight except for his on-field play. But at a time of charged emotions and big discussions, the Steelers lineman and former Army Ranger became one of the week's biggest stories. With that came some other implications.
His jersey became a top seller (he's donating his proceeds from the sales).
Alejandro Villanueva cards have also spiked in a big way.
It was announced by the Steelers that the team would not take to the field during the anthem before their game versus the Chicago Bears. Instead, they would stay back in the tunnel. Villanueva stepped out from the tunnel while the anthem played, the only player on his team to do so. There were no intentions of any kind, yet the act was interpreted many ways.
In the process, Villanueva's story was told. People learned of his military background and his three tours of Afghanistan. Interest in Alejandro Villanueva cards followed, with an especially pertinent insert leading the way.
Alejandro Villanueva Rookie Cards
When it comes to football cards and collecting, linemen are often overlooked. They play an important role on the field, but card collectors are usually most interested in quarterbacks, running backs and receivers.
It shouldn't be a surprise, then, that Alejandro Villanueva doesn't have a lot of cards. He made his NFL debut in 2015 but didn't get his first cards until late in 2016.
The 2016 Panini National Treasures Alejandro Villanueva is his Rookie Card. Because just 99 copies of the base card exist, there aren't a lot of them out there.
He is also on the print-on-demand 2016 Panini Instant Football checklist as part of a postseason team set. A total of 112 copies exist.
2017 Donruss Salute to Service Alejandro Villanueva
The Alejandro Villanueva card drawing the most attention, though, is a 2017 Donruss Football insert (he's not even in the main part of the set).
2017 Donruss Salute to Service is a 20-card set dedicated to players who have served in the military.
At the start of September, Villanueva's card was selling for not much more than $1. Basically, it was a common in the insert set.
Since Sunday, four have sold on eBay (through September 28 in the late morning). The prices: $19.95 (Sept. 25),  $39.95 (Sept. 27) and $43.87 (Sept. 28). A Holo parallel numbered to 100 sold for $29.99 as a Buy It Now listing on September 25.
Likely, these recent prices are extremes that are not likely to be maintained over the long-term. That said, its direct connection to Villanueva's story have given the Salute to Service card some background and heightened real-world context. This should keep the price heightened somewhat compared to where it was just a short time ago.
Alejandro Villanueva Football Card Checklist
List is up-to-date as of September 28, 2017.
2016 Panini Instant Alejandro Villanueva #519
Print run: 112 copies
Parallels: Purple (/10), Black (1/1)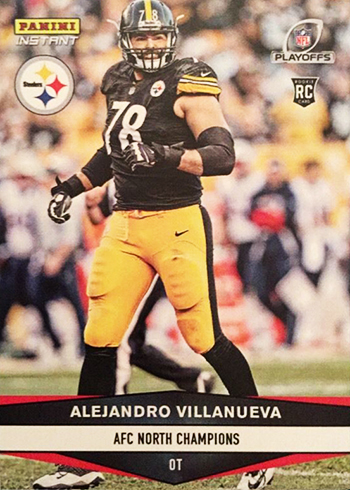 ---
2016 Panini National Treasures Alejandro Villanueva RC #78 /99
Parallels: Red Jersey Number (/78), Gold (/49), Holo Silver (/25), Holo Gold (/10), Emerald (/5), Platinum (1/1), Printing Plates Black (1/1), Printing Plates Cyan (1/1), Printing Plates Magenta (1/1), Printing Plates Yellow (1/1)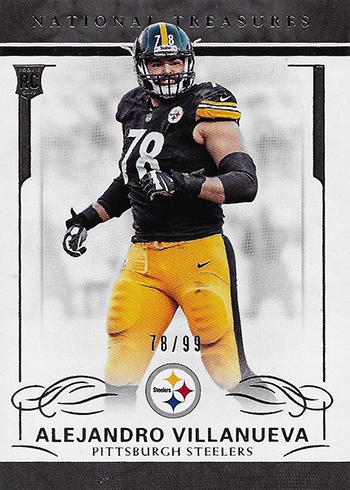 ---
2017 Donruss Salute to Service Alejandro Villanueva #5
Parallels: Holo (/100)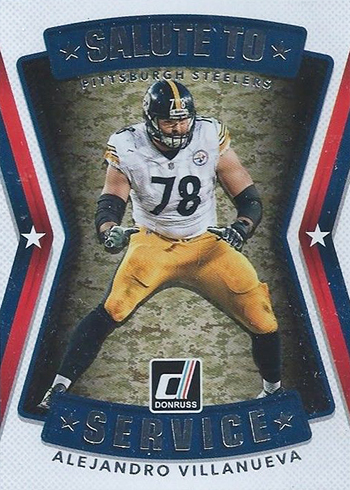 ---
Comments? Questions? Contact Ryan Cracknell on Twitter @tradercracks or by email.