"Not Me": How It Took Al Kaline Himself to Reveal an Image Long Thought to Be Him Was, In Fact, Not
Nick Vossbrink figured he would have success sending a couple cards to Al Kaline to autograph. The Hall of Famer had a track record of returning items sent to him through the mail signed.
So when Vossbrink packaged up a couple of custom cards and sent them to Kaline's home address last November 26, he was hoping the cards would be signed and, hopefully, appreciated by Kaline, who was instructed to keep a card for himself.
The package came back from Kaline, arriving at Vossbrink's Princeton, N.J., home just 12 days after he sent it to Al.
Upon opening the package, Vossbrink saw immediately that Kaline had signed one of the cards. He also added something else: "Not me" with an arrow pointing up to the player swinging the bat in the image. Another headshot of Kaline placed in the custom's right-hand corner was signed by the Hall of Famer.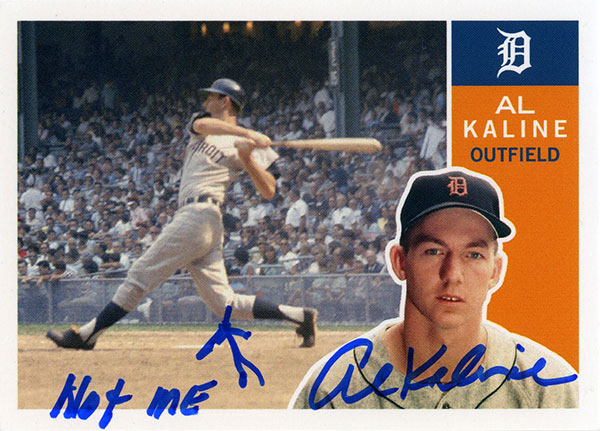 Vossbrink was, in his words, "mortified" by the mistake. No custom card maker wants to be told by a ballplayer that they have a wrong photo. "I was a little embarrassed," he says.
The mistake in identifying the image appears to have come from Getty Images, the source of thousands and thousands of baseball images. "It wasn't really my mistake," Vossbrink says. "I think it's been misidentified for a while now."
Vossbrink, co-chair of the SABR Baseball Cards committee, turned to the Twitter universe to tell his story. By then, he could laugh about the image mistake. But Vossbrink wondered who the player at the plate was if it wasn't Kaline. With the help of Tiger fans and other interested collectors, the player was ultimately and properly identified as Don Demeter, who played with Detroit for 2-1/2 seasons in the mid-1960s. "It only really happened when people realized it wasn't Kaline," Vossbrink says.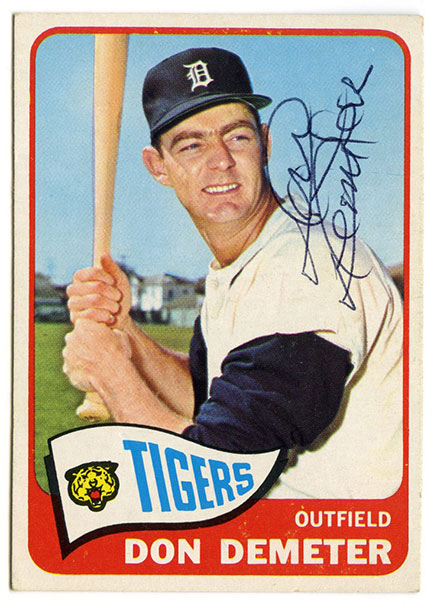 Vossbrink took that information and sent a custom to Demeter, who is still signing through the mail at age 85, and the former ballplayer confirmed that it was, indeed, him swinging the bat.
Recently, Vossbrink was looking at the SP and SSP images in 2020 Topps Baseball Series 2 gallery that my colleague Ryan Cracknell recently prepared. When Vossbrink saw the image for the Kaline SSP, he knew it happened again: Topps also had used the same misidentified image for its SP Kaline card.
Vossbrink knows he is fortunate to have heard from Kaline in such a timely manner. The Hall of Famer passed away April 6 at 85, just about five months after signing the custom card and returning it. The card is in Vossbrink's autograph collection and serves as a reminder of a unique encounter with a Hall of Famer.
And thanks to Kaline, we know more about the image than anyone imagined.